Ukraine-themed meal has special meaning for RIT hospitality student
200 helpings of crepes and potato salad helped her connect to her homeland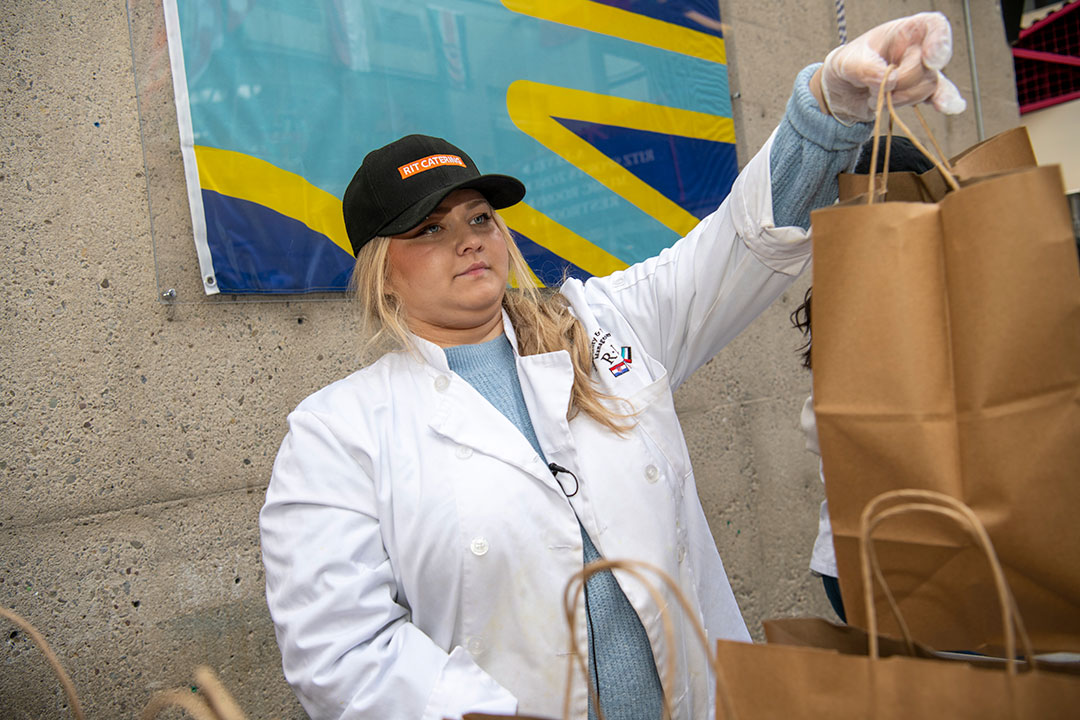 Hospitality and tourism management students at Rochester Institute of Technology were given an assignment in their restaurant and event management class: create a pop-up lunch for 200, and come up with the theme, menu, pricing, even marketing.
For Nika Pikulik, her choice was easy. Pikulik, who moved to Ithaca, N.Y., with her family from Ukraine when she was a year old, decided to honor her homeland and relatives fighting in the war with Russia with a Ukraine-themed meal.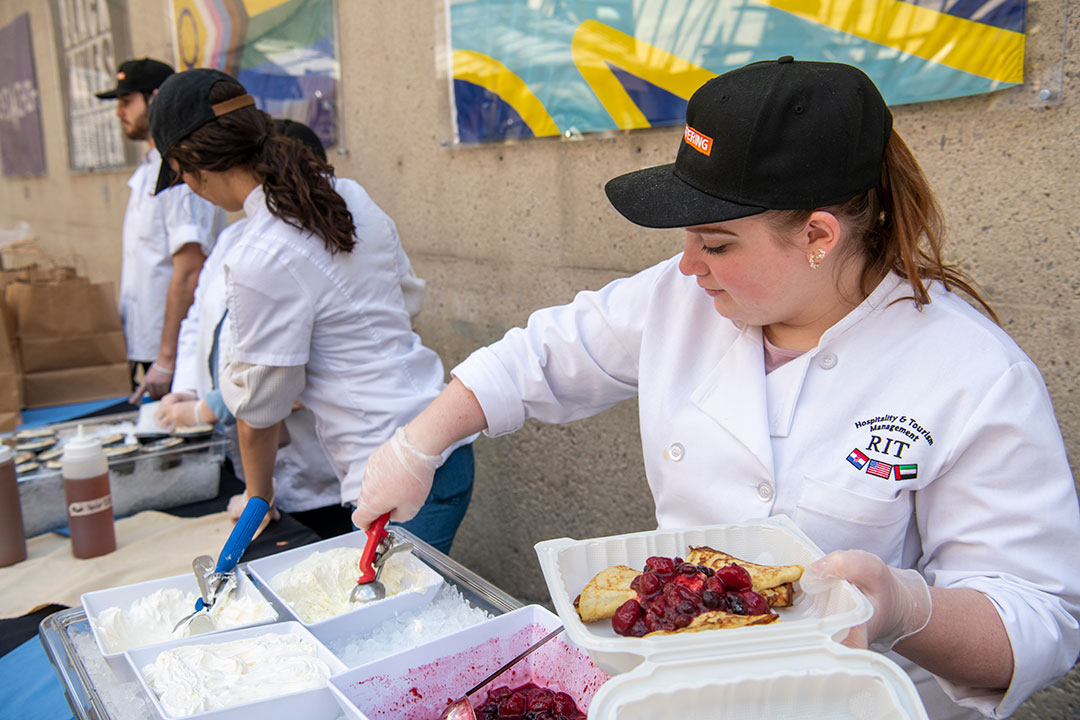 Elizabeth Lamark
"We served Ukrainian crepes, with your choice of berries, Nutella, or cottage cheese; New York-produced maple syrup; and potato salad—a staple at every Ukrainian meal. It has pickles, mayonnaise, potatoes, hard-boiled eggs, peas, onions, carrots, and some meat. For a local twist, we had pieces of Zwiegle's hot dogs," she said.
She wanted to make the lunch as traditional as possible.
"A Ukrainian diet is very much farm to table," she said. "You eat what you can grow. There are a lot of vegetables, and a lot of meat."
Images of the blue and yellow Ukrainian flag were printed on fliers and a chalk board enticing students in the Student Alumni Union to take a look. Dozens of students stood in line even before they opened. Students in the class, all dressed in white, opened shopping bags and put in napkins and utensils, a bottle of water, a container of potato salad, and a box with the crepes.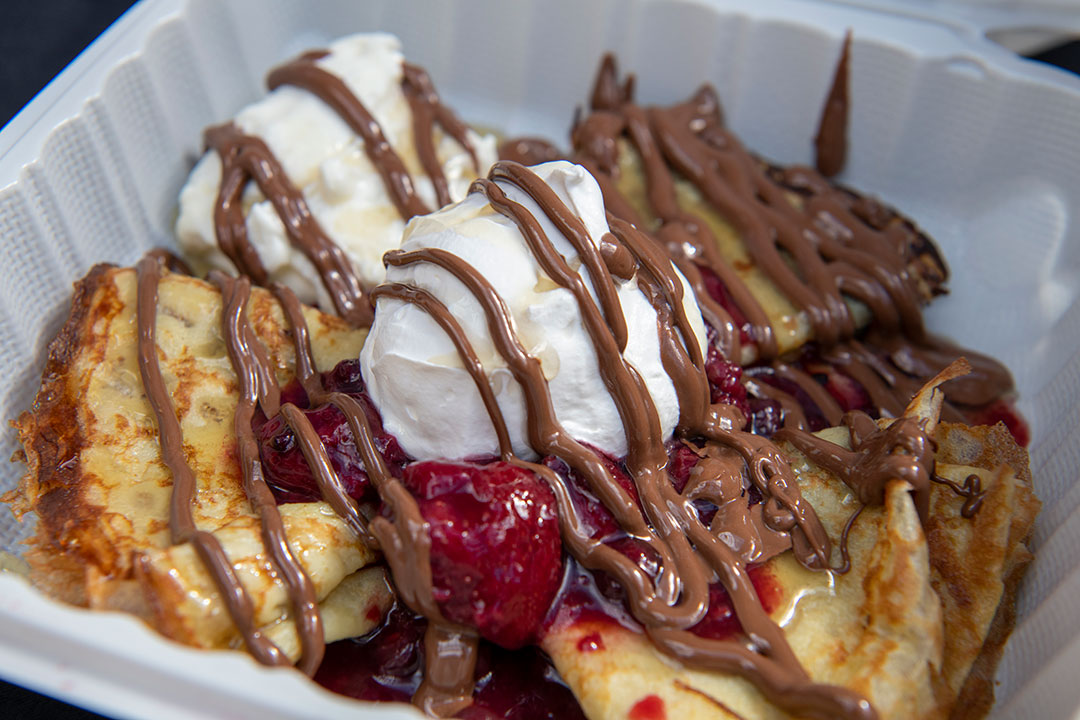 Elizabeth Lamark
"Make sure you warm them up. Enjoy!" Ndidi Chimah, a fourth-year hospitality and tourism major from Baltimore, told a customer as she handed them their bag of food.
Ukrainian music played to honor Pikulik's homeland.
"We played a mix of Ukrainian folk songs and some songs made recently addressing the war," she said. "While we're here being able to eat Ukrainian food, there are people there not able to do so."
Pikulik, a fourth-year hospitality and tourism major, still has uncles and cousins in the Ukraine army. Other relatives have relocated to France and Poland.
"Hopefully we'll see the end of the war sooner rather than later," she said.
Autumn Geer, who is teaching the class, said the assignment, coordinated with RIT Dining, gets them out of the classroom and gives students a chance to showcase their talents.
"And we wanted to feature more diverse food on campus. That was one goal for this class," Geer said.
Each student was assigned a job to prepare, set up, and serve the meals. Other themes this semester from other students in the class included Nigerian and Dominican food.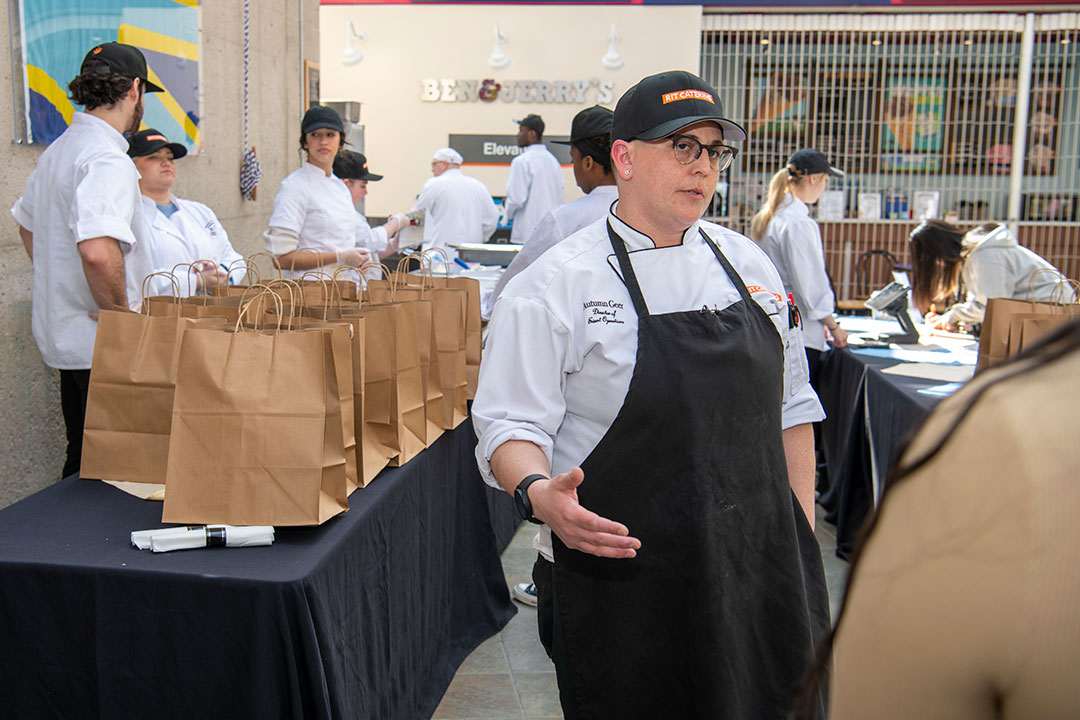 Elizabeth Lamark
"Many of the students in class used the food connection to their culture," said Geer, director of event operations for RIT catering and concessions. "A student with roots in the Caribbean made jerk chicken. Food brings people together, and brings us comfort."
Keira Carrington, a fourth-year computing security major from Mt. Pocono, Pa., was in the middle of eating her lunch when she returned to tell the class how much she was enjoying it.
"My family is from eastern Europe—Latvia and Estonia—and this is the type of food we always eat at home," Carrington said. "I haven't been home for a while and was getting a little homesick. So this made me feel like I was back at home. I loved it."
Additional pop-ups from the classes will be held each Thursday through April 20 in the Student Alumni Union.