'U.S. News' ranks RIT among most innovative
University cited in several categories and recognized among top regional universities and 'Great Schools, Great Prices'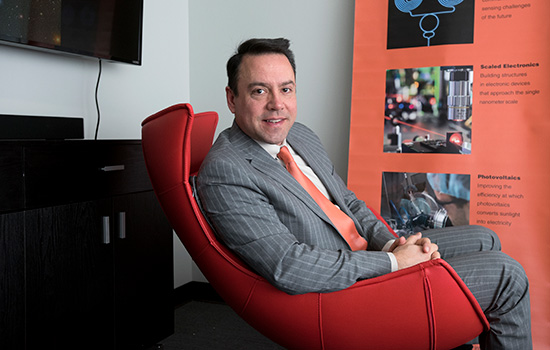 RIT Production Services
Rochester Institute of Technology is among the "Most Innovative Schools" in a new survey of college leaders in the 2016 edition of U.S. News & World Report Best Colleges.
For the first time in the 33-year history of U.S. News rankings, college presidents, provosts and admissions deans were asked to nominate up to 10 colleges or universities in their ranking category that are making the most innovative improvements in terms of curriculum, faculty, students, campus life, technology or facilities. RIT ranked No. 2 for the most innovative school among regional universities in the north.
For the overall 2016 ranking, RIT placed seventh in the "Best Regional Universities (North)" category in the latest report among hundreds of schools that offer a full range of undergraduate majors and master's programs. RIT also received the second highest peer assessment score, which is a survey of presidents, provosts and deans from other universities judging a school's academic excellence.
In the "Great Schools, Great Prices" category, RIT ranked fourth among regional universities (North). The formula used to determine which schools offer the best value relates to a school's academic quality to the net cost of attendance for a student who receives the average level of financial aid. "The higher the quality of program and the lower the cost, the better the deal," according to U.S. News.
RIT was also cited as an "A+ school for B students," recognizing that RIT has a long history of admitting well-qualified students who may not be at the very top of their class and providing a value-added education through its innovative, specialized academic programs and strong emphasis on experiential education.
In further rankings:
RIT's Kate Gleason College of Engineering ranked No. 63 for undergraduate engineering programs among universities where the highest degree is a doctorate.
RIT's Saunders College of Business was ranked No. 93 nationally among best programs for undergraduate business education.
RIT ranked No. 6 among regional universities in the north for "Best Colleges for Veterans." Here, U.S. News aims to provide military veterans and active duty service members with data on which top-ranked schools offer benefits that can help make a college education affordable.
RIT President Bill Destler said the rankings continue to validate RIT's reputation as a leading regional, national and international university.
"RIT is on the cusp of greatness and a university today where our students can flourish in an environment rich with innovation, creativity and entrepreneurial spirit," Destler said. "We are extremely pleased to be cited as a leading university for innovation in the new ranking. Across the university, every measurable indicator is up, and our alumni are increasingly making us proud all over the world. RIT is an internationally significant career-focused university with its own unique character and programs."
In the "Focus on Student Success" category, last surveyed in 2014, RIT remains listed as one of only 13 colleges nationally recognized for excellence in the "Internships" listing. RIT's cooperative education program, which began in 1912, remains one of the largest in the nation and has been recognized every year since U.S. News began the category in 2002.
RIT has consistently been listed among the top regional universities since U.S. News began ranking colleges in 1983. RIT leaders anticipate moving to the "national university" category next year due to the university's sustained growth in doctoral programs. The Carnegie Foundation, used by U.S. News & World Report to classify universities, will be reviewing RIT's classification. National research classification is based on the number of Ph.D. degrees awarded and RIT had a record 42 graduates earn their doctorates this past spring. RIT has seven doctoral programs: astrophysics, color science, computing and information sciences, engineering, microsystems engineering, imaging science and sustainability. Several other Ph.D. programs are in the planning stages as RIT begins to implement its 2025 Strategic Plan, "Greatness Through Difference": https://www.rit.edu/president/strategicplan2025/
Topics