Venture Creations companies advance to round two finals of Grow-NY competition
Leep Foods and Crystal Creek selected out of more than 260 startups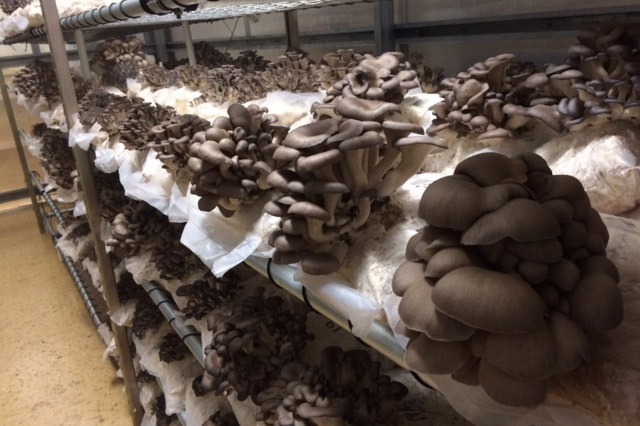 Two companies associated with Rochester Institute of Technology's Venture Creations technology business incubator have advanced to the round two finals of the Grow-NY competition. Grow-NY is a food innovation and agriculture technology business challenge focused on enhancing the emerging food, beverage and agriculture innovation cluster in Central New York, the Finger Lakes, and Southern Tier regions.
Twenty finalists were chosen from a field of 264 startups from 27 countries including Argentina, Germany and Israel that applied to be part of the initiative. In the United States, 26 states were represented, including 98 entries from New York. Finalists will pitch their business plans at the Grow-NY Food and Agriculture Summit Nov. 17-18. A total of $3 million in prize money will be distributed to seven winners.
Crystal Creek Organics, based in Rochester, N.Y., and located in the Venture Creations incubator, manufactures unique organic fertilizers by extracting and separating nutrients and organic material from manure-based, bio-gas digesters. Using a patented, eco-friendly technology, Crystal Creek provides the Southern Tier region with a high-volume economical and environmental alternative to fertilization that eradicates harmful phosphorus.
Leep Foods, which graduated from Venture Creations in 2019 and is based in Chili, N.Y., grows premium USDA-certified organic mushrooms using regenerative soil methods on nutrient-enriched American hardwoods for consumers and restaurants. Co-founded by George Zheng '15 (mechanical engineering technology), the company's mushrooms can be found at Wegmans, The Good Food Collective, and Range Me, a product discovery and sourcing platform for retailers and suppliers.
"New York state is committed to supporting our world-renowned food and agricultural industry," said Gov. Andrew Cuomo. "Once again, the Grow-NY competition has attracted a group of diverse, innovative entrepreneurs who are ready to focus on finding new, innovative ways to further transform this critical industry. It is through targeted efforts like Grow-NY that we will continue to bolster these regional economies, fostering statewide growth as we work to build back better."
The Grow-NY competition is focused on growing an enduring food and agriculture innovation cluster in Central New York, the Finger Lakes and the Southern Tier regions of New York state. The competition offered a total of $3 million in funding to innovative, high-growth startups from across the globe focused on the food and agriculture industry.
"All of us at Venture Creations are proud of the hard work and accomplishments of our startup companies and launched companies, particularly those that recently advanced in the Grow-NY competition," said Peter Parts, director of RIT's Venture Creations incubator. "These competitions draw the best and brightest startup companies in our region. By providing quality coaching, professional consulting and connections with industry professionals, Venture Creations creates an environment where these cutting-edge businesses can develop and thrive. New York state is an innovation hub, and Venture Creations is proud to be part of that ecosystem." 
Venture Creations was created in 2003 to provide services to incubating companies, facilitating the development and operation of these companies for the purpose of advancing the educational and research missions of RIT through the enhancement of faculty, student and staff involvement in high technology. It was also created to promote economic development and competitiveness in Monroe County and New York state by encouraging and facilitating the transfer of technology resources to the marketplace. The total number of launched companies now stands at 42, with 559 jobs having been created.
Topics