Venture Creations companies place in accelerator competition
Positive Science and Molecular Glasses win $250,000 and $10,000, respectively, in state-funded Luminate competition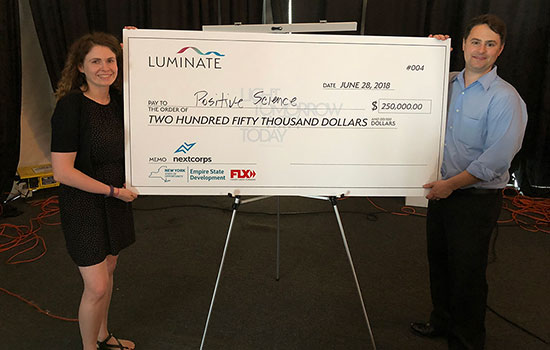 Two client companies in Rochester Institute of Technology's Venture Creations incubator have won recognition and prize money from the New York state-funded Luminate NY accelerator program.
Positive Science won third place in the competition and $250,000, and Molecular Glasses won $10,000 and the Audience Choice Award during the Luminate NY "Light Today with Tomorrow" demo event held June 28 at the Xerox Rochester International Jazz Festival. Leading up to the main event, the 10 finalist companies participated in a six-month accelerator program at NextCorp's incubator space in downtown Rochester and each received $100,000 for advancing to the finals. Luminate NY, an optics, photonics and imaging accelerator program, is funded by Empire State Development's Finger Lakes Forward initiative and administered by NextCorps.
"Strategic investments in OPI-enabled technologies continue to bolster the Finger Lakes region's reputation as the imaging capital of the world," said Gov. Andrew M. Cuomo. "The innovations and commitments demonstrated through the Luminate NY competition further prove the vast potential of this industry and its ability to support the regional economy for years to come."
"We're committed to investing in growing high-tech companies that are making advancements in the photonics industry," said Lt. Gov. Kathy Hochul. "The Luminate NY competition is providing funding to promising businesses that are part of our growing innovation economy, helping to create good paying jobs across the Finger Lakes region and the entire State of New York."
Positive Science, founded in 2006 by RIT alumnus Jason Babcock '03, '00 (color science, imaging and photographic technology), is a head-mounted eye-tracking and behavioral analysis system that can be used by clients for a variety of projects. Hardware systems are customizable to allow researchers to explore applications in all areas of eye tracking; software provides an eye-tracking solution for the Mac OS platform that uses intuitive calibration and custom graphics. The company also provides post-capture reviews and comprehensive training. 
To date, Positive Science products have been used by several clients including RIT, New York University, University of Rochester, Duke University and Nottingham University-Malaysia Campus, among others. Positive Science joined Venture Creations in 2016, and its data analysis technology is based in part on RIT's patented intellectual property licensed from RIT's Technology Transfer Office. 
"I'm really honored to have made third place in the Luminate Accelerator finals," said Babcock. "All of the companies were very strong, so making it this far completely blew me away. RIT Venture Creations has continued to give me amazing support and guidance through this journey. I'm really excited to put this money to use continuing our efforts to improve our technology and bring on staff to help grow this business in Rochester."
Molecular Glasses, founded by Mike Molaire, focuses on technology that converts materials to noncrystallizable and soluble molecular glasses— without affecting their original photo physical properties—for stable and long-lived organic light-emitting diodes and other organic electronics. Company leadership—with more than 100 years of combined experience in materials innovation—has developed OLEDIQ, a revolutionary new class of organic semiconductors capable of reducing power consumption in mobile applications, providing higher display resolution and reducing costs by enabling lower-cost manufacturing processes.
"All of us at Venture Creations would like to thank New York state and Empire State Development for their continued support of our startup companies, and we are proud of the hard work and accomplishments of our client companies Positive Science and Molecular Glasses," said Richard Notargiacomo, director of RIT's Venture Creations incubator. "The Luminate NY competition brings together some of the absolute best and brightest optics, photonics and imaging companies in our region. By providing quality coaching, professional consulting and connections with industry professionals, Venture Creations creates an environment where these cutting-edge businesses can develop and thrive. New York state is an innovation hub, and Venture Creations is proud to be part of that ecosystem." 
Since opening in 2003, RIT's Venture Creations has graduated 38 companies, of which 12 have been clean-energy companies. Collectively, these companies have created 521 jobs and raised more than $70 million in private capital.