Venture Fund offers financial support to start-ups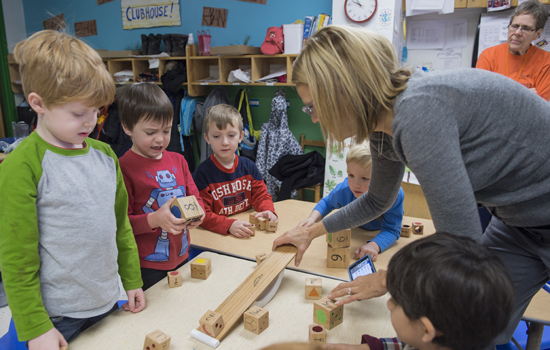 Elizabeth Lamark/RIT Production Services
The acquisition of investment funds is one of the most difficult obstacles for early-stage companies to overcome. Armed with that knowledge, RIT is providing a financial "kick start" to companies through its Venture Fund.
James Watters, senior vice president for finance and administration, said the fund—created three years ago—was the result of examining RIT's innovation and entrepreneurship offerings and realizing that providing much-needed funding would help start-ups get off the ground. Money for the fund comes from the university's operating reserves. As with other venture capital arrangements, RIT receives equity in exchange.
"We are taking very risk-prudent steps to invest in ideas that have great promise, talented teams behind them, clean ownership and that have proven that their technologies work," Watters said. "There are a lot of good, marketable ideas out there. Helping our community of makers and doers gain access to this early-stage funding is the logical last step for us to complete this entrepreneurship cycle."
The Venture Fund, open to faculty, staff, students and alumni, typically provides between $100,000 and $250,000 to select start-ups. The businesses must adhere to criteria typical for requesting venture funding, including having capable management teams, compelling and patented ideas, ability to prove significant market share, and a barrier of entry for industry competitors. Companies present their ideas to and meet regularly with an advisory committee. Financial commitments have been offered to seven companies so far, with several others in the pipeline.
One of the first companies that utilized Venture Fund capital was Vnomics Corp., located in Pittsford, N.Y., which creates vehicle fleet management software for companies. Spun out of RIT's Center for Integrated Manufacturing Studies and formed through patents created by RIT faculty, Vnomics employs about 50 people and was named to Rochester's Top 100 list in 2014.
RIT alumnus and adjunct professor Sandra Turner is hoping for similar success with Viggi Corp., the company behind a series of innovative children's products that she has created alongside her business partner and fellow industrial design alumnus Christalyn Snyder. The company is one of the most recent to receive Venture Fund capital.
"RIT's reputation is behind us and everyone stands to gain from this investment," said Turner. "As a young company, we have been working hard to get our name out in the public. Now it's time to scale up, and the investment and support from RIT will help that."
Turner hopes to raise $1 million over the next year for operations and payroll expenses, and is projecting sales of $9.4 million in 2016.
"Last year, this was all a figment of our imagination," she said. "This year, it's a reality."
For more information on the RIT Venture Fund, including the application process, go to rit.edu/venturefund.
Topics