Visualize greenhouse gases at Imagine RIT
Imaging science Ph.D. students are using infrared light to visualize greenhouse gases from vehicles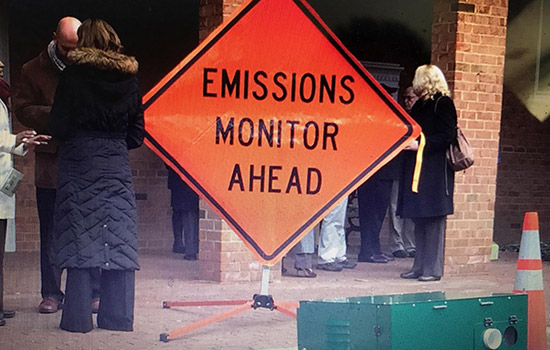 A typical car emits several metric tons of carbon dioxide and other greenhouse gases each year, but it is difficult for most people to fully understand the impact car emissions have on the environment because greenhouse gases are invisible to the naked eye. "Gas emissions are a pretty abstract concept for the average person," said Keegan McCoy, an imaging science doctorate student from Harrisburg, Pa. "We are building a system that allows you to see how much gas actually comes out of your tailpipe."
Visitors to this year's Imagine RIT: Innovation and Creativity Festival on Saturday, May 6, can see first-hand the effects of car tailpipe emissions using infrared light at the EZ-GAS: Imaging for Car Emissions Characterization exhibit. Twenty-three Ph.D. students from the Chester F. Carlson Center for Imaging Science have been working on the project since the fall.
The technology these students are developing is not just for show—they are designing it to be used as a new way to conduct state-mandated vehicle emissions tests. "States are moving toward testing car emissions remotely instead of requiring people to take their car to a local autoshop," said Catherine Fromm, an imaging science doctorate student from Rochester, N.Y.
In states such as Virginia, many drivers can complete the emissions inspection requirement for their motor vehicle registration simply by driving through emissions monitoring equipment set up on highway off-ramps. The students used this model as inspiration, but McCoy noted that "Virgina uses a spectrometer to conduct the test, which is costly technology, but our process is more affordable. We're using basic technology to create a simple solution."
Until the technology can be widely adopted, the students want to at least provide drivers food for thought about their purchasing habits. "We hope our exhibit encourages people to think about the types of cars they drive and think about purchasing one that emits less harmful gases," said Fromm.
You can find the exhibit in the Recreation Zone inside the Gordon Field House. To learn more about Imagine RIT and plan your day for May 6, go to rit.edu/imagine.