Weather Alert: RIT Closed on Monday, January 17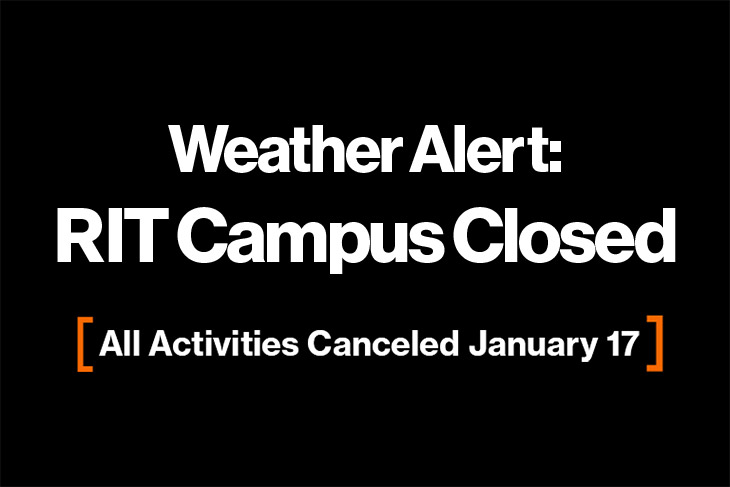 RIT's campus is closed Monday, Jan. 17, due to severe weather conditions. All events and activities planned for campus Monday are canceled.
Staff supporting critical operations are required to work. All other employees who are able to and want to work remotely should feel free to do so; otherwise, they have the day off and will be paid. If you have any questions about your particular situation, please contact your supervisor or department head.
While campus is closed, RIT Dining Services is hard at work to offer several options.
RIT Parking and Transportation Services will be running a reduced schedule due to the campus closing. For details and schedules visit the Parking and Transportation Services website.
The Student Health Center including Tiger Testing is closed. Students should contact the Student Health Center via the patient chat (available from 8 a.m.-4:30 p.m.) or they can contact the after-hours nurse line at 585-475-2255.
Recreation Facilities are closed.
Barnes & Noble @ RIT is closed.
For updates, please visit the RIT homepage, Twitter, and Facebook.
Please be sure that you have registered your cell phone number in RIT Alert. For more information, including adding or updating your cell phone number, visit the Emergency Information webpage.
Please be safe and monitor weather conditions throughout the day.