Wegmans sponsors Women in Computing Collaboratory to promote diversity in tech industry
Partnership aims to support community of inclusivity in computing field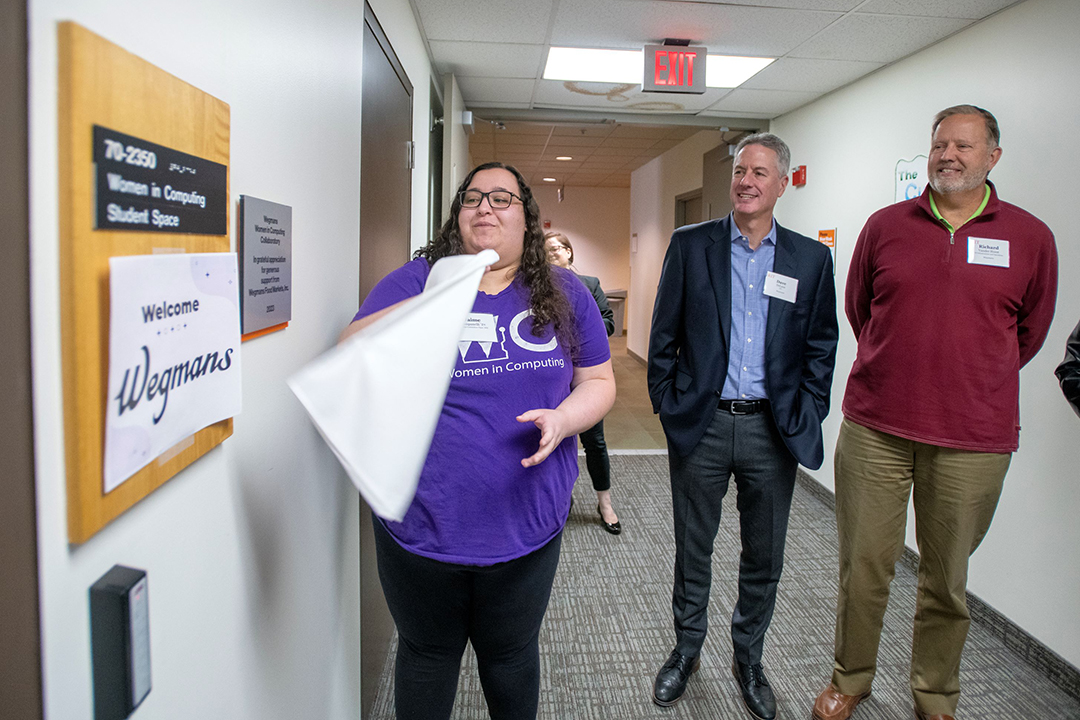 RIT's Women in Computing organization is partnering with Wegmans to support diversity and inclusion in the computing industry.
Wegmans is committing $200,000 throughout the next five years to the Women in Computing (WiC) group in RIT's Golisano College of Computing and Information Sciences. This is the largest single gift in WiC history.
The gift will support WiC's work in advancing all women and gender minorities in computing. In addition to future projects and collaborations with Wegmans, the WiC student space in the Golisano College has been renamed the Wegmans Women in Computing Collaboratory.
"The collaboratory provides a safe space where students can de-stress, network with other students, work on homework, and overall feel included and not judged," said Jaime Campanelli, a fourth-year computing security BS/MS student from Merrick, N.Y. and logistics committee chair of WiC. "This support from Wegmans shows how the company strives to increase diversity and inclusion within their organization, and it shows that they care."
With the support, WiC will be able to host more professional networking events, technical workshops, Wegmans guest lectures, and recruitment days. The gift will support students looking to attend national conferences, including the Grace Hopper Celebration of Women in Computing. Students will also get the chance to work on projects to help solve some of Wegmans' most complex problems in technology.
"We are honored to be partnering with Women in Computing and are so inspired by the passion that everyone has in this organization," said Dave DeLaus, chief information officer at Wegmans. "This support was a no-brainer because this mission for diversity and inclusion is exactly what we believe in. We also see technology as a lever that will continue to make Wegmans successful in the future, so we want to keep hiring a bright and diverse workforce in computing."
Wegmans currently employs nearly 400 RIT alumni full time and has had more than 500 co-ops in the past 25 years. Computing is one of the top areas that Wegmans currently recruits from at RIT. Wegmans has been a long-time supporter of RIT. In 2014, RIT launched the Wegmans School of Health and Nutrition in the College of Health Sciences and Technology, thanks to a gift from The Wegman Family Charitable Foundation.
RIT's Women in Computing club has more 70 students dedicated to promoting the success and advancement of women and all gender minorities in their academic and professional careers in computing. The organization works with incoming students and facilitates mentoring, tutoring networking, and hosts hackathons. WiC members also outreach to the community, holding hackathons for Rochester-area high schools students, offering Girl Scout badges in computing, and YMCA classes to teach kids about computer science.
This gift is part of Transforming RIT: The Campaign for Greatness, a $1 billion university fundraising effort, the largest in university history. This blended campaign seeks support from a variety of investors, including alumni and friends, government and corporate partners, and research foundations and agencies.
Topics