WiC leader organizes all-female hackathon
Student Spotlight Susan Heilman, fifth-year computing security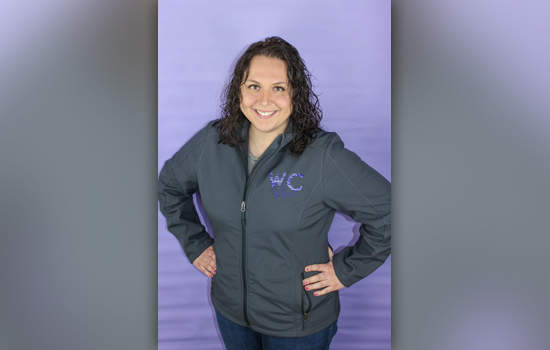 Susan Heilman, a fifth-year computing security student, prepares for WiCHacks, a hackathon this weekend at RIT for female college and high school students interested in programming. The event is hosted by Women in Computing, an inclusive organization that supports all who are interested in computing while promoting the success and advancement of women in the field. As the committee head for WiCHacks, Heilman has recruited company sponsors and mentors, scheduled tech talks and planned the Newbie Track for students with no coding experience. The Jenkintown, Pa., native is also a member of the Competitive Cybersecurity club and Security Practices and Research Student Association.
Question: What brought you to RIT?
Answer: I was overwhelmed with the college search in high school. When my computer science teacher and personal mentor set an RIT flier on the desk and tapped on it saying "apply here," I listened. Beyond the recommendation, RIT offered a security focused major with an excess of hands on learning, which is something I wasn't finding in other colleges. Not to mention the fantastic co-op program.
Q: How did you get involved with Women in Computing?
A: I transferred here after two years at a community college and at first suffered from homesickness. I missed my friends and life back home. I decided I needed to get involved so I stopped by a WiC meeting back when the organization was barely 15 people. Lana Verschage, director of WiC, and the current members welcomed me, I kept in touch with the group and about a year later I applied for a committee head position.
Q: Why did the organization decide to host WiCHacks?
A: WiCHacks started out of student interest. A past WiC member heard of the concept and decided that it would be great for WiC to host a hackathon for women. She pretty much paved the way and set up a general flow for future planners to follow. We now have a "Survival Guide" that we build and edit with notes on how to run the event. This is the third year WiCHacks is running.
Q: What new features did you add for this year's event?
A: Our biggest difference is being sanctioned by Major League Hacking and receiving their advice and support. We also have a lot more minors participating in both the Newbie and Hacker Track thanks to an awesome job on recruitment. Lastly, our new allies committee really kicked it into gear to help with managing volunteers.
Q: What is your biggest takeaway from organizing the event?
A: I think that as far as planning goes, there are tons of details and decisions that seem monstrous and critical at the time but as you move forward in planning they become almost miniscule and just roll into the big picture. You also need to remember that you have a committee and fellow WiC members that are willing to help so delegate work to them instead of trying to juggle everything on your own.
Q: What do you hope students with no prior knowledge in programming will gain from the event?
A: I want students to walk away with a project they feel proud of that jumpstarts their interest in programming or computing in general. I hope they come to find themselves a part of a community that shares and welcomes their passions, interests, skills and contributions.
Q: What advice would you give students thinking about pursuing a career in computing?
A: Don't discourage yourself by thinking you aren't "smart" enough. Computing is a large umbrella and no one expects you to know everything. Find what you're passionate about, get as involved with the community as you can and never be afraid to try. Even if it's a small step, just start the process and see where it takes you.
Q: Are there any other upcoming events this semester?
A: Oh, absolutely! The events committee organizes events varying in scale on a monthly basis. The public relations committee is gearing up for WiC Connects on March 9, which is a networking event to meet faculty, students, alumni and allies within Golisano. The projects committee is writing a proposal to submit their work to Imagine RIT. The outreach committee is looking for volunteers for their After Hours event on April 1 and 8. This is an overnight program where WiC invites women accepted to Golisano to come spend the day involved in various social and informational activities before heading to RIT's accepted student open house the following day. We also have periodic company visits and talks!
Q: After you graduate, what are your plans?
A: After graduation I will be moving to McLean, Va., to work as a cybersecurity engineer for the MITRE Corporation. Before I move, I've set aside time for a family vacation in the mountains and opportunities to reconnect with friends and loved ones back home.
Traci Turner compiles "Student Spotlight" for University News. Contact her at trt6538@rit.edu with suggestions.
Topics