Women's Hockey gets first named endowed coach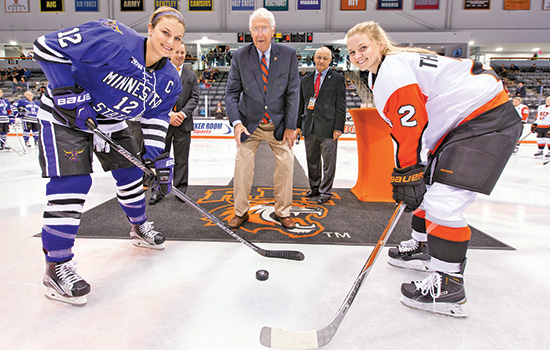 Bryan Bennett
The Bruce B. Bates Women's Hockey Coach is the university's first named endowed coaching position for Tiger athletic programs.
RIT Trustee Emeritus Bruce B. Bates, who joined the board in 1970, is providing the gift, from which endowed earnings will support the salary of the women's head hockey coach and provide budget support to athletics.
"The women's team deserves this endowment and recognition for their program," said Bates, who began playing hockey at age 8 and retired from men's leagues at 58. "These young women are exceptional student-athletes both in the classroom and on the ice. I am a season ticket holder and enjoy their brand of hockey. It's the right place to start for an endowed coaching position."
The endowment in athletics will be similar to those in academics at RIT. The donation is invested, and a portion of the return is distributed each year. When funded, the endowment will include commitments of more than $1.7 million.
Scott McDonald who recently signed a five-year extension to lead the women's hockey team through 2020, will be the first recipient to hold the endowed chair.
"I would like to thank Mr. Bates for his support and most of all, for his generosity to our program and RIT Athletics," said McDonald. "Not only will this benefit our team, but our entire athletics department. I am honored and humbled that Mr. Bates feels that we have earned this generous gift."
McDonald, now in his 10th season at RIT, led the Tigers to the 2012 Division III National Championship. In three seasons as a Division I program, he has led RIT to two College Hockey America Championships, and RIT's first berth into the NCAA Division I Tournament.
"Bruce Bates' extraordinary generosity and engagement will have a profound impact on the entire Intercollegiate Athletics program at RIT," said Sandra Johnson, senior vice president for Student Affairs. "This 'first' in our history will support and advance the important role of promoting women in sports and the concept of the scholar-athlete."
Lou Spiotti Jr., executive director of Intercollegiate Athletics, said he is "thrilled for our women's hockey program and for athletics at RIT, in general.
"This is a landmark event in that it will serve as an impetus for future successes in women's hockey," Spiotti said. "We are grateful for Mr. Bates' generosity and extraordinary dedication to our student-athletes."