Wrestling coach looks to take Tigers to new heights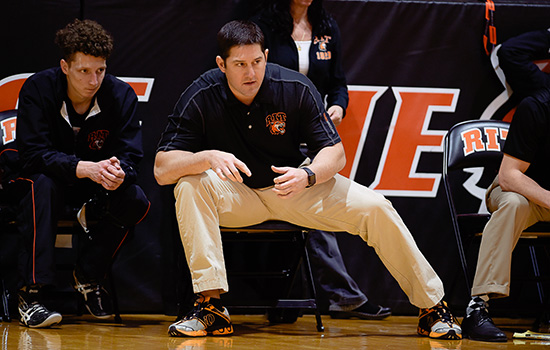 Riley Joslin
A new era for RIT wrestling is underway, as head coach Jason Bovenzi begins his first season leading the Tigers, as just the ninth head coach in RIT's storied, 90-season history.
Bovenzi was a three-time All-American and two-time National Champion, winning titles in 1993 and 1995, while competing at St. Lawrence University and Ithaca College. In his final season at Ithaca in 1994-95, Bovenzi finished with an undefeated record at 190 pounds.
In March 2015, Bovenzi was inducted into the National Wrestling Coaches Association Hall of Fame for his incredible collegiate career. He was also inducted into the St. Lawrence Athletics Hall of Fame in October 2015.
For 17 seasons, Bovenzi served as the head varsity wrestling coach at East Rochester and Pittsford, N.Y, high schools. Bovenzi coached 36 class champions, 19 New York state qualifiers, and a state champion.
"The type of student athletes we have at RIT, with their focus in the classroom and athletically, is a pretty special combination," said Bovenzi, who grew up in Rochester, N.Y., and wrestled at Greece Athena High School.
Founded by former RIT President Mark Ellingson in 1927, the RIT wrestling program has enjoyed immense success, with 16 All-Americans, 18 Academic All-Americans, 11 RIT Senior Male Athletes of the Year, 33 individual members of the RIT Athletics Hall of Fame and NCAA National Champions Darrell Leslie and Matt Hamill.
In 2016, RIT's 1953-54 wrestling team, which finished the season with an unblemished 10-0 record, became the third team to be inducted into the RIT Athletics Hall of Fame.
"Jason brings with him a history of success as an athlete, coach and a leader," said RIT Executive Director of Athletics Lou Spiotti Jr. "He has infused discipline, enthusiasm and promise for our student-athletes, alumni and fans of collegiate wrestling. Under his leadership, we look forward to a very bright future."
Bovenzi is eager to lead the Tigers as they look to emerge as a power in the competitive Empire Collegiate Wrestling Conference, and also on the national scene.
Senior Jake Sepor, who won his second consecutive RIT Invitational Championship at 141 pounds in December, and classmate Nicholas Greenquist, who wrestles at 184 pounds, are off to strong starts in 2016-17. Junior heavyweight Sam Weinger and sophomore Dempsey King, who wrestles at 149 pounds, are also expected to make strong pushes towards the national tournament in 2016-17. In addition, Tory Cain, who was an All-American at 165 pounds in 2015, is back for his final semester.
That quintet will be key in helping Bovenzi get his message across to the younger wrestlers.
"We have a good group of guys who have worked hard, from the offseason to first semester and intersession, and enjoy being around each other," said Bovenzi. "We want to continue to improve and make gains, in order to peak at the right time and send guys to the national tournament. We want to create a winning culture and these are the expectations that we want our student-athletes to have."