NTID Study Abroad Programs
Become a Global Citizen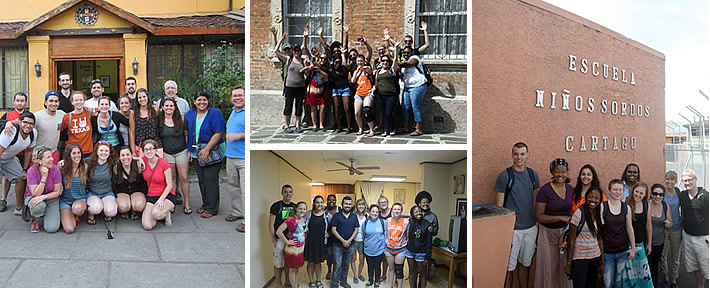 Study abroad experiences can play an important part in shaping the lives of deaf and hard-of-hearing young adults. RIT/NTID students are encouraged to participate in a study abroad experience before they graduate.
A study abroad experience offers many benefits, including:
Earning credits toward your degree while immersing yourself in a new culture
Learning a new language or perfecting a second language
Expanding cultural awareness and increasing self-confidence
Strengthening your identity in a global society
Developing a global vision that will enhance your marketability
Employers want real-world experience. Since studying abroad helps you to acquire international skills and global understanding, your ability to look at things from different points of view will be a valuable asset to employers.
Short-Term Faculty-Led Programs
RIT/NTID offers several opportunities for deaf and hard-of-hearing students as well as students enrolled in the American Sign Language-English Interpretation program and the Master of Science program in Secondary Education to travel in a group with an RIT/NTID faculty member. As part of the study abroad experience, you will be registered for a course(s) taught by that faculty member. The overseas excursions are typically held during the summer session or intersession term. Study abroad programs are distinguished by their thorough preparation and total immersion of students in the academic and cultural opportunities at each destination.
---
In addition to these faculty-led programs, RIT offers additional opportunities to make a meaningful international experience a part of your RIT/NTID education. Check out RIT study abroad programs.
For more information on RIT/NTID study abroad programs, contact:
Thomastine Sarchet, NTID Study Abroad Liaison for RIT