NTID Study Abroad Programs
Become a Global Citizen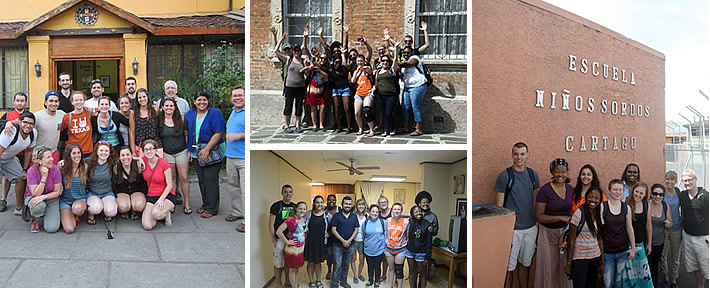 International experiences can play an important part in shaping the lives of deaf and hard-of-hearing students. RIT/NTID students are encouraged to participate in a study abroad experience before they graduate, and RIT offers many exciting study abroad opportunities.
A study abroad experience offers many benefits, including:
Earning credits toward your degree while immersing yourself in a new culture
Learning a new language or perfecting a second language
Expanding cultural awareness and increasing self-confidence
Strengthening your identity in a global society
Developing a global vision that will enhance your marketability
Employers want real-world experience. Since studying abroad helps you to acquire international skills and global understanding, your ability to look at things from different points of view will be a valuable asset to employers.
Types of RIT Study Abroad Programs
RIT has more than 600 study abroad programs in 60 countries. Programs offer a variety of locations, course offerings, and costs.
Short-Term Faculty-Led Programs
RIT/NTID offers faculty-led study abroad programs designed, developed, and led by NTID faculty to explore Deaf culture, international sign language and other topics. The travel portion of these programs is usually shorter in length (between one to five weeks) taking place over summer, winter break, or spring break. Past NTID faculty-led programs have traveled to South Korea, France, Italy, Chile, and Japan.
NTID students can also join other faculty-led programs led by faculty in other RIT colleges including College of Liberal Arts, College of Art and Design, College of Science, and others.
Access services support is typically provided on RIT faculty-led programs.
Email global@rit.edu to find out about upcoming faculty-led programs.
RIT Global Campuses
RIT's Global Campuses in Croatia, Dubai or Kosovo offer semester programs where you still attend RIT – just in a different country. RIT's global campuses provide visiting Rochester students excellent support and opportunities to engage in the local culture. RIT Global Campuses offer coursework in business, computing, engineering, and liberal arts. Short-term summer programs are also offered at RIT Croatia and RIT Kosovo.
Access services support is typically provided on RIT global campus programs.
RIT Affiliate Partners
RIT partners with outside organizations and universities that offer semester or summer programs in a wide range of locations around the world with classes in a variety of disciplines.
Access services support is typically provided on summer affiliate programs.
Things to Know
Access Services Support
RIT Access Services support for study abroad programs is available as funds allow. Contact Angela Hauser at abhdis@ntid.rit.edu early in your study abroad planning to inquire about the availability of access services. Support is most often available for RIT faculty-led programs, RIT Global Campus programs, and short-term affiliate programs.
Financial Aid
Federal aid such as Pell grants, subsidized and unsubsidized loans, etc. and RIT aid such as merit scholarships may often be used to help fund your study abroad experience. The Education Abroad office will provide you with a budget worksheet that outlines your expected costs for the program you are interested in. You will need to make an appointment with your RIT Financial Aid Assistant Director and provide them with your program budget worksheet to understand how much aid you may be eligible for.
Scholarships
Study abroad scholarships are also available to help offset program costs including funding through the RIT Education Abroad office and NTID study abroad scholarships. National study abroad scholarships like the Gilman Scholarship or Fund for Education Abroad scholarships are also worth applying for.
More about study abroad for NTID students
---
For more information on RIT/NTID study abroad programs, contact:
Wendy Dannels, NTID Study Abroad Liaison for RIT