Tiger Alumni Week offers dozens of virtual activities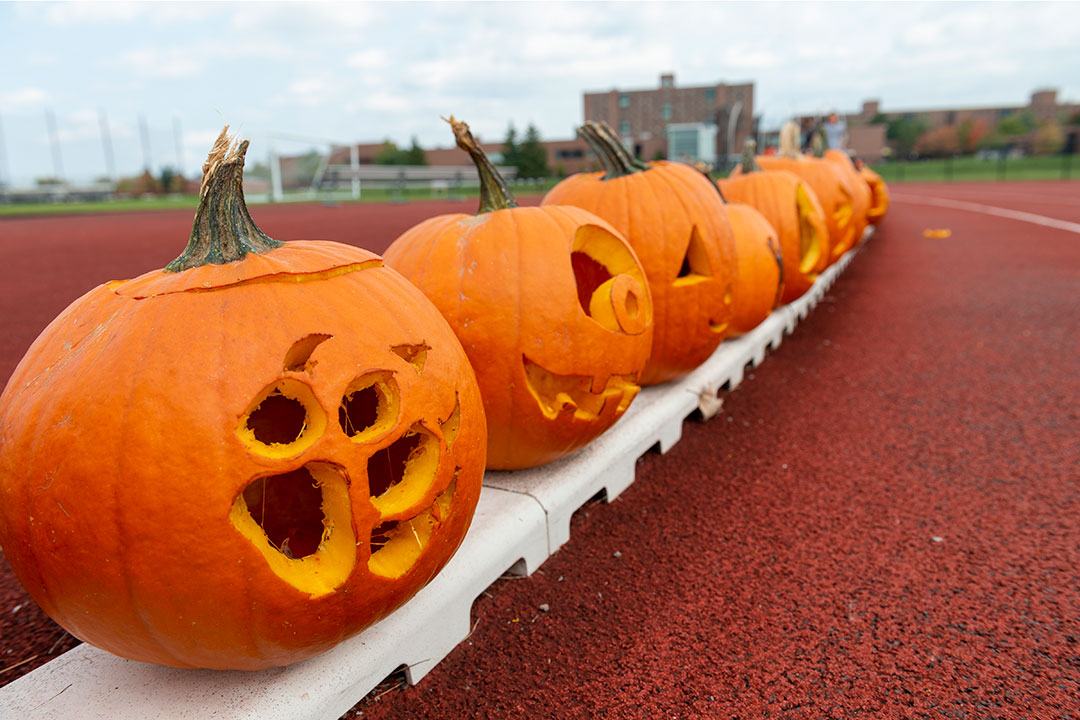 Virtual reunions, interactive programs, talks, a 5K, e-Sports, and even Tiger Trivia are just some of the dozens of events slated for Tiger Alumni Week, beginning Monday for RIT alumni, students, families, faculty, and staff.
RIT's Office of Advancement planned Tiger Alumni Week primarily as a way to give RIT alumni the opportunity to engage with the university and other alumni around the world during what would have been Brick City Homecoming and Family Weekend. (Student events were held Oct. 9-11.)
"Tiger Alumni Week was built to give our alumni around the world the opportunity to learn from one another," said Jon Rodibaugh, executive director of Alumni Relations. "With webinar topics on food, coffee, cigars, and even a farm tour, there are activities for all ages and interests."
All activities are free unless otherwise noted, but registration is required.
In a typical year, more than 300 people participate in the Brick City 5K race on campus. This year, there is the Virtual Brick City 5K that students, alumni, and families can take on a 5K route of their choice between Monday and Oct. 25. RIT apparel is encouraged and a photo should be taken at the completion of the route to be compiled on Facebook. RIT students, faculty, and staff who are cleared to circulate on campus will be given a route to visit multiple campus highlights. The event is free for RIT students; $10 for non-RIT students; and there are options to pick up a medal on campus upon completion or receive a medal by mail upon completion.
The events conclude Oct. 24 with the Alumni Association Distinguished Speaker. Elan Lee '98 (computer science) co-founder and CEO of Exploding Kittens, will host a webinar to discuss his experience of creating the most successful Kickstarter campaign of all time.
Monday, Oct. 19
Noon
6 p.m.
"Galápagos Islands: Tortoises, Lizards and Penguins – Oh My!" In 1989, Bob Rothman, professor in the Thomas H. Gosnell School of Life Sciences, had the opportunity to travel to the islands as a tourist, and the following year he offered a field course in the Galápagos for RIT students as part of the global studies program. Over the years, he has led more than 30 trips to the Galápagos, including an alumni tour in 2018.
7 p.m.
Peru Unlocked: History, Mystery and Adventure." Distinguished Alumnus Rudi Winsberg '01 talks about Peru's rich history, ancient and modern culture, and culinary traditions. He will talk about some of the country's most relevant attractions and provide travel tips.
Tuesday, Oct. 20
Noon
"Change Your Life, One Pose at a Time!" Cyndi Weis '92, founder of Breathe Yoga & Juice Bar, talks about the benefits of yoga and meditation.
"Butts & Guts." Trainer Marcus Lowe II '12, co-founder of RDY Fitness, takes you through a heart-pumping workout to strengthen your core and glutes. Mini bands will be needed.
5 p.m.
"You Can Cook Anything!" Peter Hertzmann '74 will help viewers think beyond recipes by mastering cooking methods and understanding the ingredients they use.
"The Journey of Sunshine 2.0." Outreach Coordinator Fred Beam '85 talks about Sunshine 2.0's history, purpose, and work. Sunshine 2.0 offers workshops and performances related to arts and STEM for children, teenagers, and adults across the country while bridging the deaf and hearing communities through performing arts.
6 p.m.
"Master Class with Celebrity Chef Gale Gand!" Gale Gand '81, founder and partner of Tru in Chicago and host of the Food Network's "Sweet Dreams," hosts an alumni dessert class.
"Disney Without the Lines." Associate Professor Katie McConky '05, '07 will show how Operations Research can be used for everything from optimizing the energy use in our homes to efficiently navigating theme parks.
7 p.m.
"Goat-2-Meeting." Anna Sweet '04 offers a virtual tour of Sweet Farm in Half Moon Bay, Calif., the first non-profit sanctuary in the world to address the global impacts of factory farming of animals, plants, and the planet by linking veganic agriculture, farm animal rescue, education, and technology that is revolutionizing food production.
"Wine about it – Alumni Style!" Lecturer Lorraine Hems '12 will talk about what some RIT alumni are up to in the domestic wine industry, including in marketing, graphics, public relations, management and wine making, from the Finger Lakes, to Long Island and California.
Wednesday, Oct. 21
Noon
3 p.m.
"Creative Ways to Leave a Legacy." Hal Burrall, senior director of planned giving, will outline smart, tax-wise strategies that allow individual and philanthropic goals to be met while providing support for the area of RIT most meaningful for the donor.
7 p.m.
8 p.m.
Thursday, Oct. 22
Noon
5 p.m.
"Long Road to Hard Truth." U.S. Court of Appeals Justice Robert L. Wilkins, an RIT parent, talks about his book, Long Road to Hard Truth: The 100-Year Mission to Create the Museum of African American History and Culture.
"Creativity During a Crisis." RIT Director of Dance Thomas Warfield talks about ways he has engaged his dance students creatively and with virtual classes. Participants will learn to use creativity to transform suffering, grief, trauma and distress by energizing imagination in limited spaces.
5:30 p.m.
6 p.m.
6:30 p.m.
7 p.m.
7:30 p.m.
"Vivid, Vital and Moving Forward." David Harry Stewart '78, CEO of Ageist, will show how simple lifestyle changes can make an enormous impact, with examples of people who are living in a new vital, vivid, and forward-leaning way.
Friday, Oct. 23
4 p.m.
5 p.m.
6:30 p.m.
7 p.m.
7:30 p.m.
8 p.m.
Saturday, Oct. 24
9 a.m. - 6 p.m.
1-2 p.m.
Topics