2011 Transdisciplinary Project with Fabrica, Phase 02
June 2, 2011
Graduate and Senior Industrial Design Students, Senior Graphic Design Students
Faculty:
Looking Back, Designing Forward: Multidisciplinary design expressions inspired by past and future advancements of humanity between 2000-2020.

This course was a special project developed in conjunction with RIT's Vignelli Center for Design Studies (Rochester, USA) and FABRICA, The Benetton Group Communication Research Center (Treviso, Italy).

The project engaged students and faculty from the areas of graphic, industrial and interaction design, photography and video of both institutes.

LBDF wanted to celebrate humanity's past and future strive for advancement. Students created art/design pieces of evolutionary, thought-provoking potential. This project called for "artifacts" of creative and critical commentary. It was an invitation to create social, cultural, scientific, economical, political and environmental statements positively commenting humanity's highest advancements from the near past and future. These expressions became an exhibition that engaged the broad public in our artistic celebration. The objective was NOT to design functional products for the market. It generated ideas for thought and discussion.

Phase 02
This phase was dedicated to the near future focusing on what advancements could hopefully occur in the coming decade 2011-2020. Once again through the interpretative lens of design, students imagined and explored future global and local advancements and changes (trends, events, people, discoveries) privileged by the knowledge acquired from phase one studies and mostly, stimulated by
their desires as responsible designers and world citizens. In small multidisciplinary groups (mixing all areas) this time, students conceived 3D artifacts/installations that were multimedia, interactive, and/or participative. They were DIY, low cost, low tech, no maintenance, with a maximum dimension of 2x2x2m. These expressions anticipated, commented, stimulated, and celebrated important and positive global trends, events, people, and discoveries that may influence the future of the world in the decade about to start.

Photography: Elizabeth Lamark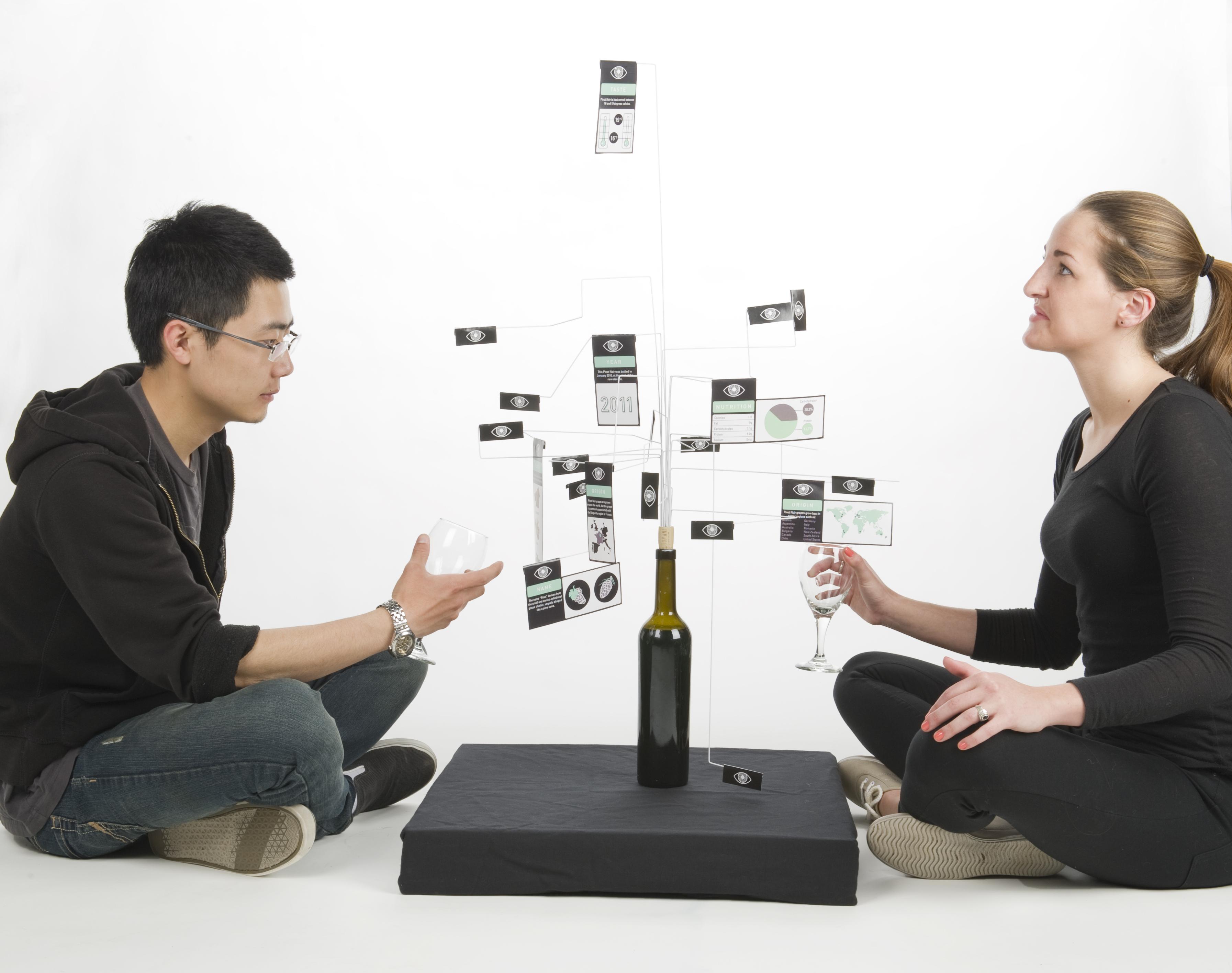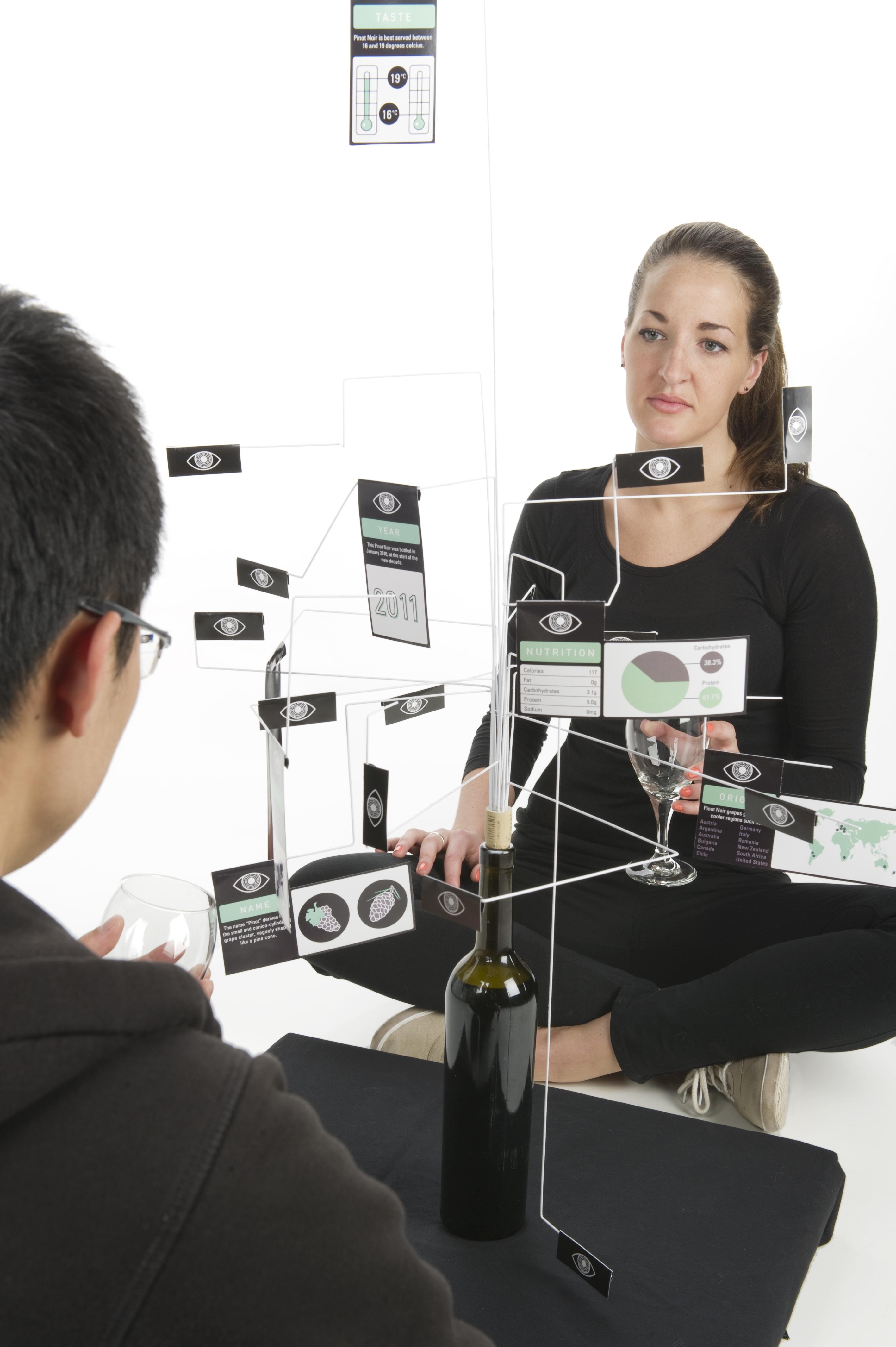 Augmented Reality Vision

Cong Yao and Claire Eckstrom



In predicting the future decade we thought in depth about the pervasive integration that has already begun between the virtual and real world. We spoke specifically on the advancements that will impact the way we see. In the future, we imagine that there will be an insertable or wearable eye device that allows the physical and virtual worlds to be combined seamlessly into one interface.



By choosing a product that carries a great deal of information (wine) we have illustrated how this augmented reality interface may appear. Using an identifiable icon, the user may expand each tag to reveal supplementary information about the wine's origin, taste, year, and history.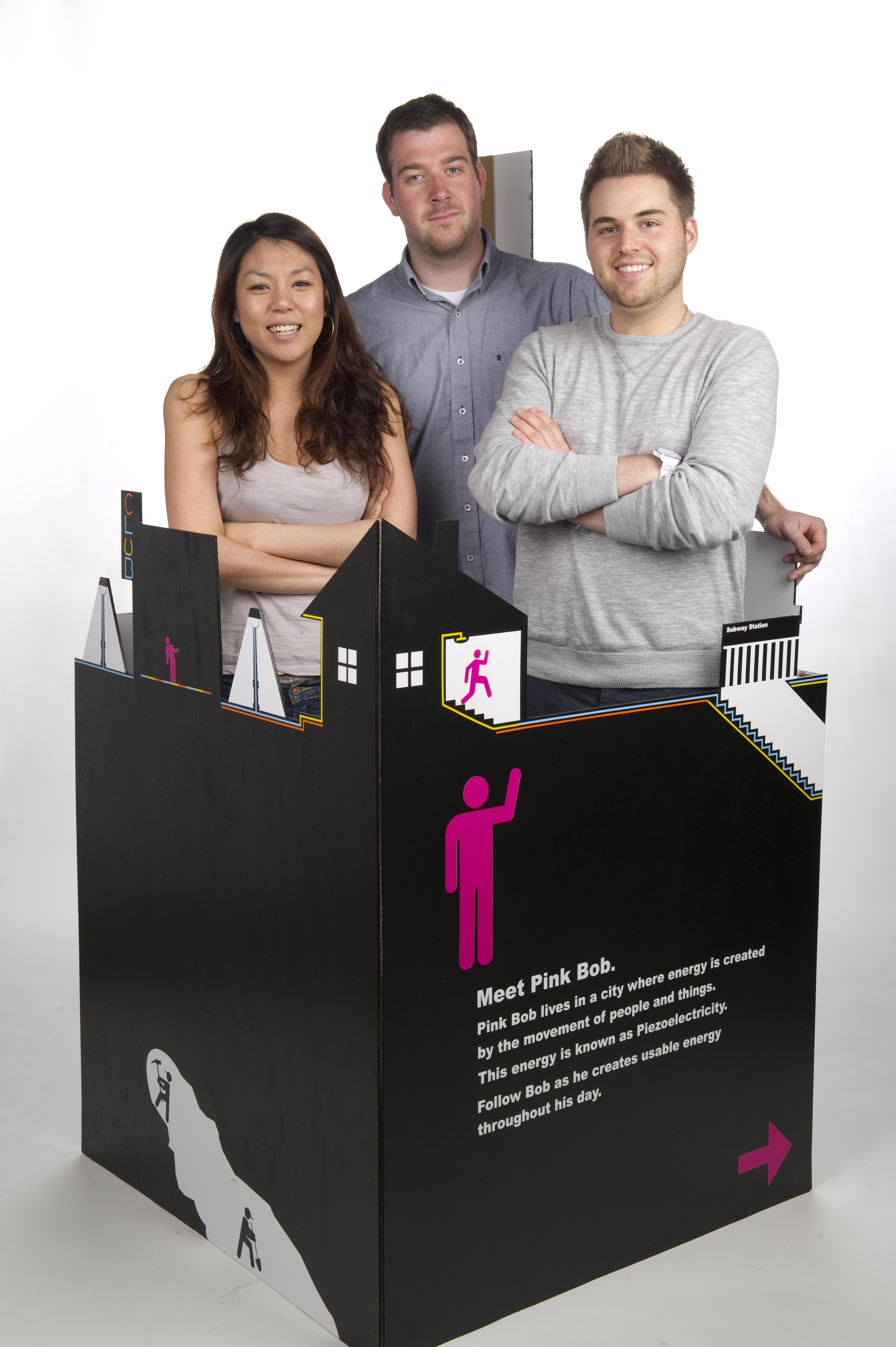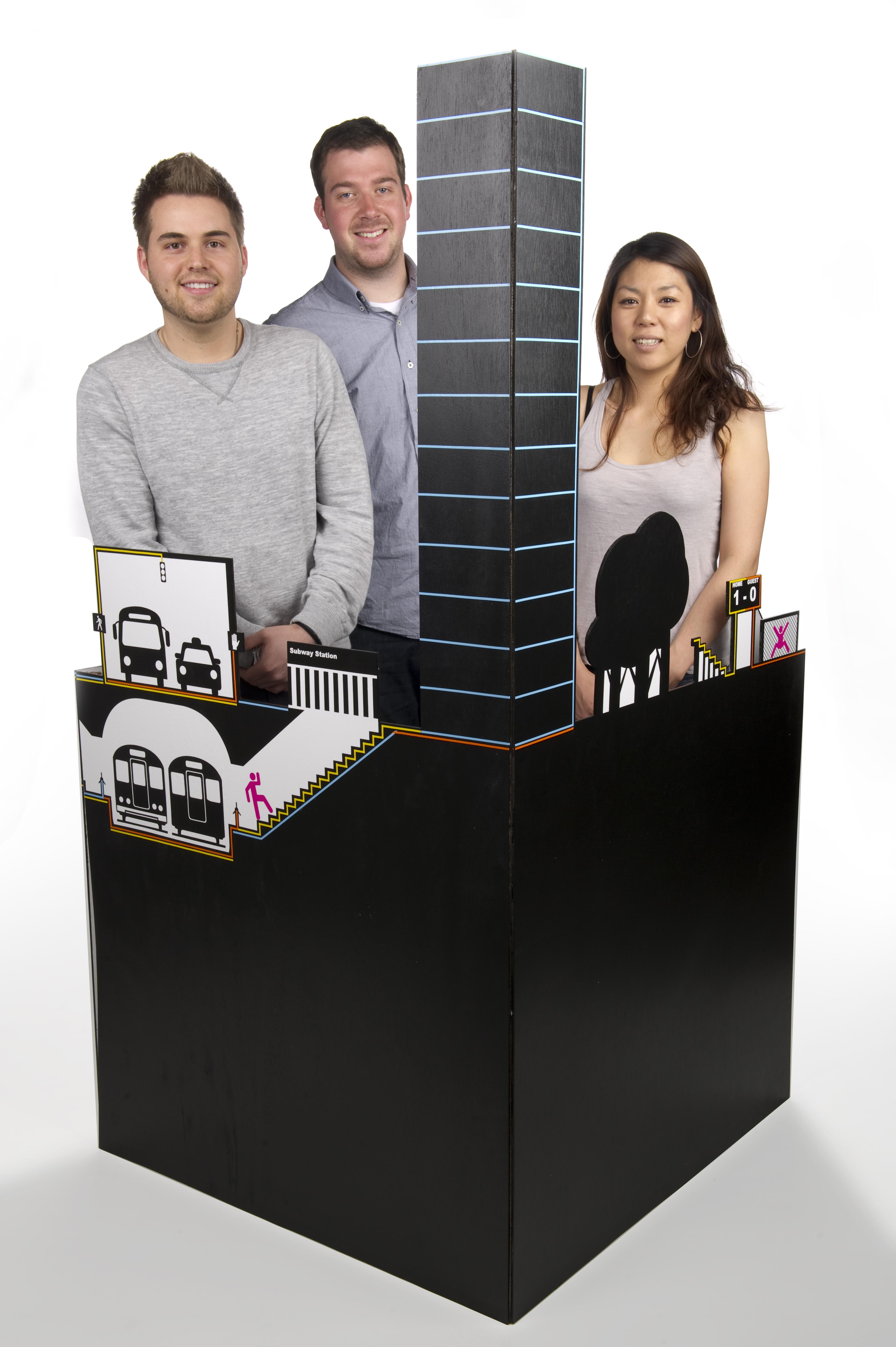 Human Generated Power

Dan Rucker, Brian Madden, Mi-Hee Hong



Imagine a world where power is generated through human movement. Where something as simple as footsteps can be converted into electricity and used to power the things around us. The surfaces we come in contact with can harness the impact we create and transmit our pressure into usable electricity. The global demand for energy is greater than ever, and in the future, human-generated power may be the ideal solution.



PIEZOELECTRICITY - ELECTRICITY OR AN ELECTRIC CHARGE CREATED BY PRESSURE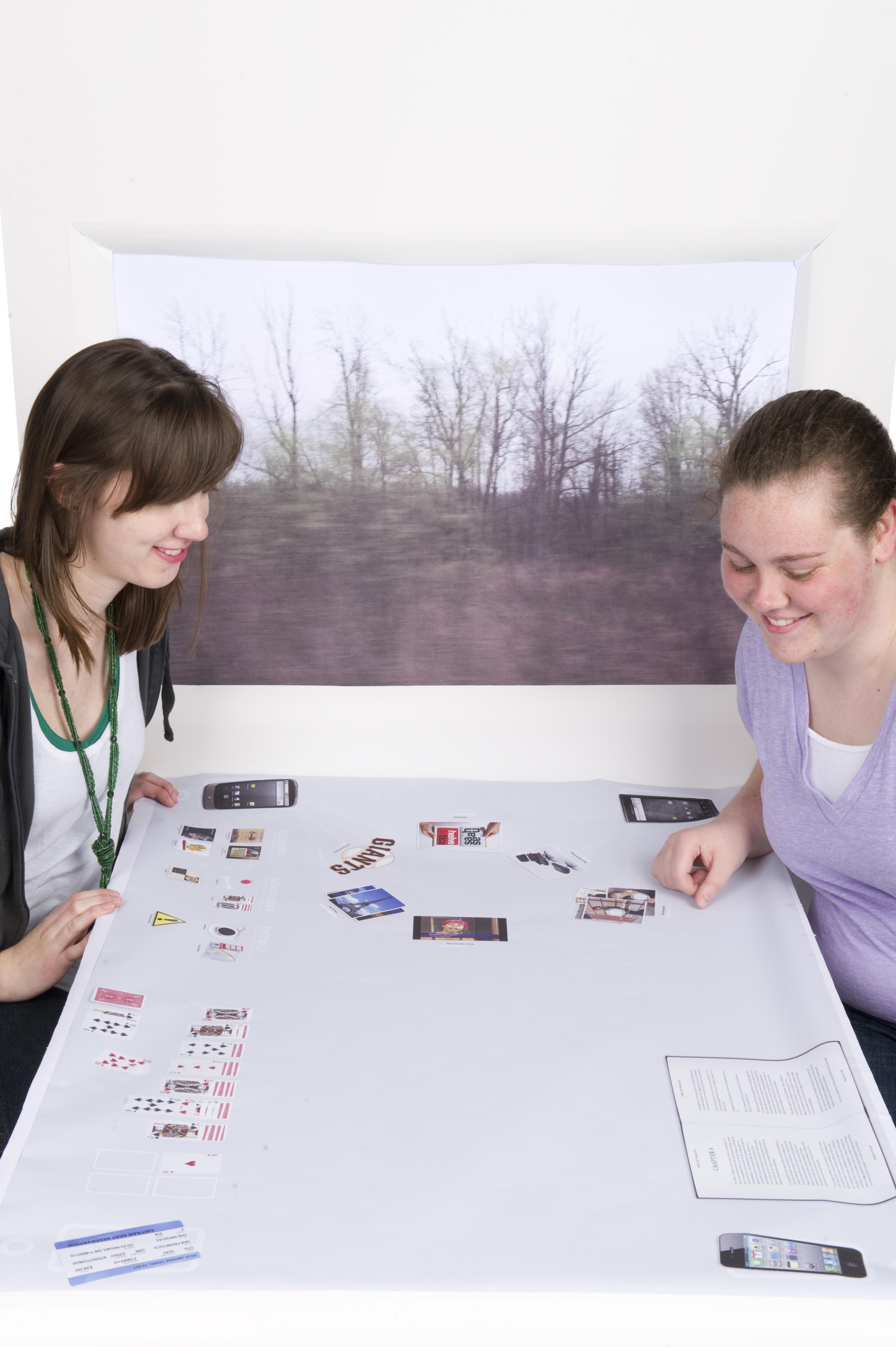 Amtrak Nexus System

Terra McAndrew and Alex Plyartz



This is a table for on a high speed train, surrounded by four seats, the table acts as entertainment and a conversation starter. The touch screen interface features a variety of games as well as all the information a passenger might need, safety info, snack menu, and a live feed schedule that tracks the trains progress in real time. With a smart phone the user can access to all the reading materials stored on the phone as well as a personalized RSS feed of his or her favorite online reading materials. The smart phone also enables the tables primary application, The Nexus connections system. Via the passenger's phone the table scans social networks looking for connections between the passengers seated at the table. It then brings up a variety of connections, thus giving the passengers topics for conversation.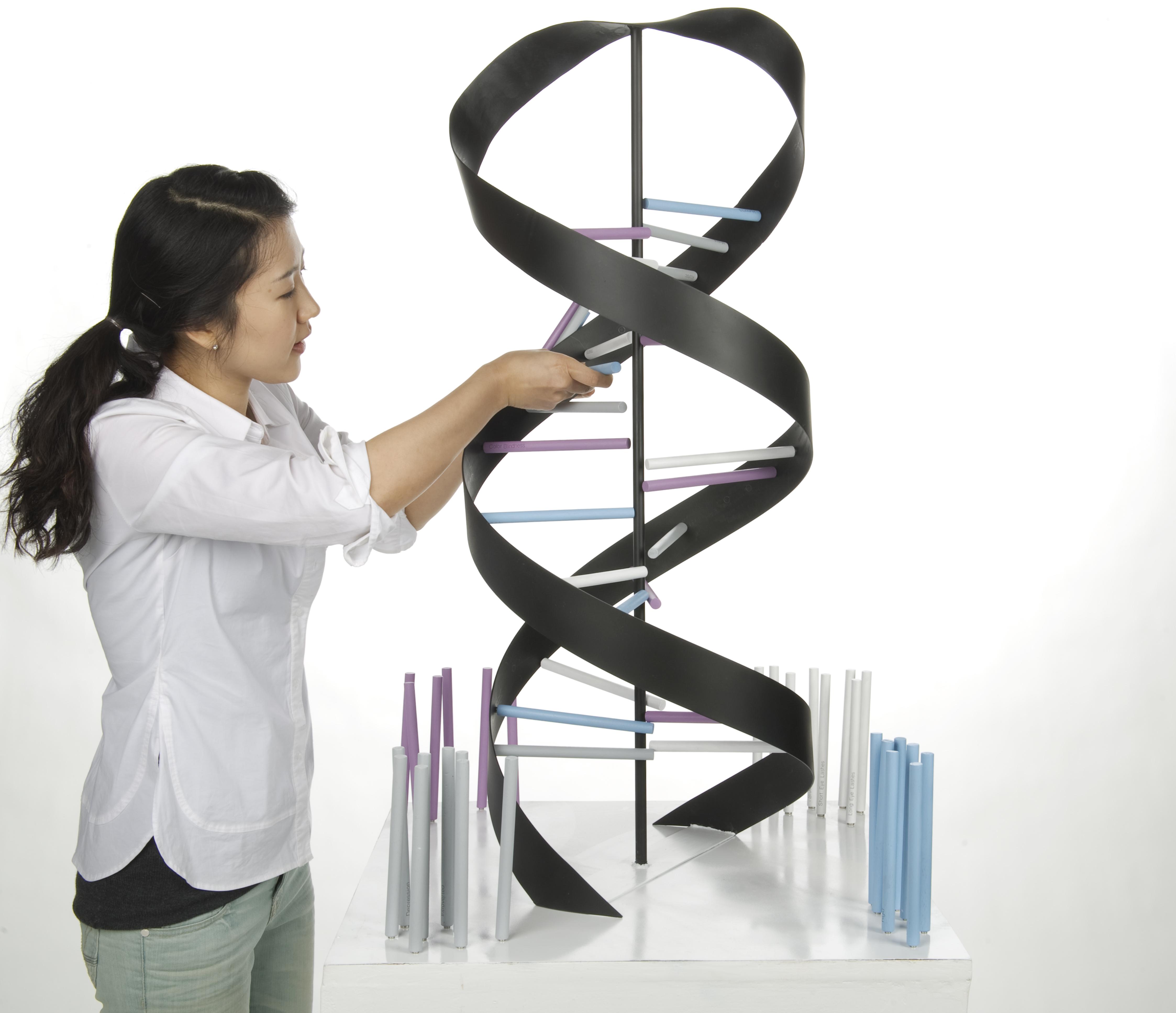 Gene Manipulation

Kristin McGeorge, Becky Chia-Chen Lee, and Sunyoung Kim



By looking at the advances in the past decade in the field of human genome sciences we have determined that in the next decade these advancements will help forward the cures of diseases like Parkinson's and Alzheimer's through the process of gene manipulation. The DNA helix is the focal point to our exhibit design, showcasing how the 23 decoded chromosome pairs relate to various diseases and both physical and personality.



The viewer is given control of creating a complete human genome, manipulating the genes to create their perfect person. It is important to remember that there are 23 pairs of chromosomes, equal to 46 genes, and to complete a human genome there has to be an equal number of the four colored rods used. The challenge comes into determining what aspects of the human genetic make up you are willing to sacrifice in order to create your perfect person.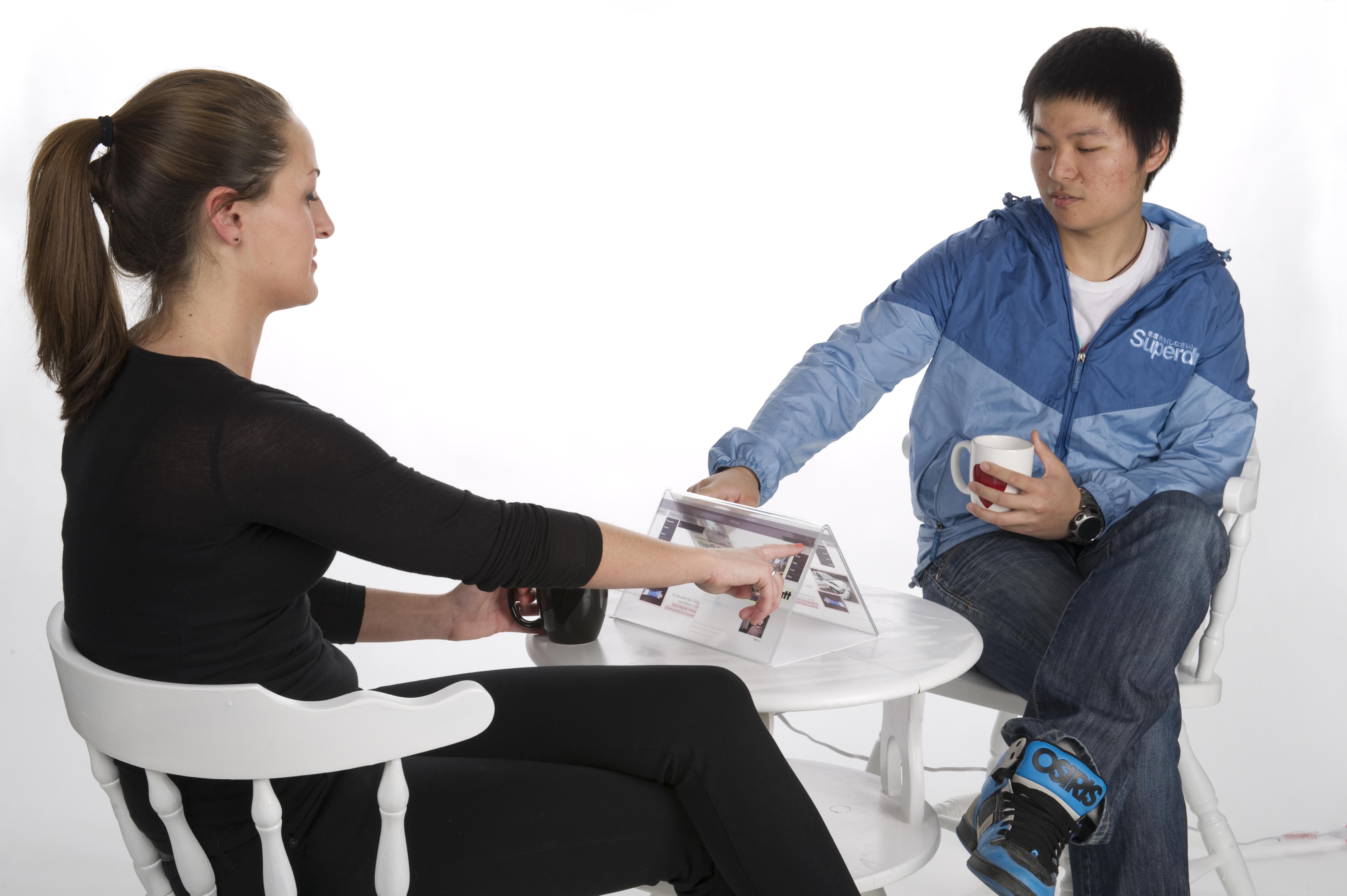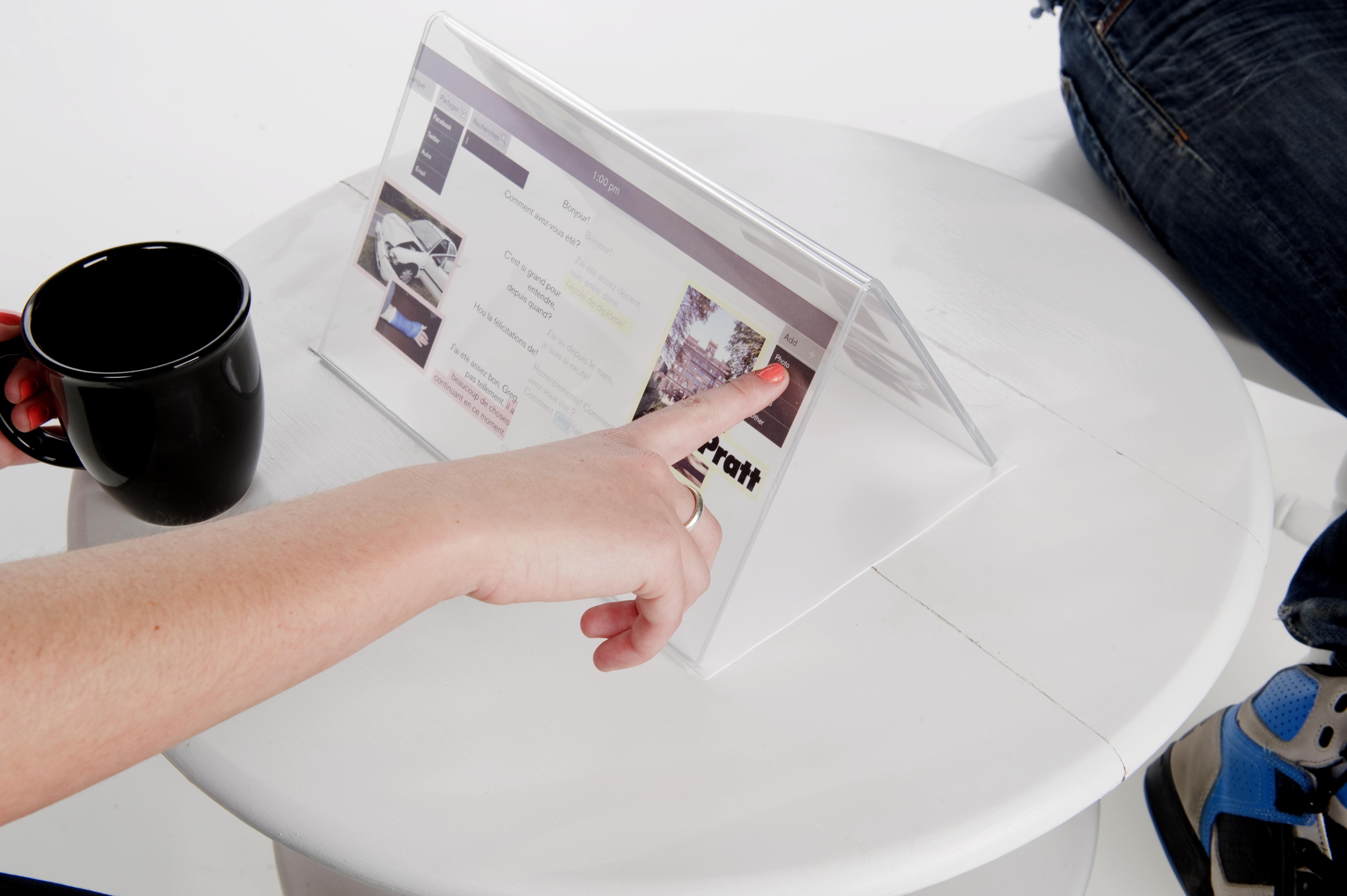 Global Communication

Chen An, Kejia Liu and Jackie Donner



It is clear that the ease of communication from person to person, as well as continent to continent, has increased drastically over the past ten years. In predicting the future decade of new technology, conceptual products and installments, our group wanted to focus on the ways that communication could become even easier. We thought carefully about the ways in which instant communication could benefit human interaction more than it already has.



For phase two we explored possibilities of designing different products that would physically represent such advancements in communication. We concluded, however, that designing a specific product would narrow the focus of the concept too much and instead decided on designing a three dimensional scene, or model. Our group would like to take a place where people can come together - whether it be a coffee shop, a bar, or a restaurant - and propose that the seating for this future place would be entirely interactive. Two people speaking different languages can sit down at a table with "smart" glass in between and begin "instant messaging" through the glass on the table. This glass will display the instant message in the language that is appropiate for the viewer and also translate the verbal speach as the sound waves go through the glass.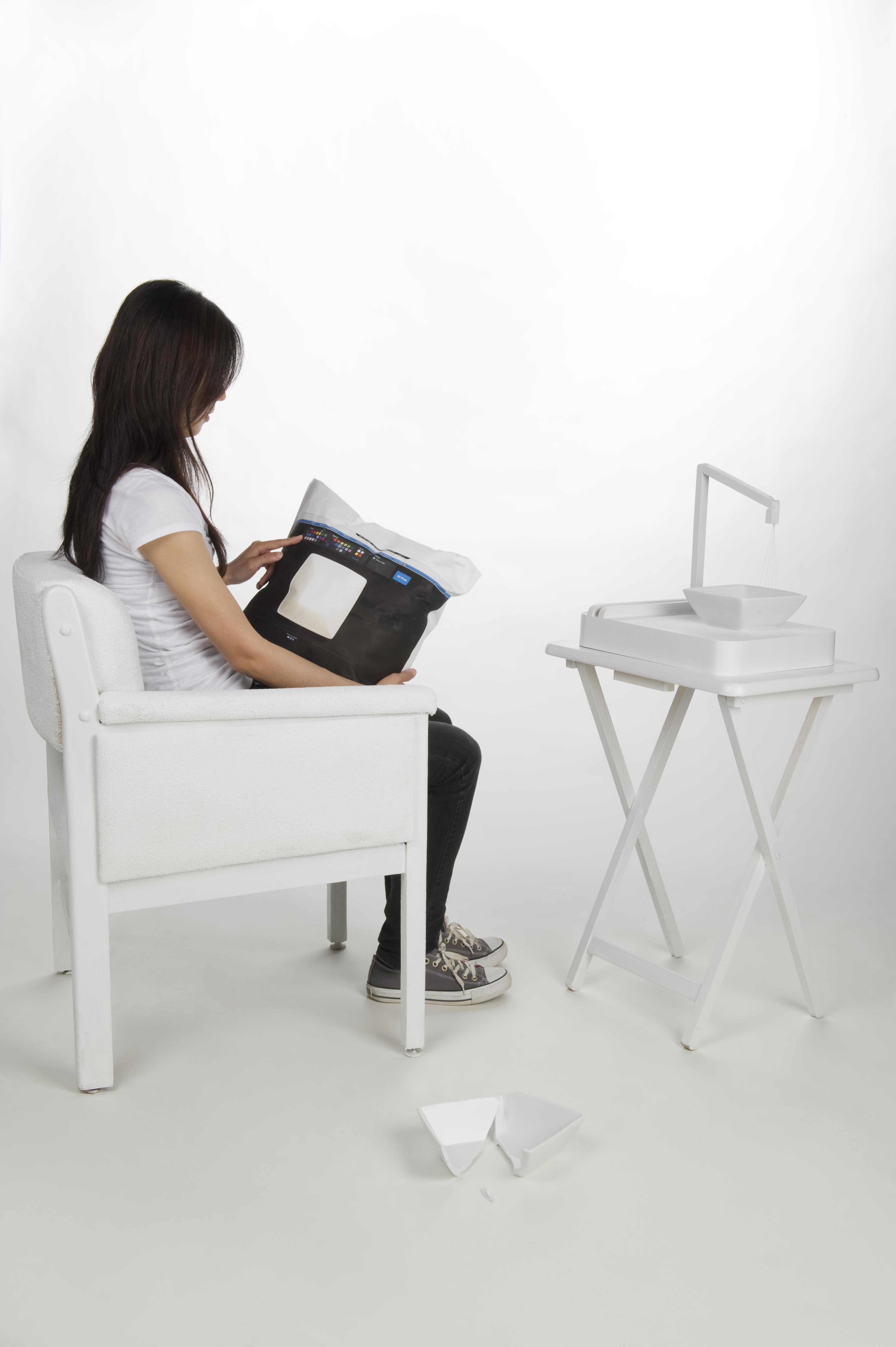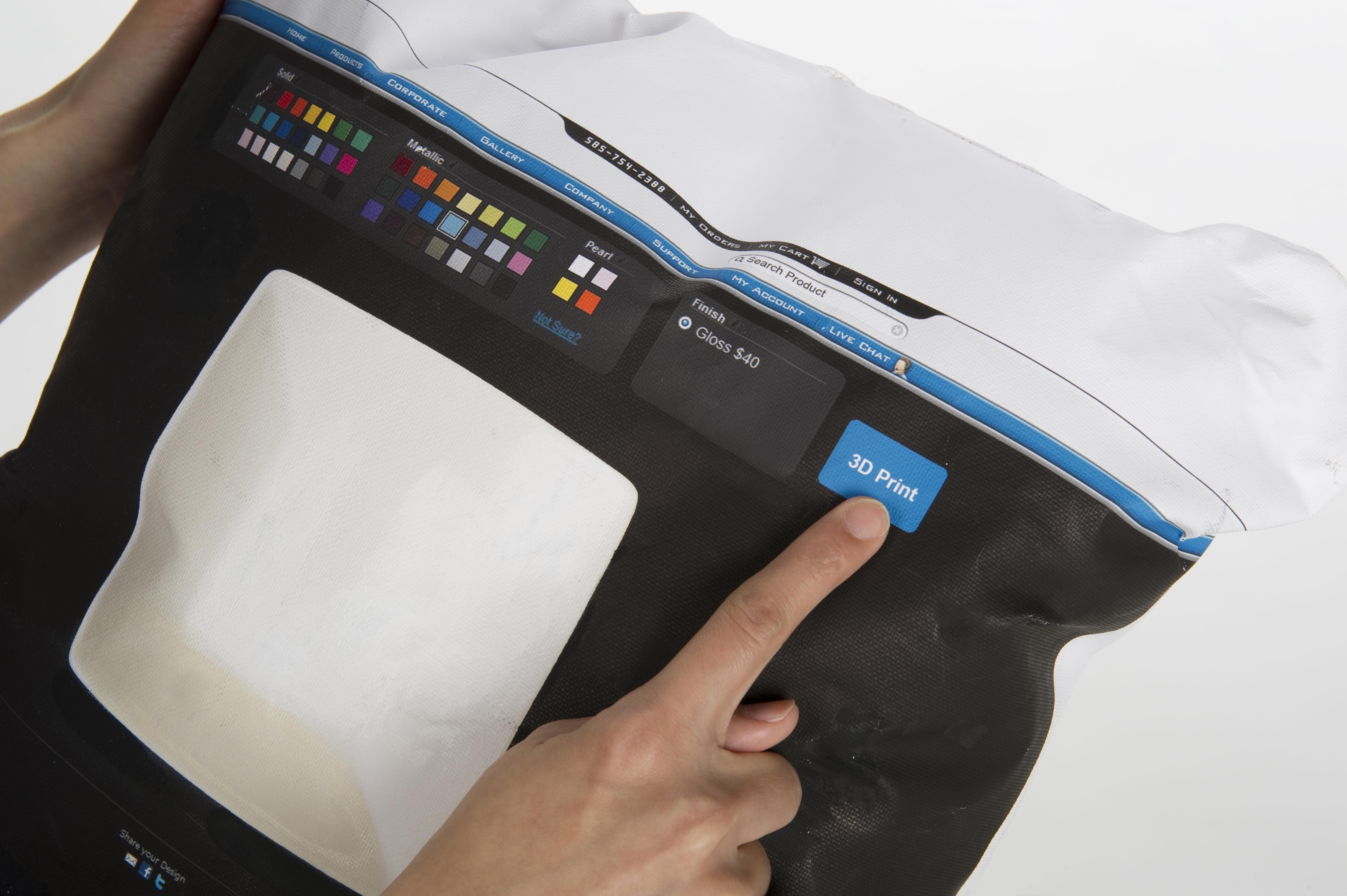 Human-Free Manufacturing

Boran Song and Liu Yang



Our project explores how human free manufacturing in the coming decade could be used in the home. What if you break a plate? Just sitting on your sofa, grabbing your pillow, touching the screen, searching the plate online, and clicking the '3D print' button. The user is able to control the creation of a new plate. Manufacturing is so easy in the future.




---