From Biology & Basketball to Orthopedic Surgery & Sports Medicine
November 10, 2022
Michael Stanton '03 (biology)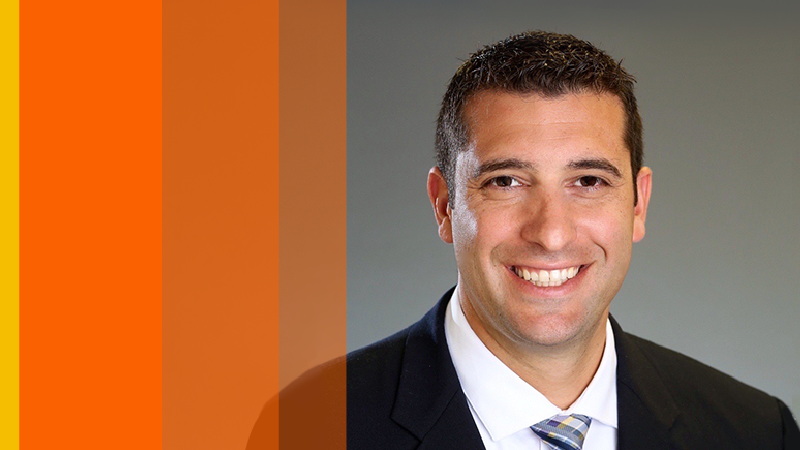 Dr. Michael Stanton '03 grew up in Honeoye Falls and visited RIT for basketball camps. After seeing what RIT could offer academically and receiving an offer to play basketball, Michael enrolled in RIT's biology program. Today, Michael is an orthopedic surgeon specializing in sports medicine with Rochester Regional Health. He also continues to work with his alma mater as the team surgeon for RIT Athletics.
Growing up, Michael always knew he wanted to be a physician. He didn't have any family in the field, but he was committed. RIT's biology program exposed him to many labs and his Pre-Med advisor guided him to unique courses that would prepare him for medical school. One of those courses was Gross Anatomy. Most students would be learning anatomy in books or with small animals, but Michael was able to visit RIT's cadaver lab. This experience turned out to be a good "trial run" since Gross Anatomy was the first class he took in medical school.
"No one starts out good at surgery."
After RIT, Michael attended SUNY Upstate Medical University and completed his residencies at the University of Rochester. He moved to California for a fellowship at the Kerlan-Jobe Orthopaedic Clinic in Los Angeles, CA and started his practice in orthopedic surgery in 2015. According to Michael, the reason the training program is so long is because it's experience-based. No one is automatically good at surgery. The process develops the skills and the knowledge that students need. Many people use medical school to experience things and figure out what kind of physician they want to be. For Michael, this meant going back to the community where he grew up, where he played sports, and where he got his own ankles taped.
"When I moved back from LA my goal was to work where I went to school."
As an orthopedic surgeon with Rochester Regional Health, Michael operates 2 days a week and sees patients in the office 2-3 days a week. Most of his surgeries are at an outpatient center but some are at the hospital. He's also on trauma call for Unity Hospital from time to time. In addition to his hospital duties, Michael is on the sideline at local athletic events including RIT Athletics and sporting events for Honeoye-Falls Lima, Greece, and Hilton school districts.
Michael says that one of the best parts of his work is the variety. Sometimes it's very academic and sometimes very hands-on. When he sees patients in the office, he needs to understand the pathology, develop a diagnostic and treatment plan, and then carry it out. When he's in the operating room, it's a stressful, exciting place to be, but it goes along with his personality. "I love fixing things - inside of work and outside." It's a job where he's continually learning and changing. There are even surgeries that he's doing differently now, based on new information he's learned over the years.
"When I finished at RIT I still had 10 more years of training ahead of me. If you're not 100% in, it's going to be a challenge to stay motivated."
To be successful in this kind of work, Michael says that students should be motivated to learn and excited about the work involved in becoming a physician. Specifically, he recommends gaining first-hand exposure to any aspect of the medical field to help build out a student's knowledge and experience. Even if students have to volunteer in high school, it's important to spend time in a hospital when it's not for a negative or scary thing.
The other benefit of gaining experience doing research, volunteering or working in a medical setting is that it will help you stand out, and it's important to learn how to do this early on. Even though he didn't do research as an undergraduate student, Michael says research nowadays is just one of those standard boxes that medical schools expect to be checked. Yes, schools will look at a student's grades, which courses they took and from what school. Still, there's a huge component of outside-of-classroom work that is evaluated including volunteer experience, work in the medical field, and research. Even after getting into medical school, students will have to compete for residencies and fellowships - situations where research can help people stand out from the crowd. On top of all that, research experience helps future physicians do their daily work. It's essential to understand which research paper is important, how the study was conducted and identify some of the pitfalls of that methodology. By doing research, writing and publishing, students pick up these skills that they will use in the long run.
Michael's biology degree prepared him well for medical school, but that's not all. Biology is a vast field and students can go in many different directions. At RIT, there are a variety of tracks and courses that students can take. As Michael says, "It gives you options if you're not sure."
---