Computational Mathematics and a Future in Cryptography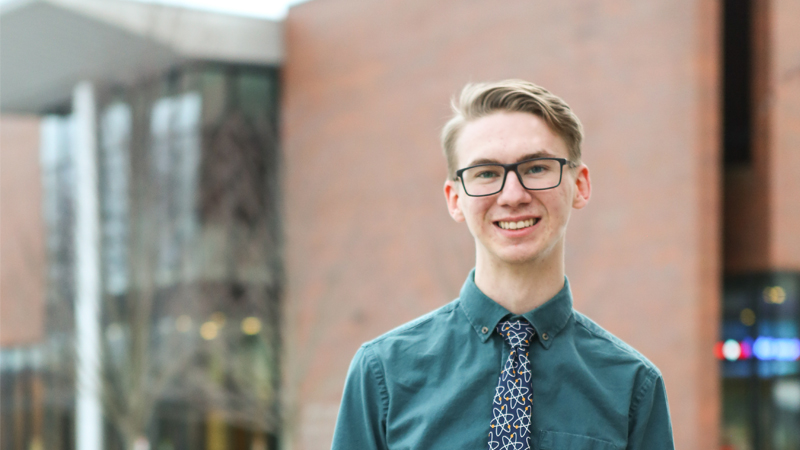 Keegan Kresge loved math since he was nine years old. He's also an experienced programmer, which made him the perfect fit for cryptography. His degree in computational mathematics gave him the training needed for a job with the Department of Defense in Baltimore, MD.
Before college, Keegan wasn't sure which major he wanted to pursue. He had a passion for ASL interpreting and STEM fields. He chose RIT since it offered programs for both majors. Keegan began as an ASL interpreting major at The National Technical Institute for the Deaf. But after some introspection during his first year, he realized he didn't want to speak someone else's words for the rest of his life. Also, he felt like it would potentially be taking jobs away from deaf and hard-of-hearing people if he went on to become an ASL teacher. He felt like he was between a rock and a hard place.
During his second semester, Keegan decided not to take any ASL classes and took a mix of math, imaging science, and career exploration courses instead. With help from staff and fellow students, he decided to become a computational mathematics major since he loved math and programming.
"Since switching majors, I have fallen madly in love with mathematics and computer science, and I am a role model for my fellow students. Although I am no longer an ASL-interpreting major, I still enjoy and practice sign language."
During his time at RIT, Keegan kept busy with classes and extracurriculars. He decided to spend his summers researching to spread out his responsibilities and still have time to do the things he enjoyed. He participated in two Research Experiences for Undergraduates (REUs) that led to publications for each project.
Keegan's first REU began at the start of COVID-19, where he developed algorithms for modeling epidemics and collaborated online with a team from Ohio State University. Their publication, 'Analyzing Epidemic Thresholds on Dynamic Network Structures,' was published in the Society for Industrial and Applied Mathematics (SIAM).
During his second REU at Temple University, Keegan created a WiFi-based gesture detection system, and the team received a "Best Workshop Paper" award. Their paper, 'WiFi-based Contactless Gesture Recognition Using Lightweight CNN,' was published in the Institute of Electrical and Electronics Engineers (IEEE).
"I enjoyed these projects because they gave me an outlet to challenge my programming skills. Since I was the lead for both projects, I learned what tools are out there to collect and analyze data. And I learned that research is a collaborative experience. When you work on something no one has tried before, no one will have all the answers. But that's the fun of it! Discover something new and share it with the world."
During his last semester at RIT, Keegan found a new research interest in cryptocurrencies. The mathematical and computational practice of encoding and decoding data is called cryptography, and it is the foundation for Bitcoin and other blockchain-based cryptocurrencies. Keegan discovered the world of cryptography while researching with Dr. Mary Lynn Reed, head of the School of Mathematical Sciences. Dr. Reed worked with the National Security Agency for nearly 20 years and their work together focused on predicting the success of a given cryptocurrency.
"I've discovered a whole world of complexity in cryptocurrencies, but it's easy to analyze since all the data is publically available online. I'm grateful for the opportunity to expand on knowledge outside the classroom, and I've learned a lot about research from these projects."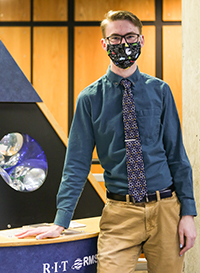 During his academic career, Keegan became involved in a wide variety of clubs on campus. He is the president of the math club, PiRIT, which regularly hosts faculty and student speakers and brings people together for game nights.
"One of my favorite meetings is the Mathematician Debate meeting where the audience debates which mathematicians are more influential. This activity is a thinly-veiled attempt to spotlight mathematicians from all backgrounds, including women, people of color, LGBTQ+ identifying, and neurodiverse individuals. I am incredibly proud of the community we have built at PiRIT, and I will miss it dearly after I graduate."
In addition to PiRIT, Keegan is the Initiate Advisor of the Phi Sigma Pi Honors Fraternity, where he instills values of scholarship, leadership, and fellowship into potential new members and helps them grow as leaders in their own right. He's also the president of the theatrical group Rocky Horror, where he single-handedly resurrected the club from the verge of bankruptcy. The group has now recovered from the debt and earned $1,000 in profit from their Halloween shows. Keegan is responsible for buying movie rights, reserving rooms, selecting the cast, hosting rehearsals, transporting props, and performing in the show.
"I truly admire the diversity at RIT, and I was eager to embrace this within each club that I support. Furthermore, I am grateful that these clubs give me a platform to challenge myself and grow as a leader."
When asked what advice he would give first-year students, Keegan offered valuable insights on exploring and trying new things, getting to know your professors, and getting involved in research.
"My main tip is to explore! Your first year is the time to try out clubs, meet people and get to know the campus. And go to buildings outside your department. Some of my favorite study spots are in MAGIC and the new ESL Global Cybersecurity Institute building."
Keegan suggested that if you're unsure about a club, go to one meeting to see if you like it. You never know who you will meet or what you might like until you try it.
"Get to know your professors. They are people just like you, and they truly want the best for you."
Keegan recommends students go to faculty office hours even if they don't need to talk about class. Building relationships between faculty and students help with solid letters of recommendation down the road.
"Get involved with research if you're considering that as a career or just interested in furthering your studies."
If you have a professor in mind, Keegan suggested getting on Google Scholar to see their previous research and ask them if they are willing to have you join their current research projects. If you don't have a professor in mind, look around your department. See what research has already been done to determine if anything sparks your interest.
After graduation, Keegan plans to work in cryptography at the Department of Defense in Baltimore, MD. "I am grateful to Dr. Anurag Agarwal in the math department for introducing me to cryptology and Dr. Thomas Borrelli in the computer science department for furthering my interest. Additionally, Dr. Mary Lynn Reed has been a lot of help informing me about what work is done there, and what to expect from the math development program."
---