Mathematical Modeling, Curtain Coating, and Glazed Donuts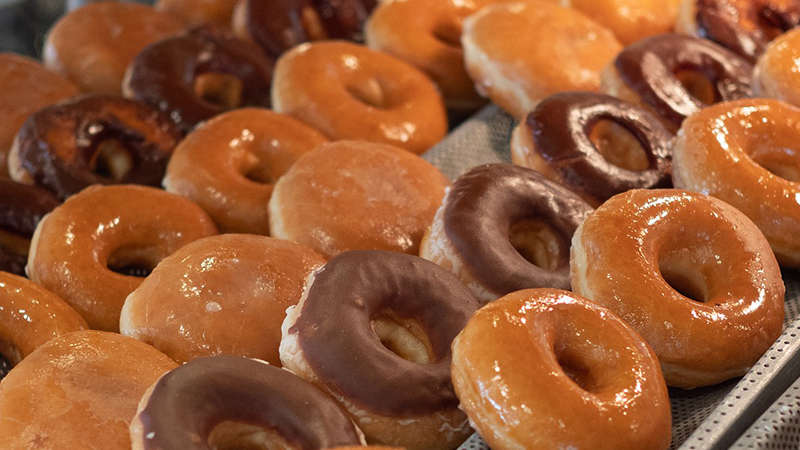 Bridget Torsey completed her MS in Applied and Computational Mathematics at RIT in 2020 and is currently a Ph.D. candidate in RIT's Mathematical Modeling program. She wanted to improve the uniformity of the curtain coating process that is used in a variety of industries. Her research into thin-liquid curtain coating resulted in a new mathematical approach and a publication in the Journal of Fluid Mechanics.
Curtain coating is used to deposit one or more thin liquid layers of material on surfaces. These layers are subsequently dried to create a solid final product used in a variety of industries. Companies such as Kodak use curtain coating to manufacture photographic paper, film, and specialty paper products. Ortho Clinical Diagnostics uses curtain coating to produce some of their diagnostic technology products. Other examples include industrial painting of machine parts, chocolate enrobers used to coat chocolate candy, and the glazing of donuts at Krispy Kreme. In fact, Krispy Kreme has a proprietary technique for its donuts that uses a "waterfall icing" machine to glaze hundreds of donuts a minute.
For her Ph.D. research project, Bridget worked with a team of researchers to study the response of thin-liquid curtains to disturbances. This team consisted of Drs. David S. Ross, and Nathaniel S. Barlow from the School of Mathematical Sciences, and Dr. Steven J. Weinstein from the Department of Chemical Engineering; all three are core faculty in the Math Modeling Ph.D. program. The team wanted to understand and improve the uniformity of curtain coating for quality control.
"We studied the response of thin-liquid curtains to disturbances which are typically present in an industrial setting," said Bridget. The speed of the fluid in a curtain influences its ability to resist disturbances. When a disturbance, such as air, hits a curtain, waves are generated that move upstream and downstream and can deflect the curtain. These waves can coat into a final product and create wiggles in the liquid layers and this disrupts product performance.
Bridget and her team developed a new mathematical approach to predicting the response of curtains to various pressure disturbances. Her model can be used to determine the relationship between the magnitude of disturbances, the curtain liquid properties, and the layer thickness disruptions—this, in turn, can set constraints on how to run the process.
Although Bridget doesn't know all the secrets behind the glaze on a Krispy Kreme donut, her mathematical model can be used to assure that the donuts are glazed uniformly and taste great!
Read the abstract: 'The effect of pressure fluctuations on the shapes of thinning liquid curtains."
---