Explore Undergraduate Research, Discover a Passion, Land a Career
September 21, 2023
Tyler Godat '16 (physics and applied math)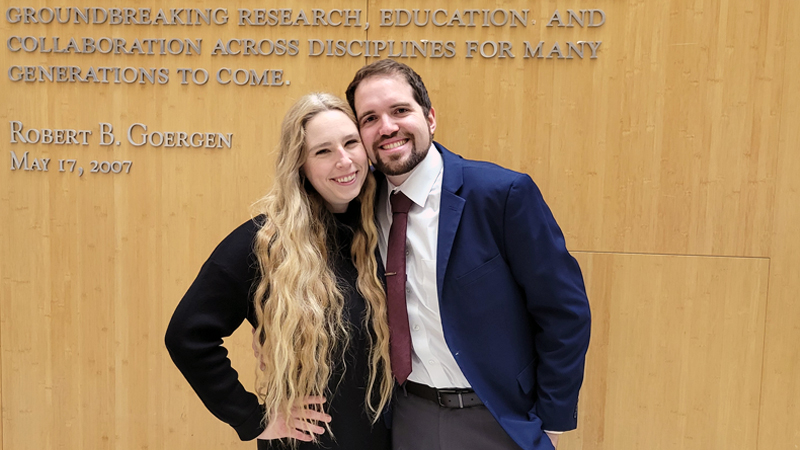 RIT's reputation for undergraduate research, co-ops, and internships attracted Tyler Godat '16 to the physics program in the College of Science. In addition, he was impressed by the number of expert faculty members within the department. Led by his passions, Tyler pursued a dual degree in physics and mathematics and is now an optical measurements engineer at Corning.
While at RIT, Tyler took advantage of research opportunities. He studied cavity optomechanics with his mentor Mishkat Bhattacharya, professor in the School of Physics and Astronomy, and postdoctoral researcher Brandon Rodenberg. Tyler co-authored the paper, "Ray transfer matrix for spiral phase plates" as an undergraduate with Dr. Bhattaharya. Because of this work, Tyler was also recognized nationally with a Barry M. Goldwater Scholarship and Excellence in Education Award, which is considered one of the most prestigious undergraduate awards in the country.
During his junior year, Tyler was accepted to a National Science Foundation Research Experiences for Undergraduates (REU) scholarship at the University of Rochester, which provided valuable research experience in a quantum optics lab. "Since my research at RIT was all theoretical or modeling, this experience was my first exposure to lab-based optical bench research."
"The research and connections I made at RIT directly influenced my interest in optics. The opportunity to pursue various research projects as an undergraduate ultimately supported my acceptance to the Institute of Optics at Rochester. Along the way, I learned a great deal about scientific methodology and what it takes to succeed at graduate level research."
He credits his ability to conduct undergraduate research during his first year as a huge factor in his success. When asked if there were any faculty that inspired him, his list was quite extensive, but he said, "My advisor, Dr. Bhattacharya, was the biggest influence and directly responsible for many of my research skills and connections that led me to graduate school."
Tyler had worked with high precision optical imaging systems to noninvasively image living macaque ocular tissue for five years by the time he was a Ph.D. candidate at Rochester's Institute of Optics. Today, he works at Corning Inc. as an Optical Measurements Engineer.
For students interested in pursuing this field, Tyler suggests high school students take a lot of math courses. "Physics and engineering disciplines are full of incredibly difficult problems that can be modeled or solved using advanced mathematics. Even math courses that seem unrelated like Abstract Algebra, Proof Theory, or Group Theory can have an enormous impact on your understanding of physics and really improve the way you approach science. Above all, understand probability and statistics! The downfall of much research is a basic misunderstanding of basic statistics and how to interpret them. I would also say that physics is an incredibly vast discipline, so don't worry if there are parts of it that might not be of interest to you!"
---