From Imaging Science to Computer Vision Engineer
September 24, 2021
Sara Leary '18 (imaging science)
Faculty: David Messinger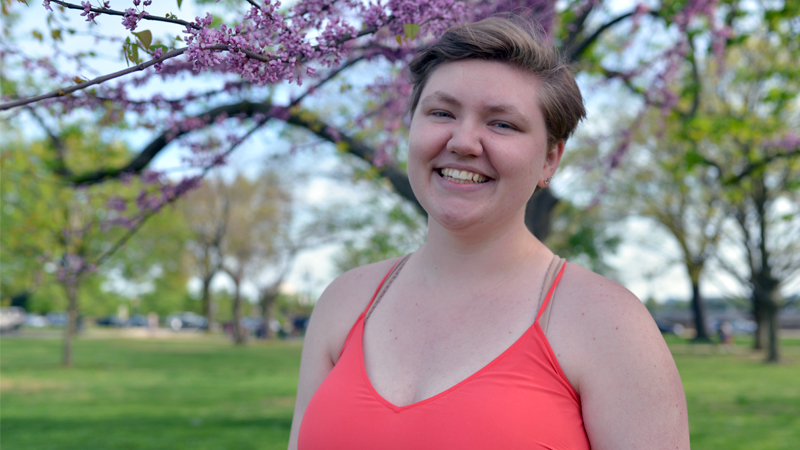 Sara Leary '18 was always interested in science and technology but enjoyed many different subjects in those areas. The RIT imaging science degree program turned out to be a great fit, exposing her to math, physics, computer science, and engineering. Sara learned about all the parts of the Imaging Chain: how light interacts with matter, how that light is collected and then stored, the processing that happens to that data, and how that information is perceived. Today Sara works as a Senior Computer Vision Engineer at MITRE in McLean, Virginia.
IBM describes computer vision as an interdisciplinary scientific field that deals with how computers gain high-level understanding from digital images or videos. From the engineering perspective, it seeks to understand and automate tasks that the human visual system can do. "If AI enables computers to think, computer vision enables them to see, observe and understand."
Imaging science students like Sara start learning how to use computer science and math to solve problems related to images and video starting on day one. The Imaging Science Innovative Freshman Experience gives students hands-on experience researching, designing, and building a functional imaging system in time for RIT's annual research and creativity festival, Imagine RIT. There's no homework, no tests, and no blueprint for exactly how to get the project done. Sara remembers thinking the class was a little bit daunting at first. However, the class was able to break themselves down into smaller groups and successfully complete the project. The first-year course taught Sara about collaboration and the importance of strong research skills.
When it came time to decide where she'd go after RIT, Sara had developed a wide range of knowledge and skills. The imaging chain has real-world applications in optics, programming, color science, and sensors, among other industries. The faculty in the imaging science program had been helpful to Sara when she had questions about classwork and what they were working on in their labs, so she took advantage of those open-door policies to ask about career options. Sara found that the interdisciplinary nature of the imaging science program set her up perfectly to pick an area she enjoyed, whether it was graduate school or a job.
As a Senior Computer Vision Engineer at MITRE, Sara uses both MATLAB and python for problem-solving projects in computer vision, machine learning, data processing, and color management. Some weeks can be very programming-heavy. Other projects rely on input from different sensors, so she has to get a sensor to communicate with her program and make sure that she's processing its data correctly. She also spends time looking at research papers and conferences to see what other researchers are working on, and she's working through online classes to get her drone pilot license.
Sara recommends that people interested in her field of work have experience with programming and math. Although she only had a little bit of experience with machine learning before joining MITRE, she could apply the basic machine learning concepts she picked up in an introductory class at RIT and build from there. The field is constantly evolving so it's important to be able to ask questions and collaborate with your teammates, in addition to having the technical skills. As Sara explains, "Chances are that if there is some concept you're not understanding, or if there's some bug that has popped up in your code, someone around you will have the experience to guide you through whatever problem you're experiencing." It's also important to describe the work that you've done in a clear and concise way. This includes describing the experiments she ran the week before and the kind of results she saw. This allows the team to collaborate better, determine tasks for the next week, and make suggestions for the task she is working on.
Sara believes that her time in the RIT imaging science program prepared her well for the research and development she's doing now at MITRE. She has a better understanding of how the data she works with has been collected and processed and how she can use that information to solve problems. Also, since she has a broad knowledge of the imaging chain and its applications, she can jump around and work on different tasks at MITRE, a company that encourages people to get involved in projects that appeal to their interests.
About RIT's Chester F. Carlson Center for Imaging Science
Imaging science is a unique major that combines math, physics, computer science, and engineering to develop imaging systems used in a wide array of industries. Today, imaging systems monitor agriculture, study art, visualize architecture, protect and secure the nation, explore the universe, and drive cars. The Chester F. Carlson Center for Imaging Science is dedicated to pushing the frontiers of imaging in all its forms and uses. Graduates of the Center's bachelor, master, and Ph.D. programs are employed at world-renowned companies such as Adobe, Amazon, Apple, Aptiva Imaging, Boeing, Google, L3 Harris, Lockheed Martin, NASA, National Geospatial-Intelligence Agency, Naval Undersea Warfare Center, and more.
Approved for Public Release; Distribution Unlimited. Public Release Case Number 21-2079. The author's affiliation with The MITRE Corporation is provided for identification purposes only and is not intended to convey or imply MITRE's concurrence with, or support for, the positions, opinions, or viewpoints expressed by the author. ©2021 The MITRE Corporation. ALL RIGHTS RESERVED.
---