Imaging Science Degree Applied to a Growing List of Industries
Working alongside other scientists in a real-world environment, RIT Imaging Science student, Imergen Rosario, found everyone accepting and said she felt equal to the other scientists at the Estée Lauder Companies in the R&D Summer Internship Program. This internship in cosmetics is the latest in a growing list of industries where Imergen has applied her degree. Imergen has also used her imaging science degree for remote sensing and psychophysics projects and knows more industries exist to explore.
While working for the Vision Lab in the Global Clinical and Consumer Sciences department, Imergen was tasked with designing a color measurement methodology for lip products of various finishes to create a formulation database. She also designed how the database would be searchable for internal purposes. Working alongside lab scientists, including an RIT Alumnus, Imergen had the opportunity to learn while asking for advice and suggestions along the way.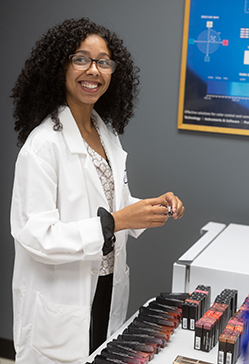 "The other scientists didn't treat me like someone who didn't know what they were doing. Although I was doing things I had never done before, I felt equal to them and learned a lot over the summer, including how to present to different groups of technically trained people outside of biologists or chemists. I was also exposed to what type of questions are asked by both scientists and consumers that help improve the cosmetics industry."
Imergen's early interests started with art, so she studied illustration in high school, focusing on realistic portraiture. While she was interested in art, she also liked science, mathematics, and problem-solving, which ultimately led her to focus on a STEM career. "Problem-solving in science is something I have always been drawn to. I've always enjoyed being presented with a problem, conducting an experiment, and analyzing the data."
Imergen discovered Imaging Science after enrolling in the Science Exploration program at RIT. In this in-depth exploration program, students can take up to a year to explore RIT's science programs before deciding on a major. After her orientation leader, who happened to be an imaging science student, described the major as a mix of computer science, math, and engineering, Imergen was sold. It sounded like the perfect fit for her career path. She transferred to Imaging Science from Science Exploration in the first semester of her second year.
"A person can go in countless directions with this degree. The Imaging Science program is so unique and interdisciplinary. It is unlike any other major on campus. I have applied my knowledge in remote sensing, psychophysics, and cosmetics which are completely different fields but still applications of my degree. Other fields include but are not limited to, optics, defense, color, and astronomy. With this major, you could work for NASA, Facebook, Apple, Estée Lauder, L3 Harris, Optipro, and many more."
With an internship from Estée Lauder on her resume, Imergen hopes recruiters see how versatile imaging science is and think about ways to apply her knowledge to their company. "During the RIT Career Fair, I gave my resume to Sony. Students in imaging science learn about creating, processing, and displaying images while considering different types of detectors, which can be an effective use for an imaging scientist at Sony."
Imergen discovered her internship at Estée Lauder with the help of the RIT Imaging Science Club (ISC). "ISC holds meetings once a week where people from different companies come in and show students what's available to them. Although my internship was a summer program that thousands apply to, the presenters specifically recruited students from RIT imaging science. I was interested in this internship because it was so different from the other 'usual jobs' of imaging science graduates, and it involved cosmetics which I love. I asked the ISC president for the emails of the recruiters and contacted them. It was an immediate internship offer because I had the exact knowledge they were looking for in the position."
For students looking for co-op or internships, Imergen offers some advice. "Ask your professors about internship opportunities. Learn how to improve your resume by attending workshops and the RIT Career Fair, and take advantage of networking opportunities. And don't forget to update your LinkedIn profile!"
Imergen was featured in the article 'Between Semesters' in RIT University Magazine.
*Photos by Jordan Tenenbaum
---