Between Semesters
Between Semesters students pursue their passions outside of class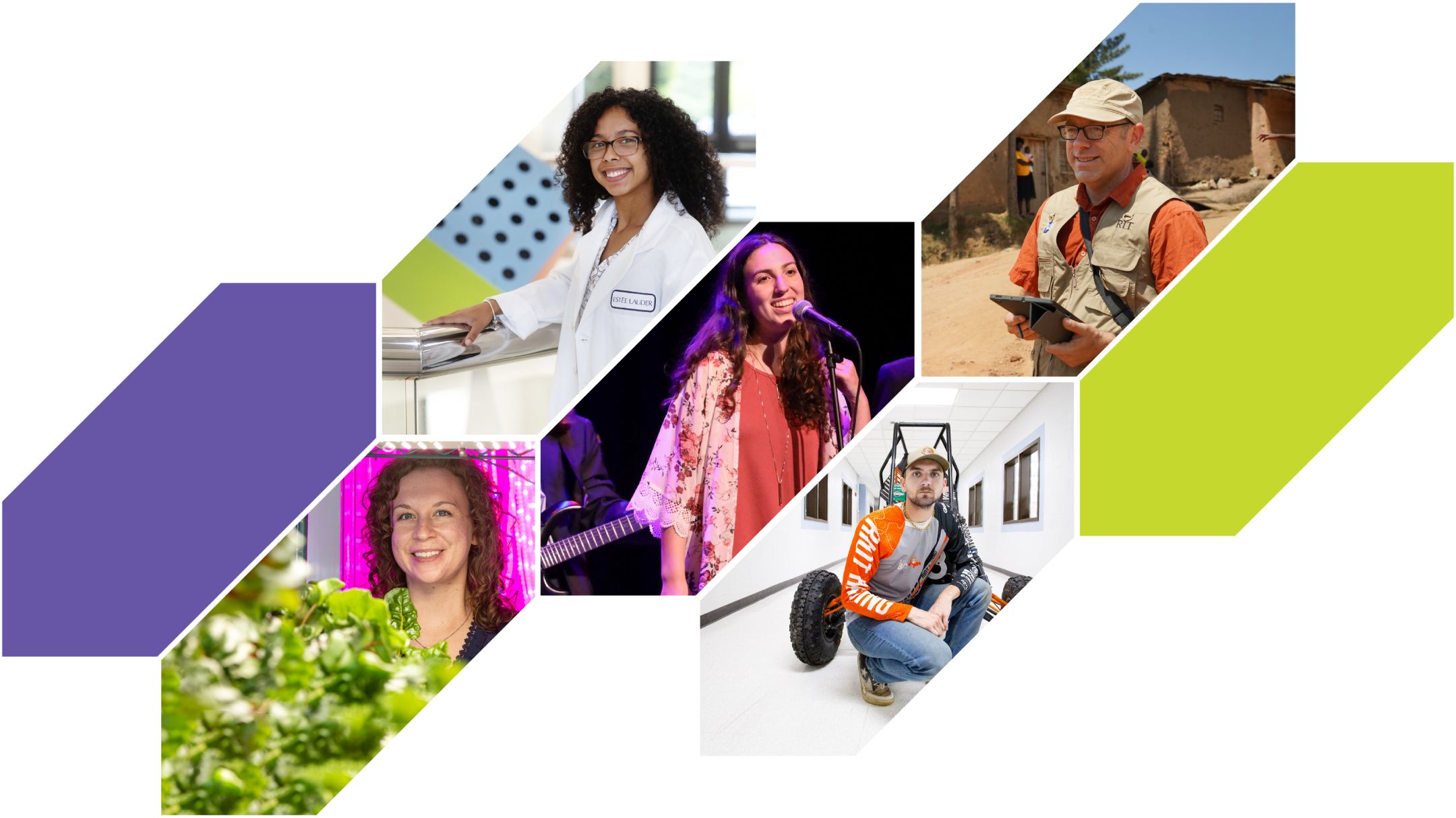 Students pursue their passions outside of class
Learning doesn't have to stop when the semester ends.
During the 15 weeks between spring and fall semester, RIT students are finding ways to embrace new challenges. Some are taking the stage and performing. Others are winning club championships.
For many RIT students, summer is a time to get work experience. They are participating in research projects, traveling abroad, and helping others while pursuing their passions. Read about how five students spent their summer vacation.
Exploring the many shades of imaging science
Imergen Rosario used a recent internship to explore a potential career path she did not know was possible for someone from her major. The fourth-year imaging science student from the Bronx, N.Y., spent the summer on Long Island conducting research for The Estée Lauder Companies.
Rosario found out about the internship through RIT's Imaging Science Club, which invites companies to come speak at their weekly meetings. When representatives from The Estée Lauder Companies came and said they were looking for someone to help them develop an internal database of lip products, Rosario jumped at the opportunity.
"I didn't even know I could bring imaging science into the cosmetics field," said Rosario. "I'm more drawn to the creative side of things, so I thought this is perfect and I can apply what I'm learning in classes to cosmetics."
From May through August, she developed an imaging measurement protocol to characterize pigments under different lighting conditions, sample preparations, and other factors. That work experience at The Estée Lauder Companies was one of several very different avenues she has taken to explore her unique, interdisciplinary program.
In her second year, Rosario worked extensively with the Digital Imaging and Remote Sensing (DIRS) Laboratory, helping operate drones during remote sensing experiments across the country. In her third year, she conducted research with Associate Professor Gabriel Diaz in the PerForM (Perception For Movement) Lab, exploring the augmented reality path of imaging science.
"I love imaging science because it's so broad, but it's very niche at the same time," said Rosario about the New Economy Major that combines engineering, computer science, and math. "You can go into so many different fields but be a specialist no matter where you go. I like being able to test every field and see which one I fall into best."
Rosario said that the internship helped cement for her what she would like to do professionally after graduation.
"I never thought I'd see this path, it's just a very interesting route," said Rosario. "I really like the cosmetics field and I feel like this is the route that I would like to take."
Mapping to improve refugee camp resilience
Rob Mitchell is finding new ways to make a difference. He switched from a 15-year career in newspaper journalism to become a data science master's student.
Last summer, Mitchell joined a team of graduate students and traveled to Rwanda—via funding from the National Science Foundation International Research Experience for Students program—to map refugee camps using geographic information systems (GIS) technology. The researchers aim to better understand and prepare refugee camps for resilience to disasters.
"What I loved about reporting was being able to bring people's stories to a broader audience, and that's the common thread with data science," said Mitchell, who is from Rutland, Vt. "I feel like this was a chance to do some good here by sharing the needs and the vulnerabilities, but also the strength of these folks that we've met."
The student researchers studied the Kigeme camp in southwestern Rwanda, where more than 17,000 refugees have fled violence in the Democratic Republic of the Congo. Due to dangerous erosion and landslides, many have had to relocate to another refugee camp in Rwanda called Mahama.
Brian Tomaszewski, a professor in RIT's Center for Geographic Information Science and Technology and the project's principal investigator, said that this research will help organizations across the world understand how to improve the resiliency of refugees.
"We're interested in using GIS to understand the resilience of displaced people," he said. "And once they're displaced, how are they then resilient against natural disasters?"
Mitchell joined Nicole Griffin, a human-computer interaction master's student from Lindenhurst, N.Y., and students from Monroe Community College and SUNY Albany for 10 weeks in Rwanda.
The students interviewed the camp's residents to gather data about resources within the camp, including physical resources like solar panels or cooking fuel and social resources like connections inside and outside the camp. The researchers also mapped the terrain to assess risk of natural disasters like landslides.  
Speeding to a Baja championship
Griffin Joslin was one of the only drivers able to keep his Baja car upright, maneuvering over the twisting course of rail road ties, boulders, and a precarious cement-block trench during Baja SAE Rochester.
RIT has hosted SAE's international collegiate design challenge seven times, but the summer of 2022 was the first time the team raised the big trophy. As proud as Joslin was in crushing the course and besting 100 national and international collegiate race teams, he also was pleased with his artistic contributions.
 Along with being a driver in the suspension and endurance events, Joslin, who graduated in May with a degree in graphic design, served as art director. Using his design skills, he rebranded the team—from RIOT Racing to RIT Baja Racing—giving both the car and team a fresh look from its clothing and banners to chassis designs.
"I started on the team in my first year and stayed because of the connections to other majors," said Joslin about the team based in the College of Engineering Technology but includes students from all of RIT's colleges. "This is something not usually done at an art school, and the friends that I've made at RIT, most of them are on this team."
Joslin started with the Baja aerodynamics group and moved through the other vehicle systems—learning first, then mentoring new teammates.
"This is one of the ways we pass on knowledge," he said.
He earned a place on the team's executive committee, first as secretary, then he was voted in as team manager in 2020. This leadership position coordinates team travel logistics, finances, and support needed for the technical design and system inspections required before cars even take the field.
RIT Baja teams have competed for more than 30 years, and alumni are successful engineers, business leaders, and designers. Joslin is now part of that group.
Shortly after the Baja event, he took his design skills and project management abilities to Joele Frank in New York City, one of the top 20 public relations firms in the U.S., according to Observer Media.
"I think working with a team of engineers has taught me more about applying my designs to the real world than any art class I could have taken here," he said. "Working with people who have different skills and ways of working has taught me how to handle tighter deadlines and difficult challenges at my new job."
Researching small-scale farms
Alexa G. Kaminski readily admits to having very little farming experience. But that didn't stop her from conducting important research related to shipping container farms, which are popping up everywhere from snowy wildernesses and city neighborhoods to Middle Eastern deserts.
The sustainability Ph.D. student in Golisano Institute for Sustainability (GIS) took over the running of RIT's Freight Farm for three months last summer to evaluate the importance that small-scale controlled environment agriculture (CEA) systems can play in reducing food waste and creating a more sustainable food system in a world struggling with inequitable food access.
"We noticed a gap in the existing literature that we saw an opportunity to fill," said Kaminski, a Doylestown, Pa. native who earned her master's degree in sustainable systems from GIS. "There has been little academic research done about how these small-scale CEA systems are working in 'real life,' and even less so about container farms in particular—despite these farms becoming much more popular and common in the last few years."
This research study, funded by the National Science Foundation and led by Kaminski and other RIT researchers, is striving to change that. Kaminski conducted interviews with farmers currently using container farms, to assess how they are being used. She also conducted a life cycle assessment of food grown inside RIT's 360-square-foot container farm compared to conventionally on a traditional farm.
"It's a great way to assess whether growing food in these containers is truly better for the environment than current methods," she said.
Kaminski, who anticipates earning her Ph.D. in spring 2024, would like to work in industry upon graduation, applying innovative sustainability solutions—"possibly at some type of CEA company," she said, "or anywhere that I can use what I've learned at RIT to make a positive impact on the environment."
For three weeks in July, Gabriela Gonzalez lived the life of a rock star, playing at venues throughout the Northeast with Jon Anderson, who was the lead singer for the legendary band YES.
Gonzalez, a second-year chemistry major from Lansdale, Pa., is a member of the Paul Green Rock Academy, a music school based in Philadelphia, which provided the backing. Twenty-five of the school's students were in one of three tours with Anderson last summer.
"Most music students don't get to tour with the pros," said Loren Teolis, program director. "They have to audition and meet certain expectations."
This was the second summer Gonzalez toured with Anderson, when she either sang or played bass guitar on stage.
"It was a lot of fun and obviously, I learned a lot being there," she said. "When you're on tour, it's just like music 24-7."
Gonzalez, who is a Performing Arts Scholar in commercial music at RIT, is a member of the RIT Singers and Tiger A Team Band, which plays pop, rock, and commercial music.
RIT was just one of seven colleges she applied to. She was accepted at them all, "but RIT had all the music opportunities I could continue from high school," she said. "One of my main reasons for picking RIT was for the performing arts available."
Her plan after graduation is to work in the chemistry industry, "but I'll always do music on the side and at nights and on the weekends," she said. "That's my plan right now."