Media Arts and Technology Co-op Experience: Devin Schneider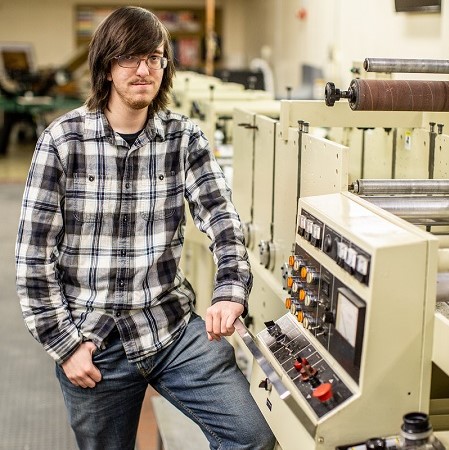 Last summer, I had the wonderful opportunity to work as an intern with Beyer Graphics, a commercial offset lithography print shop on Long Island, NY. Beyer Graphics produces more than 20 million folding cartons every month for pharmaceuticals, cosmetics, vitamins, and supplements.
During my time at Beyer Graphics, I was exposed to many aspects of the industry. The first half of my co-op took place on press. Beyer Graphics has two large format offset lithographic KBA presses on their pressroom floor: an 8-color conventional press and a 9-color UV press. I was fortunate to spend time on both presses.
After initial safety instruction, I spent a lot of time observing the pressmen during a job, but as time went on I was given hands-on work and other responsibilities. That included hanging plates and putting ink in the ink fountains at the beginning of the run. During the job, I would assist in making registration and ink density adjustments to meet standards. When a job was complete, I would help fill out job tickets and help prepare for the next job. My time on the press not only allowed me to become familiar with the workings of an offset lithographic press, it helped me understand the production of folding cartons.
The second half of my internship was in the pre-press department. I was immediately tasked with proofing jobs to go to press. Beyer Graphics uses the Kodak Approval NX System, a newer version of the Approval (originally released in 1991). The newer Approval creates more accurate spot colors for proofs. I was responsible for running the job through the Approval system and overlay the die-cut and other finishes which were then printed on a clear film. I also tested the barcode to make sure it passed the standard and then pair the completed proof with the appropriate job bag. The job bag was then brought to a customer service representative.
Overall, my time at Beyer Graphics gave me great experience in offset lithography in the high-volume, folding carton business and I am very thankful for this opportunity.
Now that I am back at RIT, I wanted to have a deeper understanding of other printing processes. So last semester I took the course Gravure and Flexography, taught by Professor Robert Eller. The class is an in-depth look at flexography and gravure, two of the leading package printing technologies in the world.
The class focuses more on flexography because the school houses a flexo press where students can get hands-on experience. Professor Eller takes a deep dive into the flexo world. Like my experience at Beyer Graphics, the class started with an emphasis on safety, because this 30+ year old Mark Andy press is not equipped with the safety features of modern day presses. Safety is always the number one priority in Professor Eller's class. We then moved to the properties of flexo ink, even looking into the chemistry of the ink.
Next the class explored the main components of the press including plates, anilox rollers, dryers, and web handling. From there we learned about pre-press and color gamut related to flexography. The final class project involved student teams running the press and design labels printed during the run. The second part of this class focuses on gravure printing and the applications for gravure.
Both my co-op and class experiences greatly increased my knowledge of these important printing processes. They exposed me to pre-production and on-press work and reinforced what I learned in my classes.
This summer, I will undertake another hands-on learning opportunity as a corporate training intern at Quad Graphics in Wisconsin, where I will gain experience in customer service and sales. By graduation, I look forward to having completed two great real-world work experiences to complement my intensive course work.
---