Mobile App Design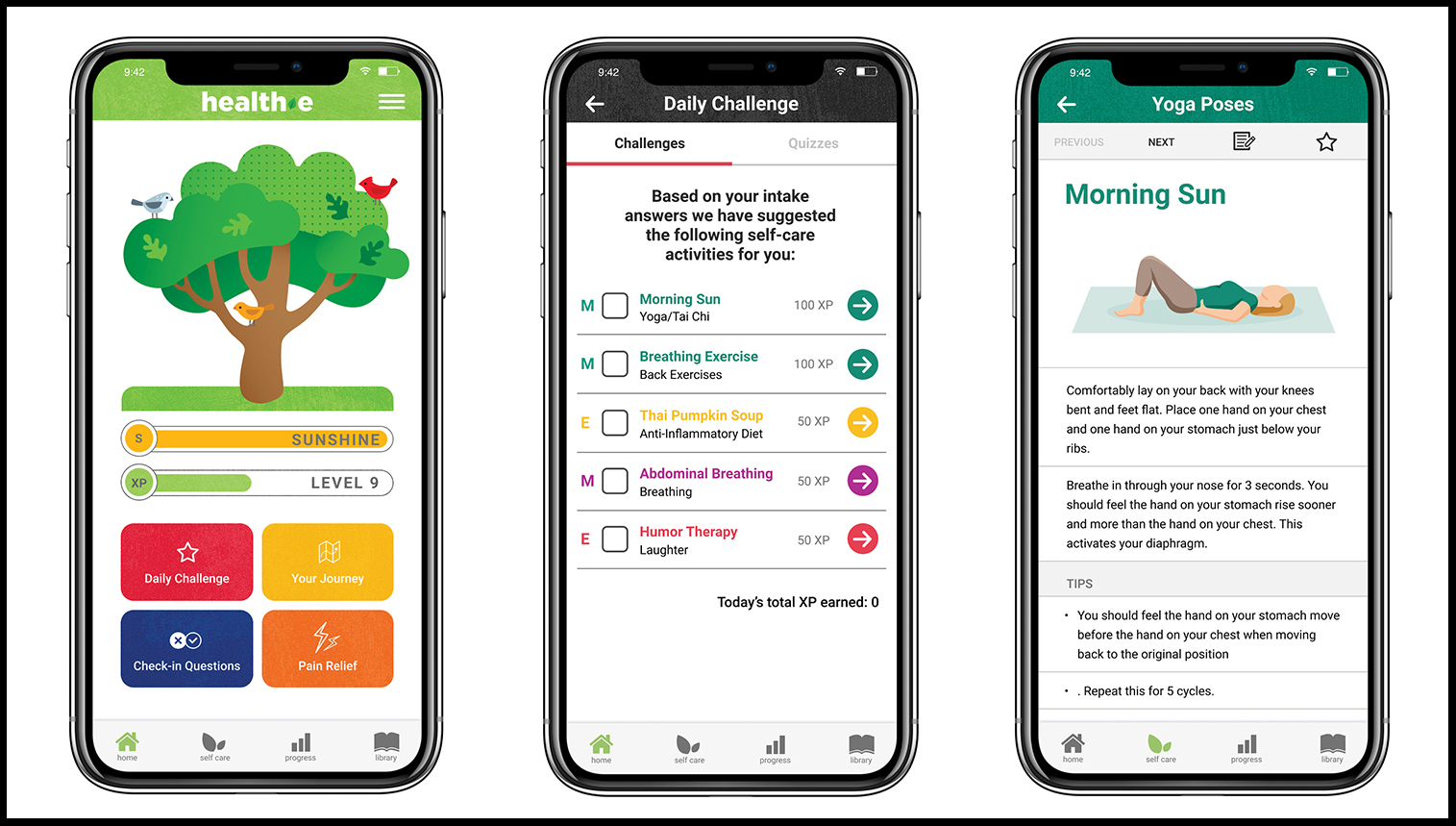 A comprehensive app is being developed by Assistant Professor of Graphic Design Keli DiRisio, RIT students and partner medical professionals to reduce a leading cause of workplace absenteeism. "Health-e Journey" is a mobile app design and companion website that serve as educational tools and a decision guide for people dealing with back pain. The project is sponsored by the NCMIC Foundation, which funds spine-related research and education. 
Health-e Journey provides evidence-based guidance in health decision-making for people with back pain. The mobile app design features decision tools that help individuals decide if they need professional care, and tips on how to be a wise consumer when picking the right provider or care approach. Some can start with specific suggested self-care recommendations, including stretches, exercises and clinical resources and articles that educate users on how certain back issues can be self-treated, instead of unnecessarily seeking professional care. These approaches are supported by general health recommendations that have been proven to help most back pain sufferers, such as mindfulness activities, recipes and tips on nutrition, activity and sleep recommendations. 
DiRisio said the purpose of the mobile app and website is to help people navigate what can be very confusing directions on how to best manage back pain. The website also provides back-pain patients a centralized library of verified information and resources that allow them to make informed decisions on next steps. 
"It's a lot of information that educates the user. It helps people take control of back pain and helps them along the journey," said DiRisio, who added that the team's research discovered back issues are the No. 1 reason for workplace absenteeism.
Dr. Brian Justice, a chiropractor and medical director at Excellus BlueCross BlueShield, Dr. Marcia Spoto, a chiropractor, physical therapist and professor emerita at Nazareth College, and the clinical team at Spine Care Partners, LLC. collaborated with RIT on the project. Student contributors on the design and functionality of the app are from the Graphic Design program and Game Design and Development and Web and Mobile Computing majors in the Golisano College of Computing and Information Sciences. Health-e Journey also has a gamification component where actively engaged users are rewarded with parts of a growing tree that represents a healthy lifestyle.
The expectation is for the app/website to be distributed by clinicians, insurers and employers in an effort to assist people with back pain and decrease workplace absenteeism tied to back issues. The long-term goal is to "hook" users into long-term self-care that will help them stay healthy.
Students who have worked on the mobile app design project include: Joe Aquiare, Karolina Berg, Janine Bushey, Savannah Clemens, Trista Finch, Vladimir Martynenko and Justin Pallini.
---