Physics MS Program: Research From Day One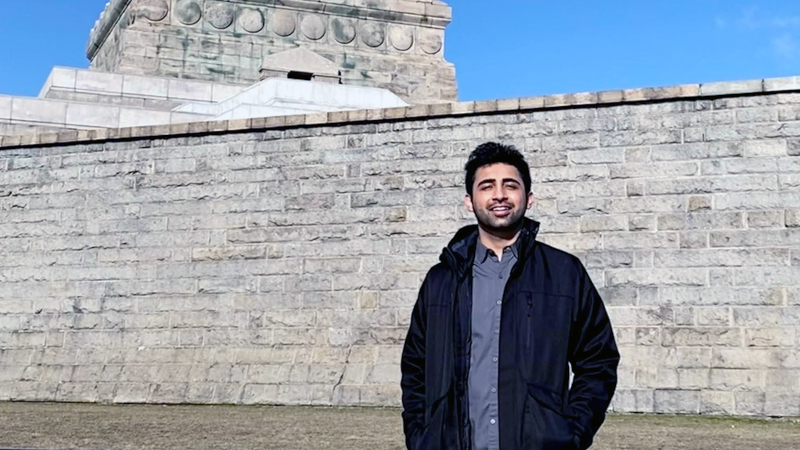 "The physics master's program allowed me to start looking into research from the first day itself."
Aasim Jan '21 (physics) knew he wanted to pursue a Ph.D. in physics eventually. He enjoys spending countless hours solving equations, writing codes, and having discussions with his peers and advisors. After completing his undergraduate program, he began looking into the master's program in the RIT School of Physics and Astronomy. The opportunity to research from day one convinced Aasim to enroll in the physics MS program at RIT.
With his undergraduate degree in mechanical engineering, Aasim didn't have the exposure he wanted to the different areas of physics, so he applied to various schools for his master's in physics. He knew RIT was a good school with an excellent reputation for physics, so it was one of three colleges he was considering. But it wasn't until after he talked to the physics MS program director, Dr. George Thurston, that he knew it was the right place for him.
"Dr. Thurston was patient in explaining what the program is about, the research areas I could potentially work in, and the courses I would be taking."
While at RIT, Aasim spent over a year in the research group at RIT's Center for Computational Relativity and Gravitation (CCRG). His research included Numerical Relativity and Gravitational Waves and working with the LIGO Scientific Collaboration, an international collaboration of physicists focused on detecting gravitational waves. It was because of these two groups that Aasim discovered his interest in gravitational physics.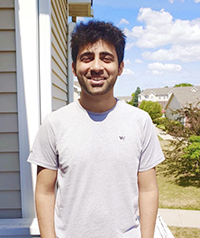 "Support from the School of Physics and Astronomy faculty helped me improve myself as a student and a physicist. The opportunities I was provided with allowed me to explore my field of interest, gravitational physics, and to become better at it."
Aasim began applying to Ph.D. programs where he could work in areas he was interested in, specifically, numerical relativity with an application for gravitational waves and black holes. He is now pursuing his Ph.D. in physics at the University of Texas at Austin because of the work the Center for Gravitational Physics (CGP) and, specifically, his advisor, Dr.Deirdre Shoemaker, is doing.
Aasim's research is in numerical relativity, which is solving Einstein's field equations on a computer using numerical tools. He uses this to study black holes, neutron stars, and the gravitational waves they emit. Specifically, he is working on a code called Mayawaves, which allows researchers to analyze a compact binary coalescence (merger of two black holes or neutron stars) and the gravitational waves emitted during the coalescence. Aasim also works with the LIGO Scientific Collaboration studying the errors in the models scientists use to understand gravitational waves and applying a technique to mitigate them.
To do this level of research, Aasim leverages data analysis and coding, especially in Python and C, since most of the work is on computers. Also, to understand what is going on and what exactly is being coded, there is a need to have a good understanding of mathematics. So apart from Physics, there are learning concepts from computer science and mathematics that he uses regularly.
---