United Way Impact Story
Adam Leblanc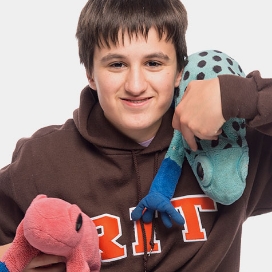 He wants to be like everyone else, but sometimes needs a little extra support," said his stepmother Cha Ron Sattler-Leblanc, associate director at RIT's Center for Women and Gender. "There are a lot of miracles out there, and we found one.
Socially outgoing 8th grader Adam Leblanc, diagnosed with autism, is like any other teen who does not want to go to a middle school event with his parents.
Sattler-Leblanc and her husband, Alain, discovered Together Including Every Student (TIES), an organization under the umbrella of the Starbridge program, a United Way-supported agency. Founded by two parents of children with disabilities, TIES is available in more than 30 school districts and provides trained student volunteers to accompany young adults with developmental disabilities to extracurricular and community activities.
"Adam loves computers, enjoys choir, studies piano and clarinet, and is now learning martial arts," said Sattler-Leblanc. "With TIES, he can enjoy events like school fun nights and fits right in with his new 'friends.'
"TIES has been a blessing to our family. It is one of the many ways we hold each other up in this community; I call it the conspiracy of care."