United Way Impact Story
Raunie Ryan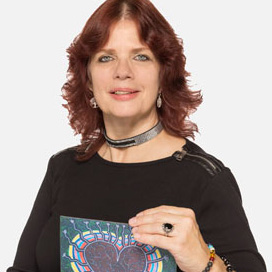 He would have killed me if I hadn't left," said RIT's assistant dean of graduate student success. "When you leave your spouse, you feel humiliated, broken and worried that people will judge you—and sometimes they do.
ART AND COMMUNITY . . . helped heal the painful memories of domestic violence.
It's been nearly 30 years since Rauncie Ryan left her abusive ex-husband. Yet she continues to suffer with anxiety, depression and night terrors from post traumatic stress disorder caused by the man she once loved—who held her prisoner, raped and beat her until she finally escaped.
Ryan says she carries deep emotional scars that have affected her whole life, but considers herself a strong woman. She found community and resources through the Creative Wellness Opportunities of the Mental Health Association. "I found a supportive network there; art helps me release creatively what I cannot say in words. It offers catharsis for the mind-body connection and the value is priceless.