2017 Distinguished Alumni: Meet Michael Ciminelli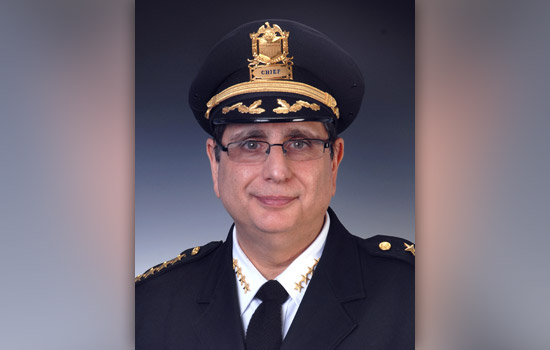 Rochester Police Chief Michael Ciminelli '78 (criminal justice) epitomizes what it means to be a non-traditional student.
While completing his criminal justice degree at RIT, Ciminelli also worked full time as a police officer in the Rochester Police Department.
"Scheduling was always a challenge. You didn't have a lot control over what hours you worked," said Ciminelli. "Even if you had plans to go to class, sometimes you got subpoenaed to go into court or you got tied up at work and you were up all night."
Overcoming these challenges prepared Ciminelli well for his career ahead. After being appointed its chief of police in 2014, he now oversees the same police force where he began as an officer 40 years previously.
And, although he has long since left RIT as a student, he is still very much connected to the university. Ciminelli works closely with RIT's Center for Public Safety Initiative (CPSI) on several important projects that provide him and the department with analysis to better understand the reasons for crime and ways to help reduce it in the city of Rochester.
CPSI also assisted the department in evaluating a high-profile reorganization in 2015 that re-established neighborhood police beats in an effort to improve police and community relations—an aspect of law enforcement that Ciminelli is passionate about.
"Police cannot fight crime alone. We need the help and active partnership of the community or we will fail," he said.
This same passion also brought Ciminelli back to his hometown after serving as the chief of police in Elmira, N.Y., and as deputy chief counsel within the Drug Enforcement Agency in Washington, D.C.
"I was born in this city, I grew up in the 19th Ward," he said. "I chose to come back here because I believe in this city and I believe in the people of this city."
Ciminelli will be honored on Oct. 13 at the Presidents' Alumni Ball as the College of Liberal Arts 2017 Distinguished Alumnus.
The Distinguished Alumni Award is presented to a certified alumnus/a who has performed with distinction at the highest levels of his or her chosen profession or who has contributed significantly to the advancement and leadership of noteworthy civic, philanthropic or service organizations over the course of many years. Those honored have brought distinction to their colleges and RIT through their professional, community and/or philanthropic achievements.
Related stories:
Meet SOIS Distinguished Alumna Barbara-Ann Mattle
Meet CIAS Distinguished Alumnus Gerald J. Hace
Meet SCB Distinguished Alumnus Gerald McCue
Meet NTID Distinguished Alumni Barbara Ray and Samuel Holcomb
Meet KGCOE Distinguished Alumnus Paul Kayser
Meet CHST Distinguished Alumna Penny Kris-Etherton
Meet GCCIS Distinguished Alumnus Ralph Derrickson
Meet CAST Distinguished Alumnus Thomas Trytek
Topics