2017 Distinguished Alumni: Ralph Derrickson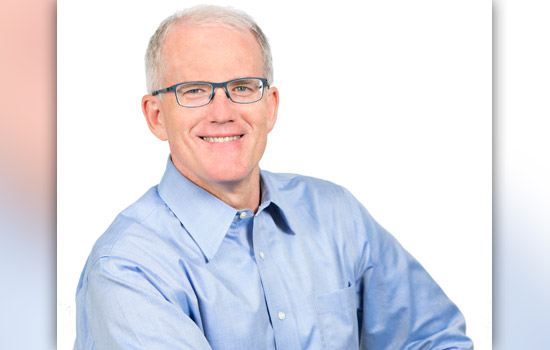 Entrepreneurship is simply second nature to 2017 B. Thomas Golisano College of Computing and Information Sciences Distinguished Alumnus Ralph C. Derrickson '78, '81 (computer technology).
"The kinds of things that I've been attracted to are businesses or problems where we ask ourselves 'Can we do it? And, if we can, is there a business to be built around it?'" said Derrickson. "Fairly early on, I realized that entrepreneurship wasn't a choice, it was just something that drove me."
The president and CEO of Carena Inc., a technology company that enables 24-hour access to health care via virtual clinics, Derrickson began his career with perhaps two of the world's most famous entrepreneurs. First, as an engineer at Sun Microsystems and NeXT Computer, both founded by Apple co-founder Steve Jobs, and then as a vice president at Starwave, a software company founded by Microsoft co-founder Paul Allen. Derrickson went on to serve as a managing director of Vulcan Capital, a venture investment firm also founded by Allen.
At Carena, Derrickson is striving to change the way health care providers deliver care and the way patients access it. Health care became a passion of Derrickson's after the premature births of his two daughters.
"Sitting in a hospital watching how patients were taken care of and watching how disconnected the technology and information were, I thought, 'Wow. There has to be a better way to do this,'" he said. "For me, landing in health care was the combination of it being technically challenging and important work."
Derrickson describes Carena as "one-half software engineering, one-half medical, and one-half customer service," and even though he knows the math does not compute, he likes this description because it exemplifies the multidisciplinary team work necessary for innovation. A facet of entrepreneurship he learned at RIT.
"In business, you're never successful if you only work with people just like you. The fact that at RIT I was exposed to people who were in design, math, engineering and finance—people with different background and stripes—that experience went onto be extremely important."
Derrickson will be honored on Oct. 13 at the Presidents' Alumni Ball with the Distinguished Alumni Award.
The Distinguished Alumni Award is presented to a certified alumnus/a who has performed with distinction at the highest levels of his or her chosen profession or who has contributed significantly to the advancement and leadership of noteworthy civic, philanthropic or service organizations over the course of many years. Those honored have brought distinction to their colleges and RIT through their professional, community and/or philanthropic achievements.
Related stories:
Meet SOIS Distinguished Alumna Barbara-Ann Mattle
Meet CIAS Distinguished Alumnus Gerald J. Hace
Meet SCB Distinguished Alumnus Gerald McCue
Meet NTID Distinguished Alumni Barbara Ray and Samuel Holcomb
Meet COLA Distinguished Alumnus Michael Ciminelli
Meet KGCOE Distinguished Alumnus Paul Kayser
Meet CHST Distinguished Alumna Penny Kris-Etherton
Meet CAST Distinguished Alumnus Thomas Trytek
Topics