2018 Distinguished Alumni: Meet Wendy Maruyama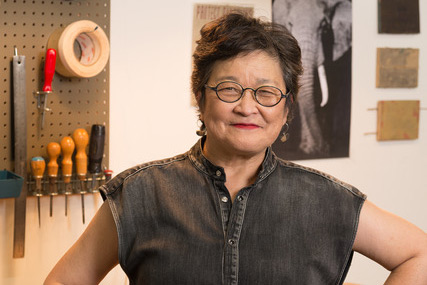 While the average person may see everyday materials for simply the purpose they serve, renowned artist and educator Wendy Maruyama '80 MFA (woodworking and furniture design) views things—such as glass, wood and paper—through a different lens.
 "Wood is warm and it has a certain level of emotion to it," said the 2018 Distinguished Alumna from the College of Art and Design. "Not necessarily just in the woodgrain, but in the fact that people know it's wood. It's almost like it opens another little emotional door. And then once you step through that door, you start seeing more important things."
Maruyama has built her career on getting people to notice those important things.
Inspired by the memory of her childhood growing up as a Japanese-American, she designed The Tag Project—a recreation of each of the 120,000 tags that were issued to every Japanese-American man, woman and child in 1942 when they were put into internment camps during World War II.
"I wanted to show the sheer magnitude of the people who were sent away from their homes," said Maruyama. "120,000 tags bundled together is quite massive and sends the point home that this affected more than a few people."
Her latest work, The wildLIFE Project, focuses on the endangerment of elephants. After a trip to Kenya, where Maruyama met with wildlife advocates to investigate the dangers of poaching, she created the exhibit to memorialize the animal, which features elephant heads crafted from thin wood panels and string and range from 8 to 12 feet in height.  
"I've discovered through my work that I can embrace not only art and creative object making, I can also combine education and ethics," she said.
This approach has served Maruyama well, as she has exhibited her work internationally with shows and permanent collections in New York City, San Francisco, Tokyo, Seoul and London throughout her career.
Maruyama will be honored with a Distinguished Alumni Award during the Presidents' Alumni Ball on Oct. 19.
The Distinguished Alumni Award is presented to a certified alumnus/a who has performed with distinction at the highest levels of his or her chosen profession or who has contributed significantly to the advancement and leadership of noteworthy civic, philanthropic or service organizations over the course of many years. Those honored have brought distinction to their colleges and RIT through their professional, community and/or philanthropic achievements.
Related News
Topics