The advantages of working differently
Student secures internship at bio-device company after research paper published nationally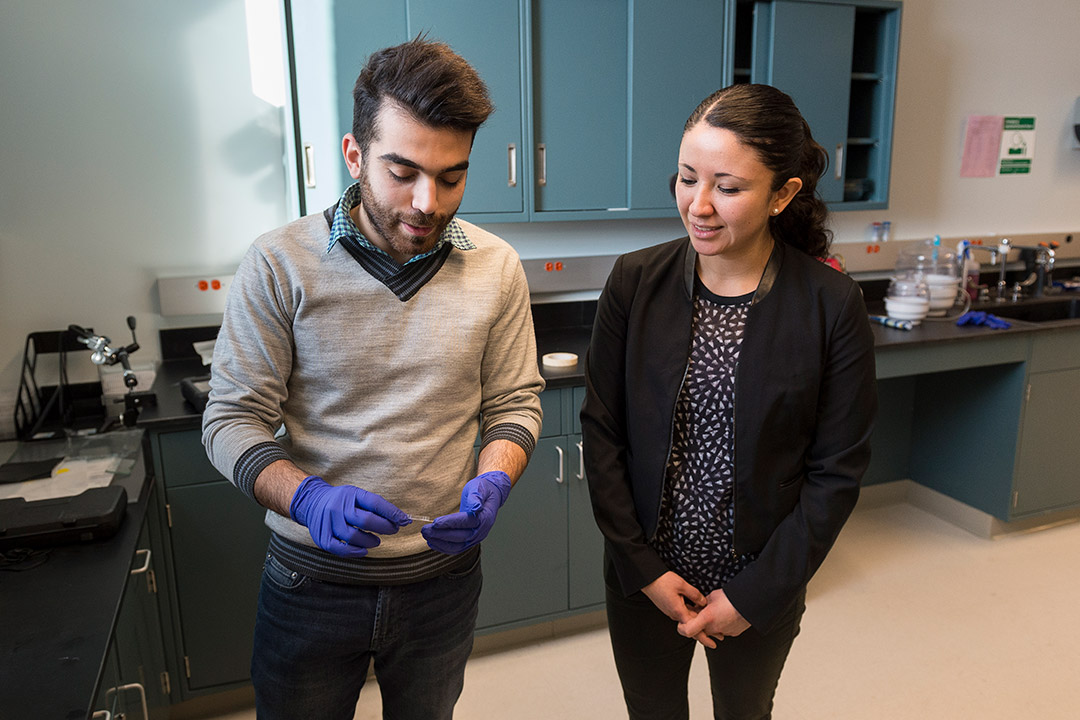 Researchers at RIT and the University of Rochester discovered an alternative to successfully purify biological particles to better understand how cells communicate with one another.
When the research team's manuscript was first posted to bioRxiv, a new online archive to submit advanced copies of research papers, it received numerous comments about the advancement of filtering technologies. It also opened the door to an internship opportunity for RIT Ph.D. candidate Mehdi (Aslan) Dehghani.
Often papers posted to bioRxiv are still under review at peer-reviewed journals. Preliminary information and results can provide important, and early, resources for furthering current research in a variety of disciplines. The advance copy was read by the head of advanced materials and processing team at Sartorius BioPharma Laboratory. The company, based in Germany with offices in the U.S., provides technology solutions to both the research and manufacturing sectors of biotech and biopharma industries. The company was seeking an intern to research bioprocessing of EVs.
It is uncommon for doctoral students to participate in internships, but RIT encourages this when possible and provides support for students who seek these experiences. Dehghani began work with Sartorius at its Boston location this past fall.
"I am grateful that my Ph.D supervisor and biomedical and microsystem engineering program faculty supported me in this chance to gain experience in industry before my graduation," said Dehghani, who is presenting information about the newly developed purification technique at an upcoming conference sponsored by the International Society of Extracellular Vesicles (ISEV2020). This spring, Dehghani was honored with the Young Investigator Award and Scholarship by the society.
"We started our remote mentoring relationship while he was there and well before CV19 began," said Gaborski. "We had regular meetings and I was able to get non-confidential updates about what he was doing."
The two would continue the working relationship throughout the remainder of the fall semester and into spring. As the COVID-19 pandemic surged, all of Gaborski's lab work halted temporarily and the group had to re-work how it would continue research when its team of undergraduate, graduate and post-doctoral students could not meet face-to-face.
Lab activities and meetings went virtual, Gaborski said and the group took the time to review where it had come and how far it had progressed in the growing fields of tissue engineering and extracellular vesicles. Gaborski's lab team were newcomers to EV research just a few years ago. Today, the team is publishing papers and securing funding to advance materials science and collaborate across the EV field.
"In the past few years, we have generated a lot of new knowledge and new data on cell substrate interactions and tissue barrier models as well as purification of EVs," he said. "We are using this knowledge to come together and look overall at the contributions our lab has made in this space. How can we write a review article on these fields? What we have done, what others have done and how the field has moved forward in these areas?"
Topics