Alumna solves technical issues for optical equipment leader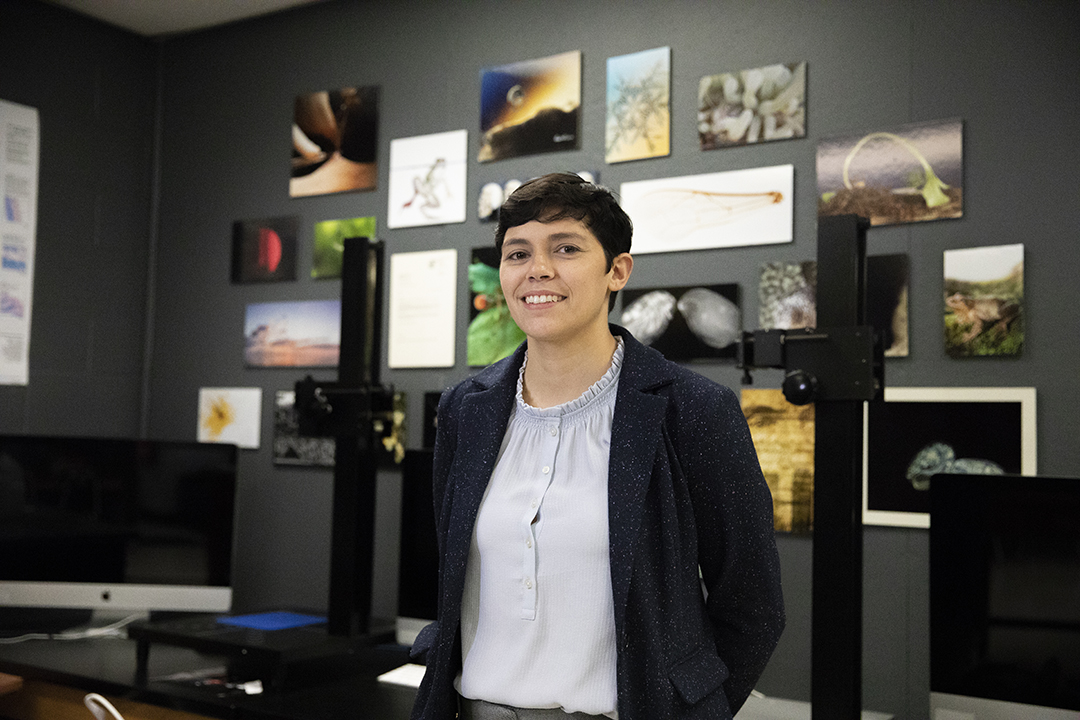 As team lead of the remote advanced workflow specialist team for Leica Microsystems, Stefanie Nicolosi '09 (Photographic Sciences) knows the ins and outs of microscopes and other optical equipment worth more than $1 million.  
She supports the company's field associates and customers of all sorts — even the ones in low Earth orbit.
"I once took a call from the International Space Station. They needed help troubleshooting (one of their Leica Instruments)" Nicolosi said. 
While help requests don't always come from that unique of a place, they all contribute to making Nicolosi's job rewarding. With a technical knowledge base of Leica Microsystem's range of products — from stereoscopes to high-end confocal microscope systems used for biomedical research and analysis — Nicolosi and the advanced workflow specialist teams are equipped to solve the most complex issues users might experience. 
The technical and creative problem solving is an appropriate application of a skill set developed in RIT's Photographic Sciences program.
"You're kind of solving puzzles all day long, and with an increasingly improving tool belt," said Nicolosi, remotely based out of Pennsylvania. 
Nicolosi has been with Leica Microsystems, a global manufacturer of microscopes and imaging equipment for medical and scientific use with locations around the world, since 2017. Her start there represented a return to a field she's long had a deep interest in: microscopy, or the examination of objects using a microscope. 
For the first seven years of her career, Nicolosi was an ophthalmic photographer and technician, first for New England Retina Associates and then Mid Atlantic Retina at Wills Eye Hospital in Philadelphia. She would capture high-quality eye images for documentation and diagnosis, among other responsibilities. 
She then shifted her focus to microscopy, and has enjoyed the career challenges the move to Leica presented. 
"I just went back to what I love," Nicolosi said. "It was really exciting. I've always liked microscopy — I bought a microscope to have at home for personal use that I hooked a camera up to, just for fun."
When Nicolosi grew intrigued by an opening at Leica, she contacted fellow Photographic Sciences alumnus and Leica employee Evan Darling '15 to learn more about the company and his experience. Darling's glowing review fully sold Nicolosi.
"There are opportunities for me to build myself out in this company in whichever platform I feel I would be interested," she said.
Nicolosi said shifting to microscopy after seven years in ophthalmic imaging was made easier by a foundation set by RIT. She said the Photographic Sciences program provided a robust understanding of imaging and optics as well as substantive cooperative education (co-op) experience — a required component of the program.
Nicolosi traveled abroad and completed a summer-long co-op at University Hospital of Wales in Cardiff, Wales. 
She gained familiarity in many areas through hands-on exercises in imaging, videography and various types of photography, including surgical, ophthalmic, dental, dermal, post-mortem and marketing. The diverse nature of the co-op gave Nicolosi a clearer sense of her interests and appealing career routes. 
"You got a taste of a wide variety of things and kind of an idea of, 'I like some of these things and some of these things I don't like,' which is great," Nicolosi said.
Nicolosi began her college career studying marine science. But upon learning about RIT's Photographic Sciences program, where she could explore both her scientific and creative interests, she transferred to RIT. 
"That's how I came about this program — it was a blending of science and photography," she said. "I love science and I love photography and now I get to do both? Sweet."
As for current students in the program, Nicolosi advised they should leverage the abundance of resources and contacts in their hunt for jobs and other opportunities. That includes a wide alumni network that knows first-hand the level of preparation students receive. 
"Have faith in the rigor of the courses that are offered (at RIT)," she said. "I remember the program when I came through it, so I would expect the same level of competence from students coming behind me. You can put faith in that."
Topics