Alumnus illustrates current events while evolving with industry trends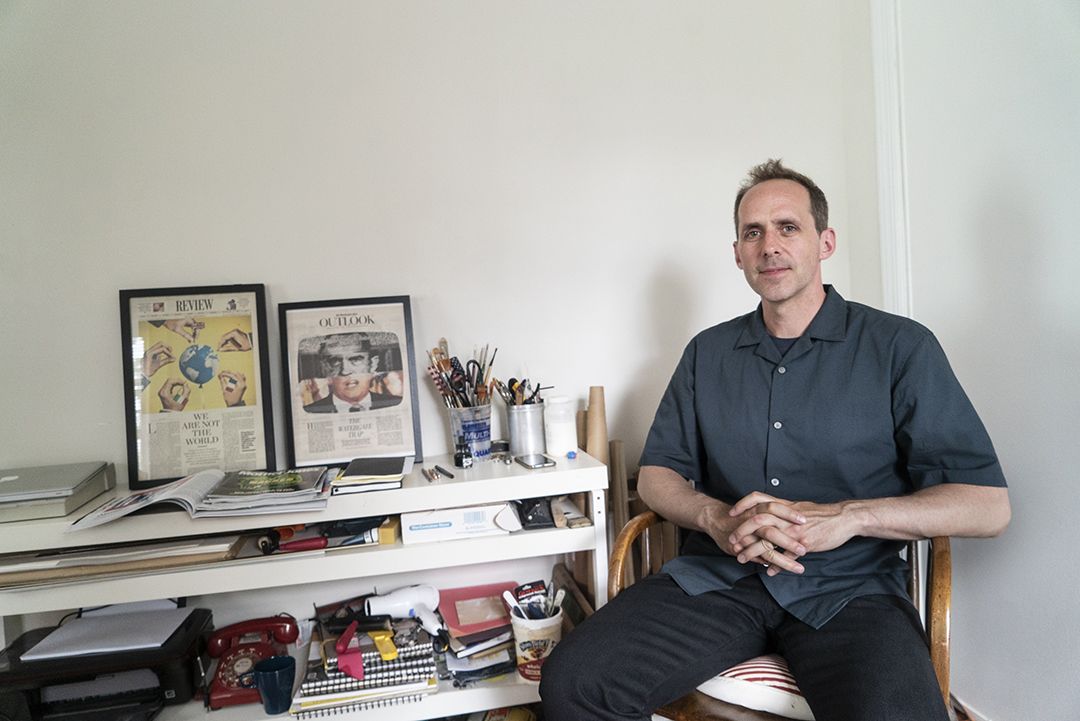 Elizabeth Lamark
Doug Chayka '96 (Illustration) is drawn to the idea of blending old and new. 
The striking difference of historic landmarks and modern infrastructure in Berlin, Germany, charmed him during his two-year study as a Fulbright scholar and inspired future work and visits. And he's a staunch believer in the need to understand traditional art media before mastering digital forms.
"I really respond to this contrast of old and new," said Chayka, a sought-after freelance editorial illustrator who's learned contemporary skills to pair with his most senior tricks of the trade.
That contrast shines through in much of his art. Take his 2017 animated illustration for a Washington Post column comparing President Donald Trump's campaign to Watergate, for example.
"I really like that past and present tension in illustration work, where I can make connections to things that happened in the past," Chayka said.
In the past and now, Chayka's illustrations — both static and animated — about the most topical subjects are found in well-known publications. 
With a client list that includes The Boston Globe, The Nation, NBC News, The New Yorker, The New York Times, Politico, The Wall Street Journal, The Washington Post and others, Chayka's work is widely seen and celebrated. And, he hopes, making a difference. He aims to raise social consciousness about public discourse and critical thinking with his illustrations, which often run with political pieces.
"That's what I love about this work. And that's why illustration is so exciting and valuable," said the New Jersey-based Chayka. "You can contribute to public conversation about what's happening and you can make people stop and think or lure them into the text. Or the image could even be its own statement that makes someone question what they know about a topic."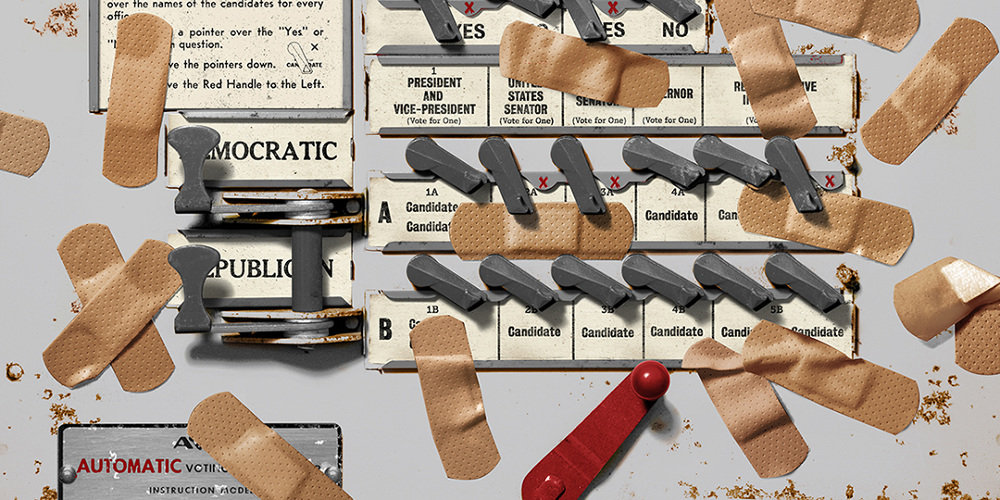 Chayka has evolved with industry trends to maintain and grow his client base. 
When he was already an established illustrator, he taught himself how to animate his work into GIFs in order to become the regular artist for The New York Times' State of the Art technology column. Since then, making GIFs has become part of his repertoire. 
"It seemed for a while the transition to digital was going to be a crisis, and now it has made so many more opportunities," Chayka said.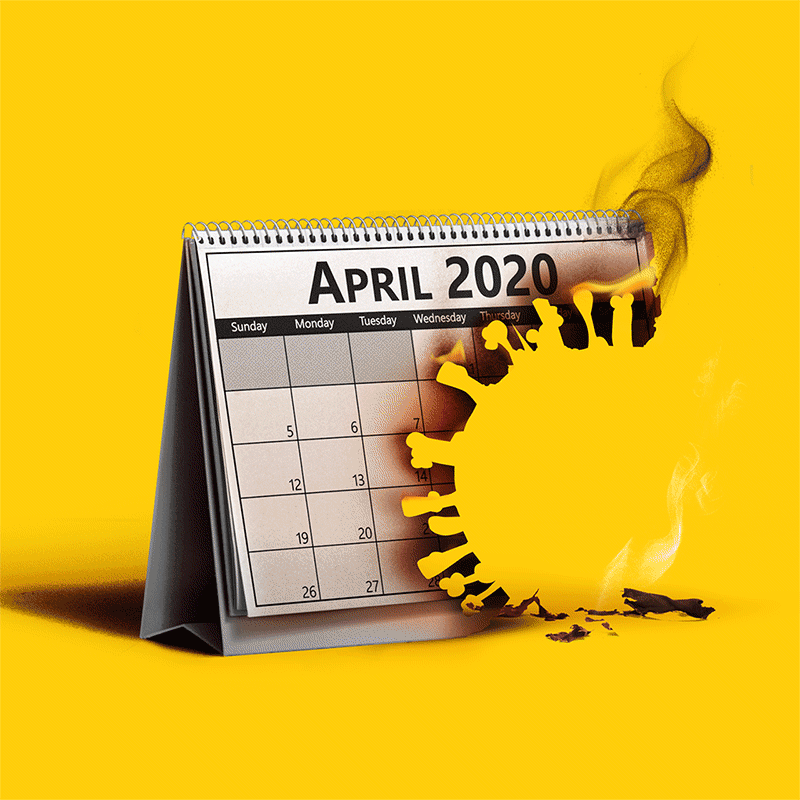 From politics to social issues to entertainment and technology topics, Chayka thoughtfully and creatively illustrates current events. His interest in the latest news informs ideas — and proves doubly important when faced with same-day deadlines. But his art is also influenced by life experiences, his residence in Germany among them. 
During a one-year European backpacking adventure with his twin brother, Chayka grew smitten with Berlin. It led to him applying for and receiving a Fulbright grant to study painting and printmaking in the city from 2000-02.
"Berlin was a city of contrasts where it was part old and part brand new. That was exciting to me," said Chayka, who also met his future wife while in Berlin. "It gave me added depth to my illustration work more than anything. It helped me develop my voice — the range of things I could draw on to be inspired and to do that work."
Then and now, Chayka works in various mediums. His digital illustrations commonly incorporate elements of printmaking or photography.
"It's almost always a collage of some kind," he said. "These mediums have a dialogue. … I'll scan things and draw them or take a photo or use stock photography and add things to them."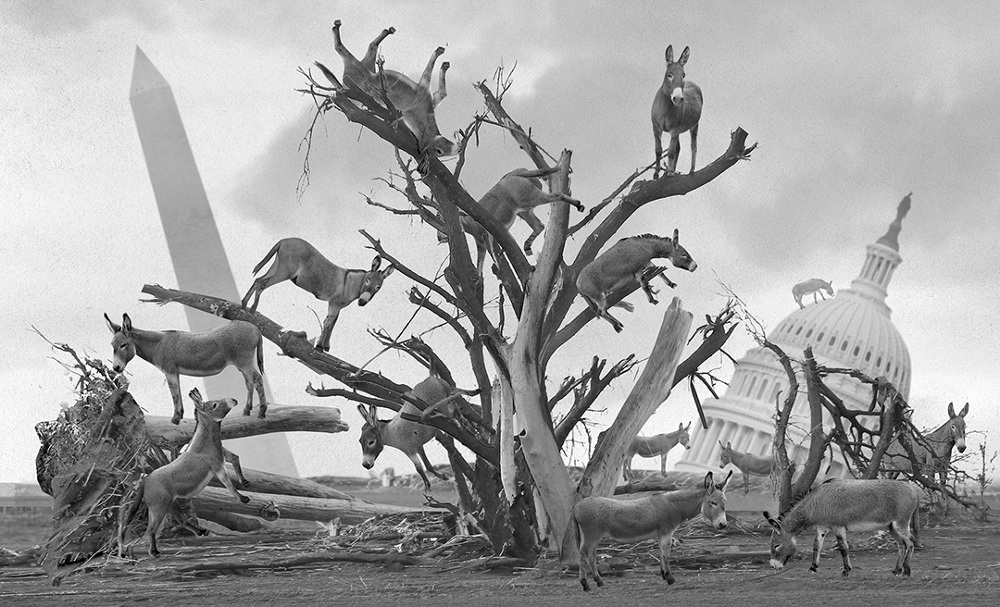 Chayka has enjoyed a decorated career. His work has been recognized and selected by industry experts for multiple American Illustration Annual books and the Society of Illustrators Annual Exhibition. He's also been featured in The New York Times' Best of Illustration slideshow.
Chayka lauded the direction he received as a growing illustrator. He appreciated the support and mentorship from RIT professors Bob Dorsey and Luvon Sheppard. He also experienced the other side of that relationship, going on to teach at various college institutions, including RIT on an adjunct basis.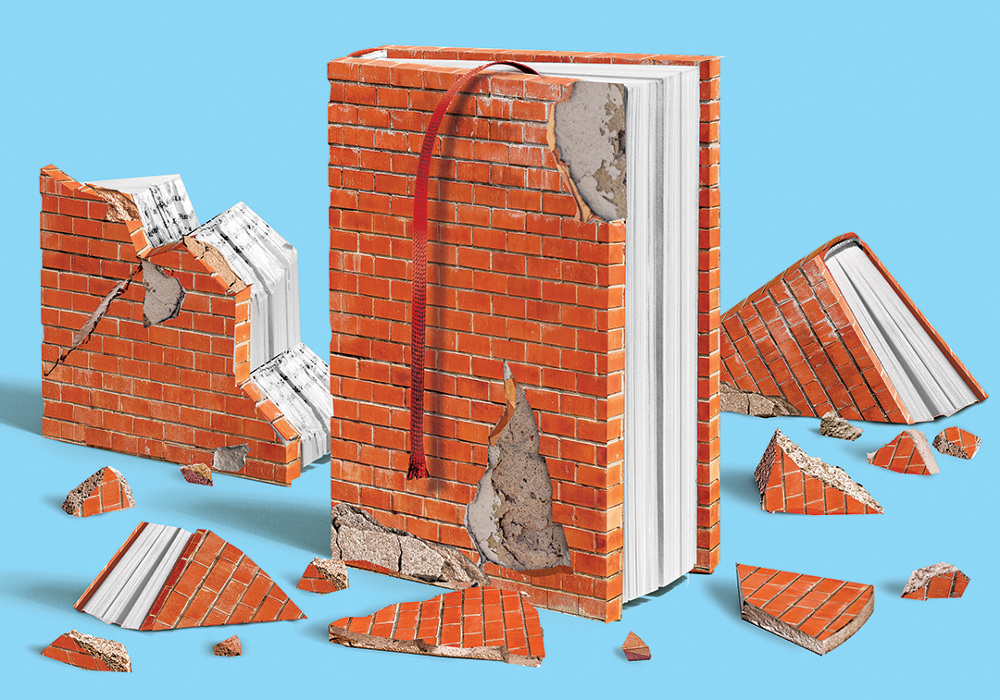 Chayka said receiving a foundation in traditional illustration practices was the key to unlocking a digital skill set that's factored into his professional success. He still finds that to be the most practical approach to developing young artists. 
"Ideally (art school) is a mix of traditional and digital," Chayka said. "Basically you need to know enough that you can teach yourself new things. You need to be able to draw well enough to recognize when you're drawing badly and what needs to be fixed. And you need to have enough technical knowledge to dive into new software."
Chayka also advised students to be patient in finding their creative calling.
"Spend time thinking about the work you want to make and where the work you like to make belongs," he said.
Topics