Alumnus wins Toy of the Year Award with Ollyball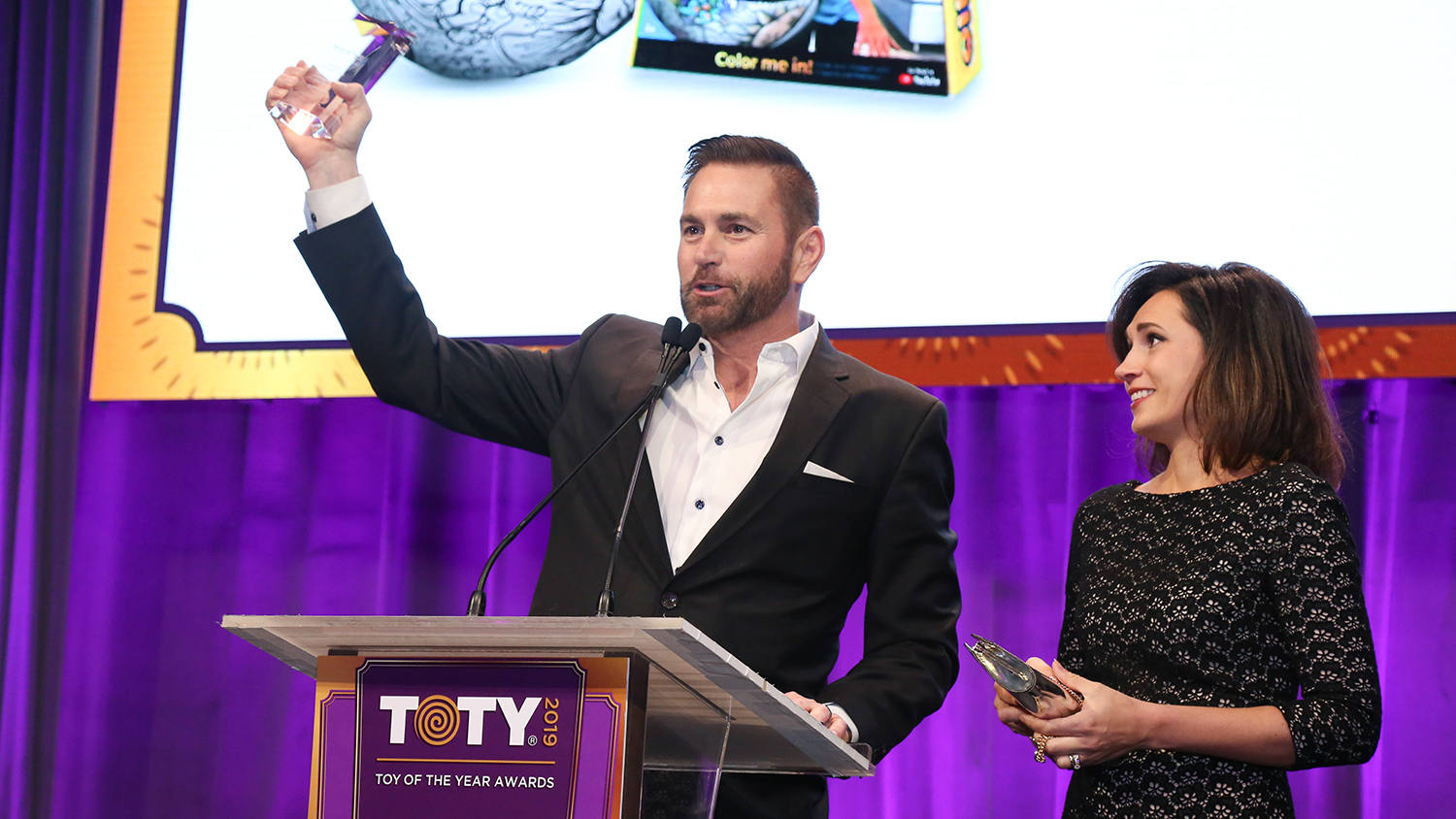 It was sparked by a spaghetti spill. 
Joe Burke's daughter was practicing her soccer skills in the house when she knocked over a plate of the Italian dish and stained the family's new couch.
Burke didn't want to discourage his three kids from being active, even in the house, so he set out to find a solution. Since that 2014 marinara mess, Burke '89 (graphic design) grew determined to invent a less destructive way to play ball in the house — an endeavor that is bearing fruit. He created and patented the Ollyball, a lightweight, durable ball designed for full-speed indoor play that simulates the outdoor experience while leaving windows, walls and decor unharmed. 
"It became an obsession," said Burke, who encountered many late nights making hand-sewn prototypes.
The RIT alumnus who embraced the idea of kids playing ball in the house was rewarded for the daring approach. Burke's Ollyball won the Rookie of the Year category at the 2019 Toy Association's Toy of the Year Awards — known as the "Oscars of the toy industry." 
The event was held at the Ziegfeld Ballroom in New York City, with executives from toy titans such as Hasbro, LEGO and Mattel in attendance. Criteria for the honors are based on products' creativity and originality, design and quality, play value, marketing and promotion and sales and marketplace acceptance.
Weighing less than an ounce and constructed with patented KrunchCOR® shock cushion, the Ollyball keeps the interior of homes safe from damage. And when it's not being used for sports activity, like soccer and volleyball practice, the ball is also a canvas that can be colored with crayons and markers.
"I never gave up on it. I always knew there was something there," Burke said of the Ollyball. "For some reason, I knew that if the kids liked it, the parents would love it and they would buy it, and that's what's happening." 
The Ollyball is made by VICTURY Sports, Burke and his wife Ellen's Los Angeles-based company that produces sports and play equipment for indoor use. Prior to starting VICTURY Sports, Burke owned two other companies and was a marketing executive at the Disney Store and Goodwill Industries.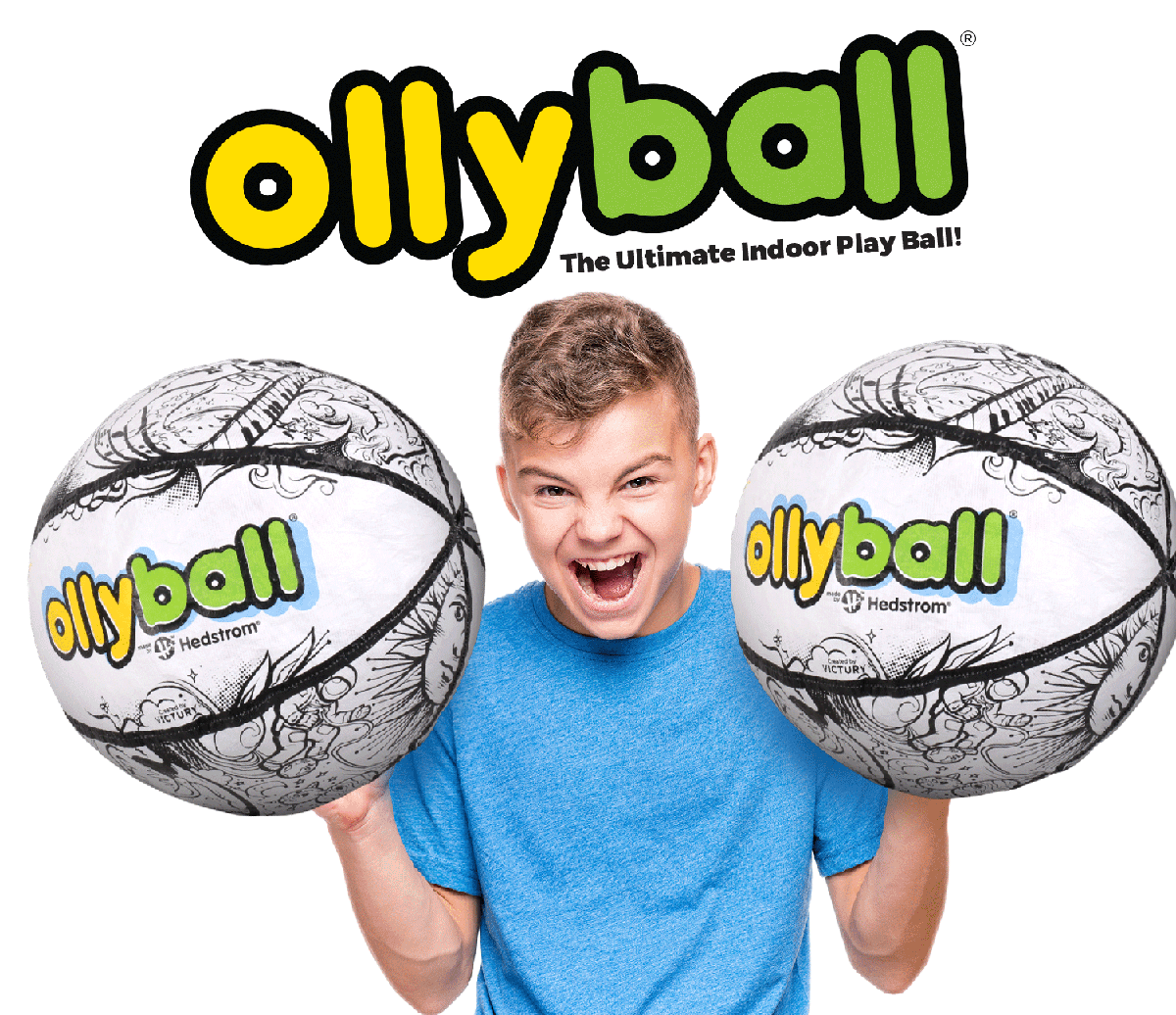 Burke said RIT supplied him with the skills needed to invent, patent, design, market and build a toy company. The Ollyball is being sold at retail and online stores such as Amazon and Learning Express Toys, which named the Ollyball the No. 1 selling toy in some of its stores this spring. Burke can't help but relate the product's success to his days in the graphic design program. 
"I have fond memories of RIT," Burke said. "It is a place that I believe is a playground for entrepreneurs and innovators. … RIT had the resources for my obsessions to manifest."
One particular principle Burke learned at RIT that he said he still routinely applies is gestalt — the idea of multiple parts being so integrated that they are perceived as one object. 
"I use it every single day, not only in design, but also in marketing, product design and ultimately strategy," Burke said of gestalt, taught to him by former graphic design faculty Heinz Klinkon. "I absolutely look at the world differently because of the experiences I had (at RIT) and what I learned. Innovation is looking at things differently. RIT taught me how to look at things differently, and see 'the more' in everything."
With creative spirit all around him, Burke said he couldn't help but be inspired at RIT. Being in an effervescent environment furthered his curiosity as a creative and entrepreneur who grew up running his own car-wash and lawn-mowing services and took on freelance design jobs throughout college.
Burke found comfort in grinding through late-night hours in the studio at RIT — a mindset he again called upon when building VICTURY Sports.
"It was the instructors, the facilities, the studios," Burke said of what made RIT an impactful place. "I would stay there until all hours of the night. (Making the Ollyball) brought me back to those days. It was the same spirit I had back then that took me to a kitchen table late at night trying to build a ball that you could play with in the house." 
Burke advises current and future students in the College of Art and Design to "make the most of the time at RIT, take advantage of resources and get up early, get to the studio and stay late. Champions are made in the lonely hours."