Andrew Young to speak at 2016 King's Legacy event
Civil Rights activist who was among Martin Luther King Jr.'s inner circle, brings historical and current perspectives on race relations today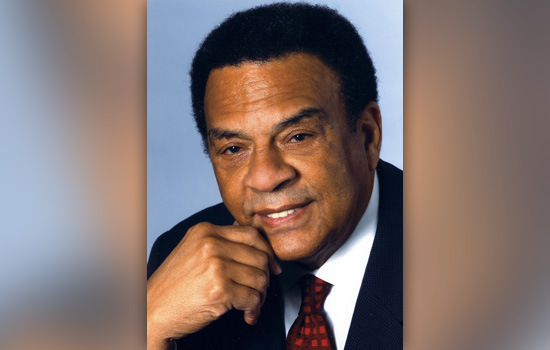 Andrew Young, close friend and associate of Dr. Martin Luther King Jr., and a leader in the Civil Rights movement, will be the keynote speaker for the 2016 Expressions of King's Legacy Celebration at Rochester Institute of Technology. The event takes place from noon to 2 p.m. on Thursday, Jan. 28 in RIT's Gordon Field House and Activity Center. It is free and open to campus participants and the general public. Tickets are required and can be obtained online.
"Andrew Young and Dr. King represent an important historical bridge between the earliest Civil Rights trials and triumphs, and today's progress and challenges," said Kevin McDonald, RIT's vice president and associate provost for Diversity and Inclusion. "They represent trailblazers whose tireless sacrifices and relentless dedication have resulted in justice, equality, opportunity and freedom."
Young had aligned with King in the important areas of education, literacy and leadership, and these attributes weaved their way throughout his long and notable career in politics, diplomacy and activism. A graduate of Howard University in Washington, D.C. and Hartford Theological Seminary in Connecticut, Young would combine human rights activism, education and politics in key leadership positions throughout the Civil Rights Movement. He was instrumental in organizing voter registration processes and policies to include men and women of color. His work alongside King in writing the Civil Rights Act of 1964 and the Voting Rights Act of 1965 remains influential, landmark legislation today.
In 1972, Young was the first African American since Reconstruction to be elected to Congress from Georgia when he won the state's Fifth District seat in the U.S. House of Representatives. He was elected to two terms before being appointed by President Jimmy Carter as ambassador to the United Nations, where he would, like King, advocate for human rights, at home and abroad.
Expressions of King's Legacy is coordinated by RIT's Office for Diversity and Inclusion and supported by campus and community partners. More information about musical performers for the event is forthcoming.
Topics