From Archery to Zumba, RIT redefines wellness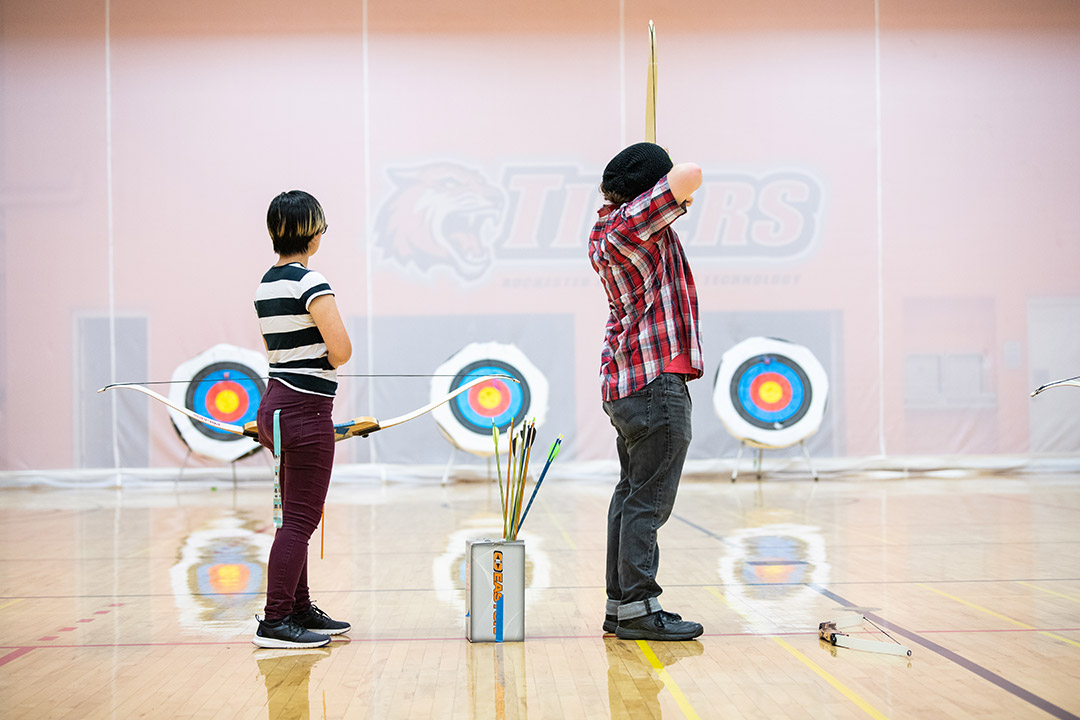 When a spike in injuries was detected during Humans vs. Zombies competitions at RIT, a wellness course—Nerfology— was created to help students improve their agility when jumping from trees and dashing behind buildings for cover.
It is one of more than 180 wellness course options offered to students to promote holistic wellness. Courses vary from traditional indoor cycling, swimming, dance, soccer, and bowling, to stress management and financial fitness.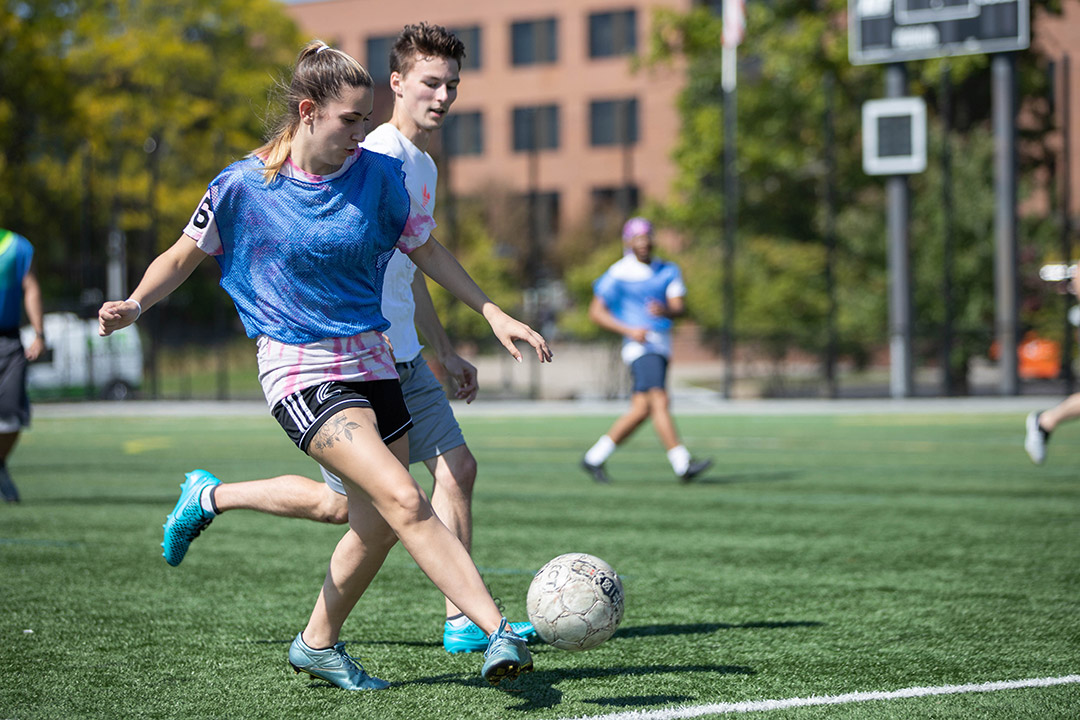 Daniel Bacon
RIT offered a ninja warrior course before it was popularized on television. Last spring, music courses were added to include performing arts.
"We're disguising the element of exercise into something that's fun. We want students to be so engaged in their activity that we have to tell them when class is over," said Seann McArdle, assistant director of Wellness Education.
RIT requires all undergraduates on its Rochester campus to complete two wellness courses before they can graduate.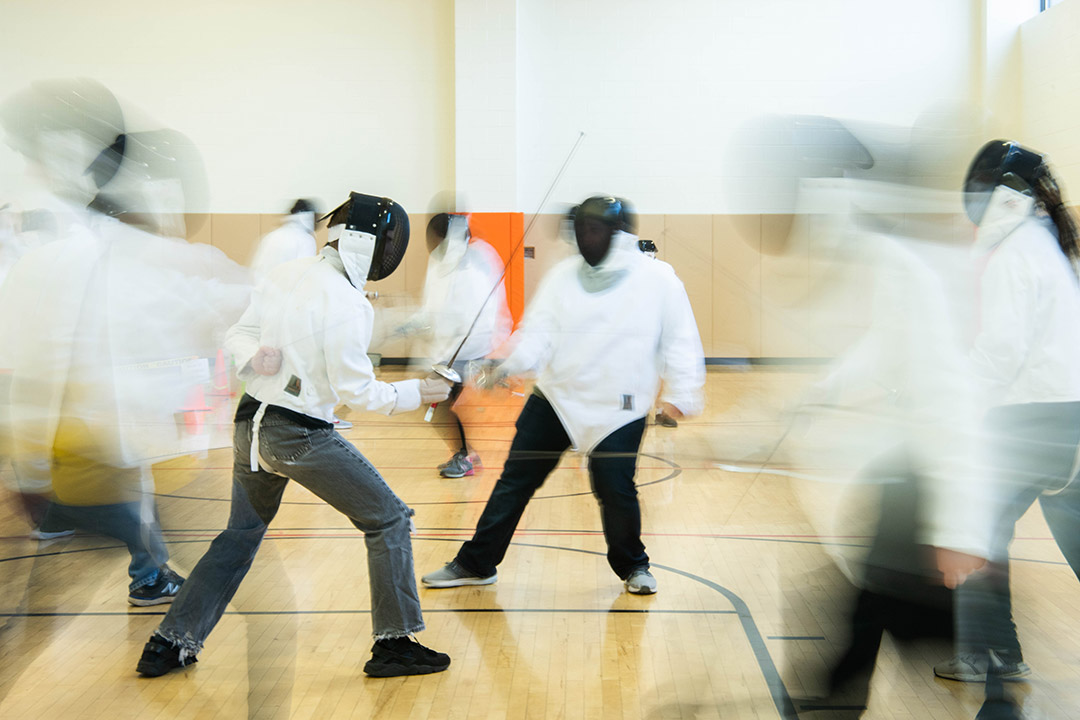 Gabrielle Plucknette-DeVito
"It's the first time I've heard of wellness courses being a requirement for graduation," said Francis Neric, national director of certification for the American College of Sports Medicine.
Michelle Schrouder, director of Wellness Education, said RIT students have been required to take wellness courses since the 1970s as a way to keep them active and healthy. The goal is for students to appreciate a healthy lifestyle that will last long after they graduate.
And it seems to be working. Eighty-five percent of students surveyed last year said they were incorporating wellness concepts into their lives.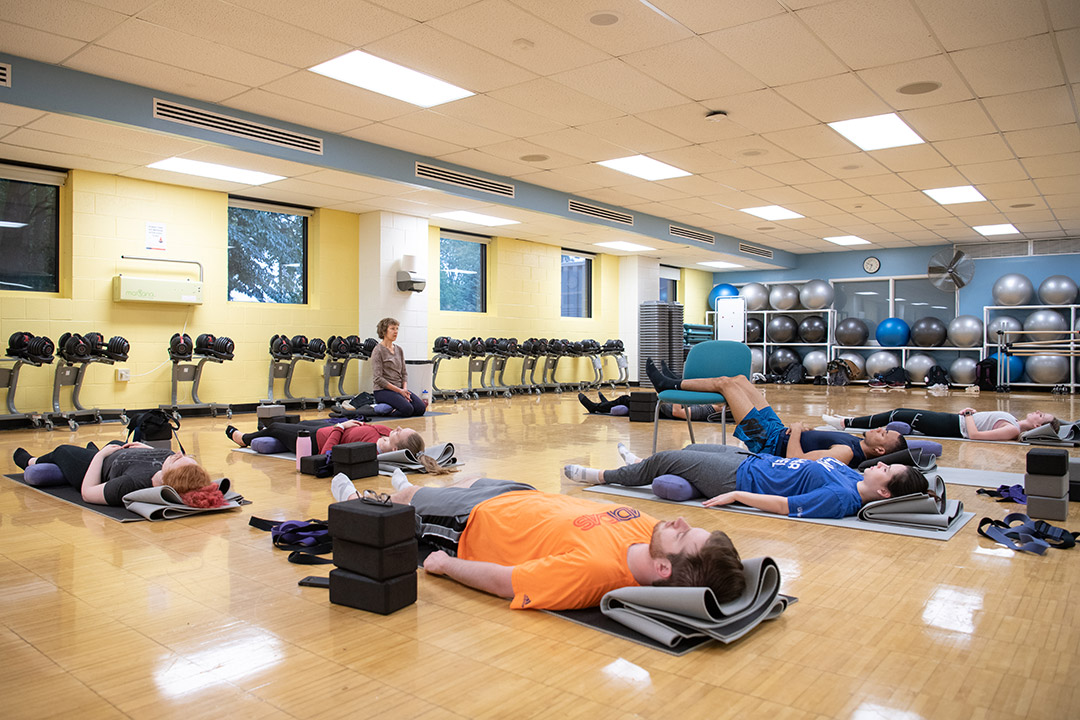 Gabrielle Plucknette-DeVito
Among them is Richa Khanolkar, a fifth-year digital humanities and social sciences major from Princeton, N.J. She says her wellness class is so important, she planned her academic classes this semester around her tennis course.
"That goes on my schedule first," she said. "If I don't do it, I'm basically a sitting potato. It keeps me busy and active."
Khanolkar has taken nearly a dozen wellness courses in tennis, badminton, steel drums, and a "120-day challenge" involving weightlifting. She said the courses have made her become more aware of fitness, and she's been better able to maintain a healthier body composition because of it.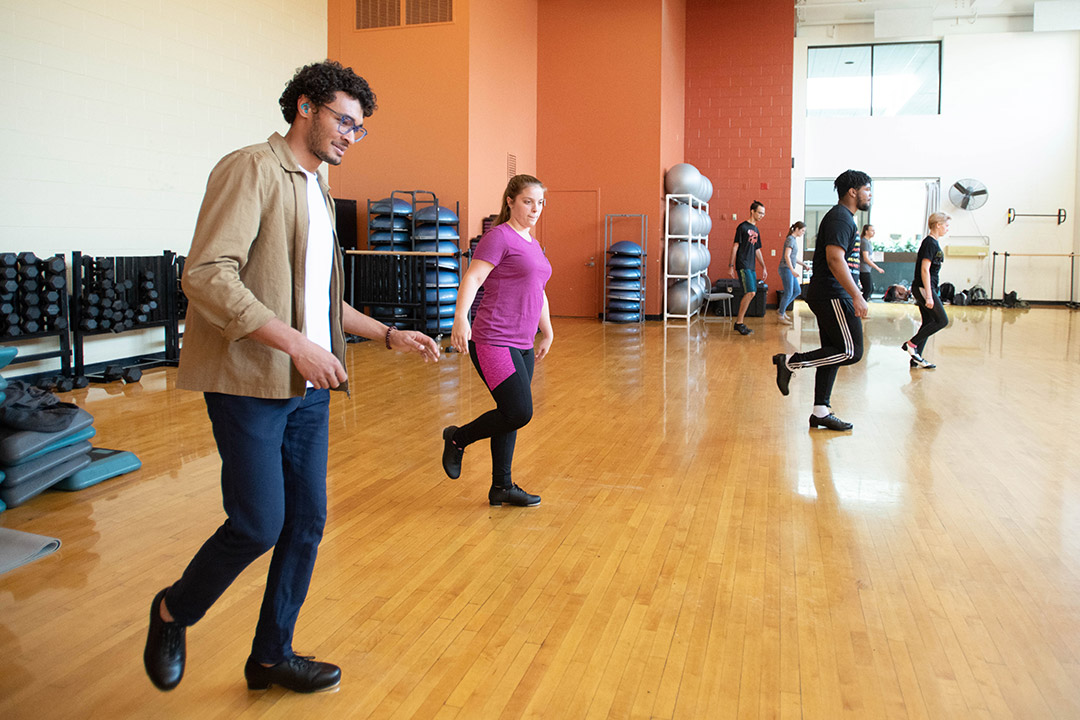 Gabrielle Plucknette-DeVito
"I'd like to pursue these after I graduate, but it may be hard finding places that offer them, so I'm starting to run every once in a while, so I'll still be active," she said.
Joshua Aldred '19 (biomedical sciences) took golf, Barre fitness (a fitness course which incorporates ballet movements), and ice skating—three times.
"I took each of them to learn some new skills and develop better fitness habits, and also as a way to inject something fun and different into my day to break up the grind of class," he said. "I enjoyed skating so much, I just kept taking it and I learned enough to the point where I can now participate and keep up in ice hockey leagues."
Aldred now works as a research coordinator at the University of Rochester Medical Center but still plays hockey in a community recreation league.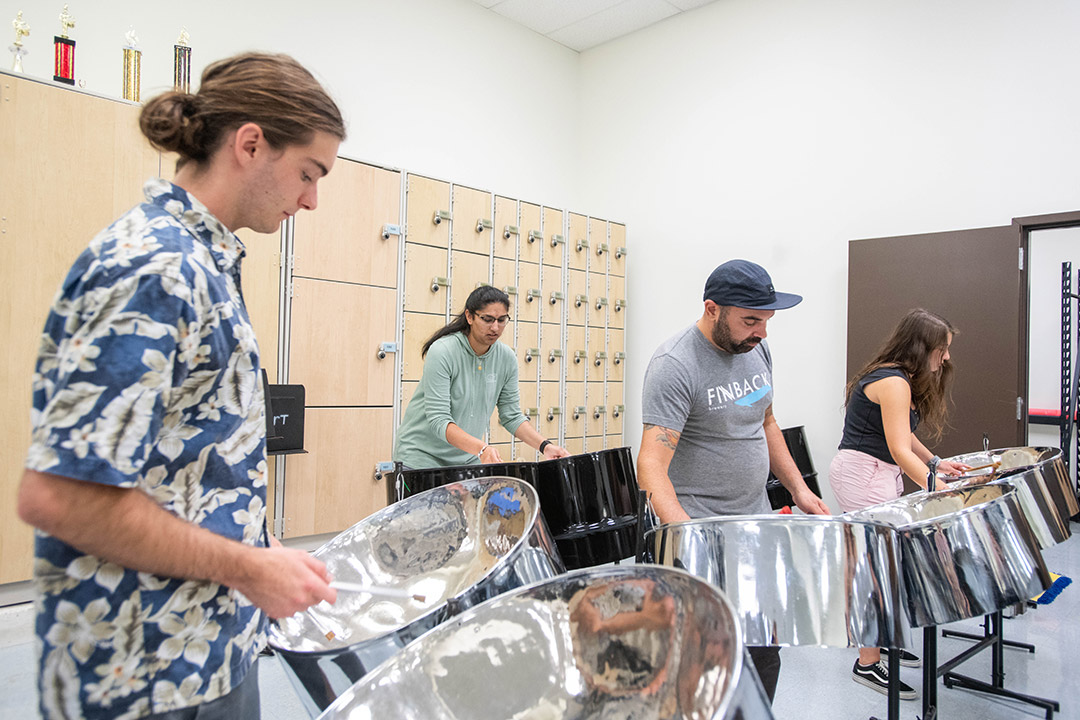 Gabrielle Plucknette-DeVito
The courses are offered in seven disciplines: wellness seminars, dance, fitness, music, recreation, martial arts, and health and safety.
The course subjects have evolved and expanded over the years, with the program incorporating suggestions from students and instructors. About six years ago, stress management and financial fitness courses were included. Last spring, guitar and steel drum ensembles were offered.
Hockey courses have been popular, but students sometimes signed up without ever having been on ice skates, so a power skating program was added as a suggested prerequisite.
Classes are usually held two times a week and follow the same meeting patterns as an academic class. Dodgeball and archery are routinely at capacity and among the first to fill.
Students receive a passing or failing grade. Attendance is taken and specific learning outcomes are outlined for students to achieve in each course, be it an improvement of motor, cognitive, or social skills.
The cost of the required first two wellness courses are waived. Students who wish to take more than the required two courses pay an average of about $105 a course per semester, which helps pay for the 92 adjunct instructors hired to teach them.
The courses also provide social engagement, allowing an opportunity for students to spend time with students from other majors.
"Our wellness courses have no academic restrictions or requirements. They are a catalyst for cross-disciplinary friendships where you'll meet students and sometimes faculty and staff from across the university," Schrouder said.
It is hoped the wellness courses will instill confidence and stress reduction for students in their academic classes and allow a "reset" from their studying.
"You can't keep plugging away on a class project without stepping away for a bit," McArdle said. "These courses provide a healthy break from the academic demands of this university."
More courses and sections are added each year. Although there are one-on-one personal training classes, and some classes with as many as 30 students, most have about 20 students.
There aren't a lot of complaints from students about the wellness requirement because of the variety of activities offered, including golf, lifeguarding, yoga, and yard games such as corn hole, can jam, and ladder ball.
"We really strive to have something for everyone," McArdle said. "And even though we have so much diversity, we're continuing to adapt to student needs, industry trends, and activities that are really extraordinary to do in the Rochester area. By engaging students in such a way, it just about guarantees they want to come back every week."
By the numbers
85 percent of students taking wellness classes say they are living a healthier lifestyle after the class.
Last academic year, 5,430 students took wellness classes.
92 adjuncts teach the wellness courses. One, who began teaching RIT students horseback riding in 1972, plans to retire in December.
One student took 32 wellness classes (30 more than the required two).
Intersections: The RIT Podcast
Wellness on today's college campus is nothing like the gym classes students used to be required to take. On this edition of Intersections: The RIT Podcast, Michelle Schrouder, director of Wellness Education, talks with student Richa Khanolkar about how the wellness options of today – everything from badminton to yoga, from managing your stress to managing your finances – is helping students learn new skills, make friends and have fun.
Topics