Assistant Vice President Ed Lincoln retires from RIT after 44 years
Eisenhower College graduate has enjoyed a career working with students and their families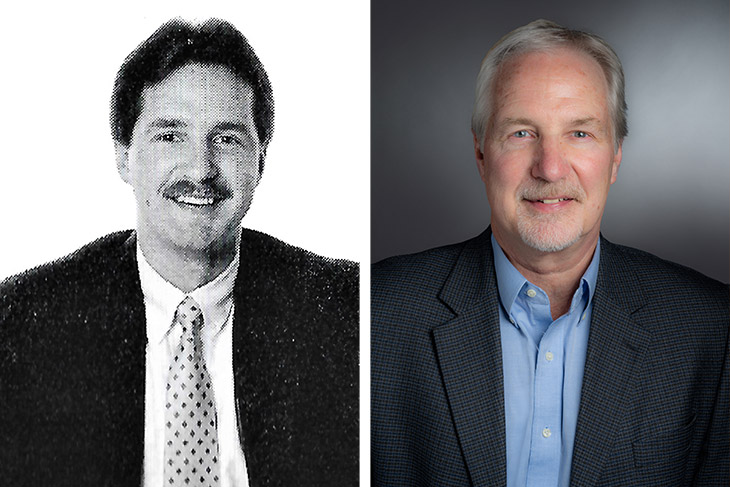 RIT Assistant Vice President Ed Lincoln has loved working with students and families well before he started his professional career at RIT. As a student at Eisenhower College in Seneca Falls, which merged with RIT in 1979, Lincoln worked as an admissions intern and tour guide, helping students and parents with the college search process. After graduating from the college in 1979, he applied for several admissions positions throughout the northeast and landed at RIT two months later. Since then, Lincoln has held roles as admissions counselor, assistant director of admissions, assistant dean in RIT's College of Fine and Applied Arts (now the College of Art and Design), executive director of Alumni Relations, and assistant to the Senior Vice President in Admissions and Enrollment Management. In 2019, he was named assistant vice president for Enrollment Marketing. He will retire from RIT on May 29 after 44 years of service.
What will you remember most from your time at RIT?
The people—the faculty, staff, and students—and the university's insatiable desire to make itself better. It's a dynamic place filled with committed, caring professionals who are devoted to making the place better for students, as well as faculty and staff. What I admire most about the people is that they take what they do­—their commitment to RIT and its students—very, very seriously, but they don't take themselves too seriously. I have a deep appreciation for their sense of purpose balanced with their humility. 
What are some of the most significant changes that you have witnessed at RIT?
It goes without saying that the expanded footprint of the campus is among the most significant. The expansion and growth of buildings has been remarkable to watch. However, the physical growth of the campus has been driven, in part, by the expansion of our reputation nationally and internationally. Forty-four years ago, RIT was mainly a regional university with no doctoral programs and little draw outside of the northeast. Now, it finds itself competing with some of the world's foremost doctoral research universities for students and faculty. If you'll forgive the baseball analogy, we have moved from the minor leagues to the major leagues. We are still learning what that means and how to position ourselves to compete, but we have moved the university to a whole other level of reputation and prestige. It has been very satisfying to play a small role in affecting that movement. 
What RIT initiatives hold a special place for you?
I've seen several successful capital campaigns, academic program expansion, new buildings by the dozens, the initiation of Imagine RIT, and so many other initiatives. From a purely personal perspective, being a part of the team to initiate the new brand will be something that I will always remember. I have always believed RIT to be a very dynamic and vibrant place. The branding initiative and subsequent efforts to communicate and articulate its vibrancy has been very satisfying. I do believe that the new brand has helped us clarify and expand our reach and reputation to stand out in a cacophony communications and messaging from other institutions. Being involved in that effort also connected me to so many others across the university in a more direct and tangible way, and I have truly enjoyed those professional and personal connections. 
What are your plans for retirement?
My immediate plans focus on family. The first two weeks involve vacation plans with my family. The third week is highlighted by our youngest daughter's wedding. After a week of rest at home, we'll all travel to Chagrin Falls, Ohio, where we will celebrate my 5-year-old grandson's completion of an 800-day adventure battling leukemia. Other plans include traveling, spending time with my grandsons, golf, projects around the house, golf, volunteering, and golf. I may also consider adjunct teaching and consulting. For now, I look forward to unobligated time to relax and enjoy time with my family and friends.