Bioinformatics student wants to help others' dreams come true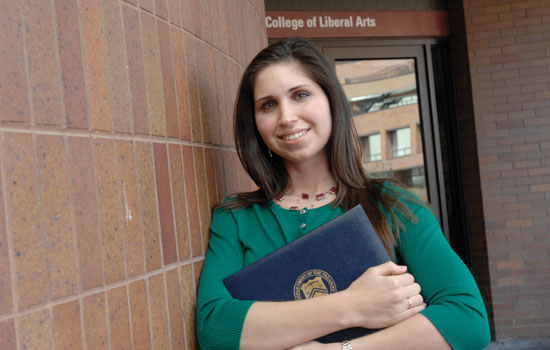 A. Sue Weisler
Rhea Sanchez wears a flower in her hair for you.
"I wear it especially in the winter," Sanchez says. "Everyone is so mesmerized by it, especially when I wear a bright pink or yellow one. Everyone gets so happy when they see it, so I figure I should just wear it."
Sanchez buys the artificial pikake flowers from a flea market in Hawaii when she is home on quarter break. This spring, her family will visit Rochester to watch Sanchez graduate with a B.S./M.S. degree in bioinformatics.
Sanchez grew up in Honolulu to Filipino parents. She never learned to surf or hula dance. Instead, she sang in statewide competitions before she could read and, with her parents' encouragement, cultivated an academic mindset. Early on she developed an interest in babies—not where babies come from, but why they sometimes don't come at all.
"It started with the normal curiosity of pregnancy," Sanchez says. "Babies in Filipino culture are a big, big deal."
She wondered why some women can have babies and others cannot. She kept pressing her mother for answers. Unsatisfied, the 12-year-old Sanchez began her own research and bought a book about infertility.
"My mom saw it on my bed," Sanchez remembers. "She already knew I was a bit curious about infertility in general. And while most parents would have started screaming, my mom said, 'Oh, so you bought a book. Is it good?' 'Yes, it is.' And that was it."
Sanchez's long-term goal is to be a laboratory director at a fertility clinic. She wants to help couples that cannot have children.
"My job would be to use technology to make it happen for them," Sanchez says. "You help nature along in the lab, where nature would have prevented that from ever happening."
Studying bioinformatics positions Sanchez for a career to which there is no direct path. Instead of pursuing a medical degree as her next step, Sanchez is finding her own way to a career in fertility and reproductive health using bioinformatics as a segue to a doctoral program in reproductive biology.
"It's an odd and unique fit," Sanchez says. "While bioinformatics is a specific, hybrid major, it's also broad. We took a lot of courses in computer science, database, statistics, IT and math, and we also learned about an array of biology. Looking specifically at the biology portion of our major, I was able to use that as a springboard for what I want to do in graduate school, which is going back to the fertility field and in vitro fertilization. There is a connection by means of all the topics bioinformatics covers."
Sanchez came to RIT "on a leap of faith." She couldn't afford to visit campus and made her decision to apply to RIT based on pictures, student reviews and her own research. She was intrigued by the genetic engineering class offered through the bioinformatics program and wondered if that major could lead her to the reproductive health field. She also wanted to leave Hawaii to experience the seasons. "I wanted to feel time pass and that something new is coming," she says.
During her five years at RIT, Sanchez fell in love with bioinformatics. She completed a co-op at the esteemed J. Craig Venter Institute, won an award for outstanding undergraduate research and worked as a teacher assistant for Gary Skuse, director of bioinformatics, whom she calls "a mentor for life."
"I still don't know how to get where I want to go," Sanchez says. "All I know is that I'm going, and that I'm going to get there at some point and that's all that matters. I might be taking a few extra turns here and there, but I'm having fun along the way. I'll figure it out."