Carestream Health donates $1.2 million in ultrasound equipment to RIT
The corporate partnership enhances student learning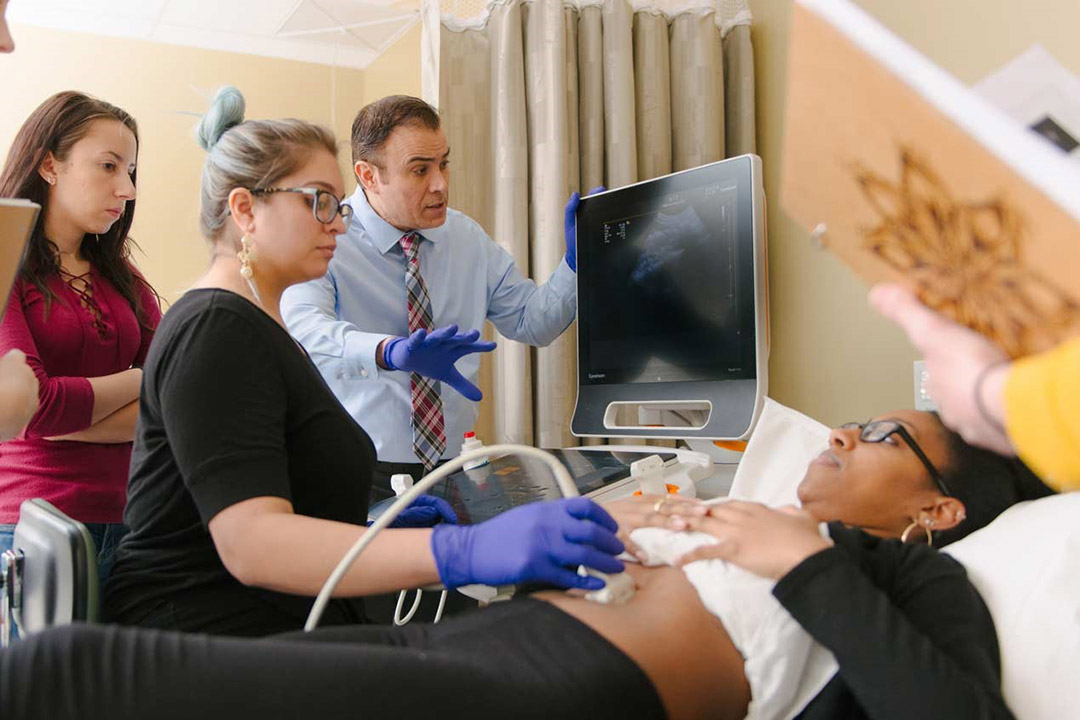 Carestream Health Inc. continues to support the education of sonographers at Rochester Institute of Technology through a new donation of ultrasound equipment valued at more than $1.2 million. This is the second donation Carestream has made during this academic year to RIT's diagnostic medical sonography program, with a combined total exceeding $1.4 million.
The recent donation includes five new Carestream Touch Prime Ultrasound Systems and more than 90 various transducers. The addition to the RIT sonography scanning suite gives students breadth of hands-on experience before beginning their clinical internships.
"Carestream's partnership with RIT makes a difference to every student who goes through our program," said Hamad Ghazle, director/professor, diagnostic medical sonography. "They spend countless hours practicing on the ultrasound equipment, and then they take that knowledge into the community to benefit people."
RIT's diagnostic medical sonography program has an ongoing relationship with Carestream, a global manufacturer of medical imaging equipment and information systems. A donation the company made earlier this year added four ultrasound systems to RIT's program. In 2015, Carestream gave RIT $1 million new ultrasound systems to outfit its newly designed sonography suite in the Clinical Health Sciences Center.
 "We are very pleased that RIT can make good use of this equipment to help further the education of students enrolled in the diagnostic medical sonography program," said David Foos, senior director of R&D at Carestream Health.
Diagnostic medical sonography is a noninvasive, nontoxic, diagnostic medical imaging modality. High-frequency sound waves are used to image the heart, blood flow and abdominal organs, as well as the developing fetus and reproductive organs.
Ultrasound has become a critical health care tool beyond radiology obstetrics and gynecology, vascular disease and cardiology, according to Ghazle. "It is now used in areas such as emergency medicine, musculoskeletal orthopedics, sports medicine, ophthalmology, rheumatology, pain medicine, intensive care and much more," he said. "The profession has grown rapidly in the last 10 years and is expected to continue to grow over the next several decades. It is very exciting to report that ultrasound is becoming the stethoscope of medicine."
RIT's program is accredited by the Joint Review Committee on Education in Diagnostic Medical Sonography of the Commission on Accreditation of Allied Health Education Programs. The BS-degree and certificate programs are housed in RIT's College of Health Sciences and Technology and graduate around 40 students each year.
This gift is another contribution to Transforming RIT: The Campaign for Greatness, a $1 billion university fundraising effort.
Topics