Changing the approach to news reporting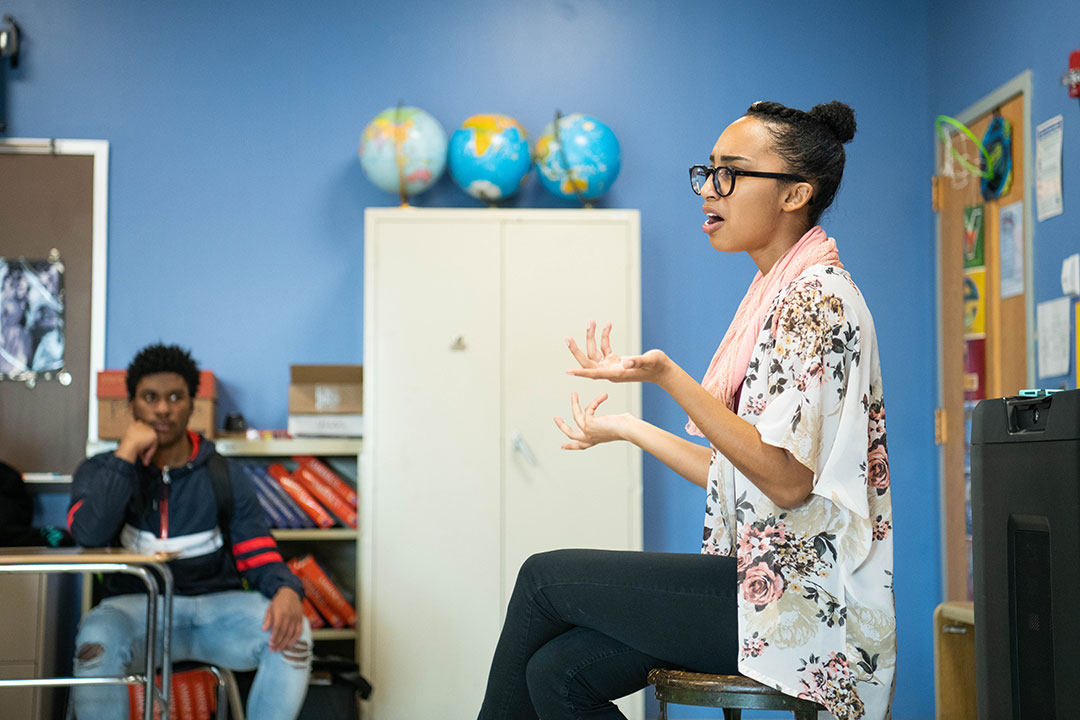 You do what? From accountant to the stars to sustainable chocolate producer, RIT alumni have some pretty cool careers. Below, read about Tianna Mañón '15, editor-in-chief of Open Mic Rochester, a news organization that is run by and for the black community.
News is more than writing about current events and hot-button topics. For Tianna Mañón '15 (journalism, political science), news is a tool for raising awareness and giving communities autonomy.
In 2016, Mañón helped relaunch Open Mic Rochester, a news organization that is run by and for the black community. At the age of 26, the editor-in-chief is using her influence to change how people approach reporting on minority communities.
"We want our community to use the information we provide to build themselves up," said Mañón. "We tend to focus on black stories and black news, but we don't always write about gentrification, the Rochester Police Department and those kinds of topics. We want to dig into the story about a 7-year-old who held a reading conference at a local theater."
Despite her current goals of uplifting the local community, Mañón never planned to stay in Rochester. She grew up in the city and, days after she graduated from RIT, she left for a reporting job at Urban Turf, a real estate publication in Washington, D.C.
However, while she enjoyed her time in the D.C. area, she didn't stay for long.
"The Boys and Girls Club shooting happened in Rochester three months into me being down there and I remember thinking, 'Does the journalism that I'm doing here actually matter?'" said Mañón, remembering the shooting that took the lives of three teenagers and injured four others after a basketball game at the club. "Maybe my time in D.C. was meant to teach me how to do this work and bring it back to Rochester."
A year later, Mañón moved back to Rochester in search of a job that would allow her to write hard news that made a difference in her community. Relaunching Open Mic gave her that opportunity.
Shappelle Thompson, the publisher for Open Mic who helped relaunch the news organization, met Mañón when she was a student at RIT, and they actually collaborated on some stories before she graduated.
"I needed a strong, focused person who could deliver great content and find people who were as tough and determined as she is. As we talked, she saw my vision for Open Mic and presented it back to me better than I explained it to her," said Thompson. "So, I asked her, 'What if I made you editor-in-chief?' She looked at me wide-eyed, said, 'yes,' and it's been great ever since."
As editor-in-chief, Mañón helps oversee six people on the Open Mic staff, freelance staff members and interns. In addition to editing and writing stories, she also runs staff meetings, attends local service projects and events, gives presentations to students in the Rochester City School District about the work she does and serves as the public face of Open Mic in the community.
This year, Mañón was inducted into the Poynter Institute's 2019 Leadership Academy for Women in Digital Media.
She was elated to have the opportunity but said she doesn't need the validation to know that the work she does matters.
"When you have an organization that is for and by the people, it helps you ensure your stories are more accurate and represent the community," said Mañón. "You're finding new voices, finding new sources and telling stories that are often forgotten."