Computing, data-sharing expert to speak April 11
Renowned educator will focus on ways to impact the world in the age of technological change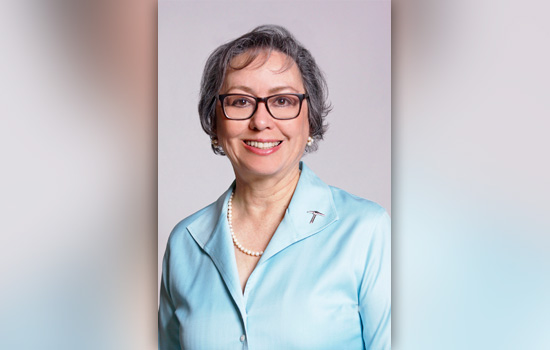 Ann Quiroz Gates, department chair and professor of computer science at the University of Texas at El Paso, will be the guest speaker at the sixth annual Eugene H. Fram Chair in Applied Critical Thinking Signature Lecture at Rochester Institute of Technology.
Quiroz Gates will discuss "Beyond Computational Thinking: Preparing for success in the innovation economy" at 4 p.m. Tuesday, April 11, at the RIT Student Alumni Union (SAU) Ingle Auditorium. The event is free and open to the public. A reception will immediately follow in the SAU Fireside Lounge.
"Dr. Quiroz Gates is an expert in computing and data-sharing infrastructure and a noted leader of many efforts aimed at inclusion and diversity in the technology fields," said Jennifer Schneider, professor of risk engineering at RIT's College of Applied Science and Technology and the Eugene H. Fram Chair for Applied Critical Thinking through 2018.
"Computing and technology is omnipresent in our lives; we must consider both the implications and opportunities that this presents to us," said Schneider. "More than ever before, we all have the chance to contribute to and impact our world, whether or not we can write code. This creates an awesome power for us individually and collectively, and navigating it requires us to critically think to thrive."
Besides serving as the director of the NSF-funded Cyber-ShARE Center of Excellence and the Computing Alliance for Hispanic-Serving Institutions (CAHSI), Quiroz Gates is the recipient of the 2015 HENAAC Educator Award, the Computing Research Association's 2015 A. Nico Habermann Award, and the 2009 Tapia Achievement Award for Scientific Scholarship, Civic Science and Diversifying Computing. She was appointed in 2016 to serve on the Secretary of the Navy Advisory Committee and the Naval Research Advisory Committee.
"Dr. Quiroz Gates' presentation is another field example of the well-documented multidisciplinary challenges that American universities and colleges face in integrating critical thinking formats in all types of curricula—STEM (science, technology, engineering, mathematics), professional and liberal arts," said Eugene Fram, Emeritus Professor of Marketing from Saunders College of Business, who will be attending the lecture.
The Eugene H. Fram Chair in Applied Critical Thinking was funded in 2011 by an anonymous RIT alumnus who donated $3 million to honor Fram. A renowned local and national retail expert, Fram is the J. Warren McClure Research Professor Emeritus of Marketing who retired from RIT in 2008 after 51 years of teaching at Saunders College of Business.
Online registration is recommended.
For more information about the lecture, contact Angela Brodie at 585-475-7965 or Angela.Brodie@rit.edu.