COVID-19 Alert Level Remains Yellow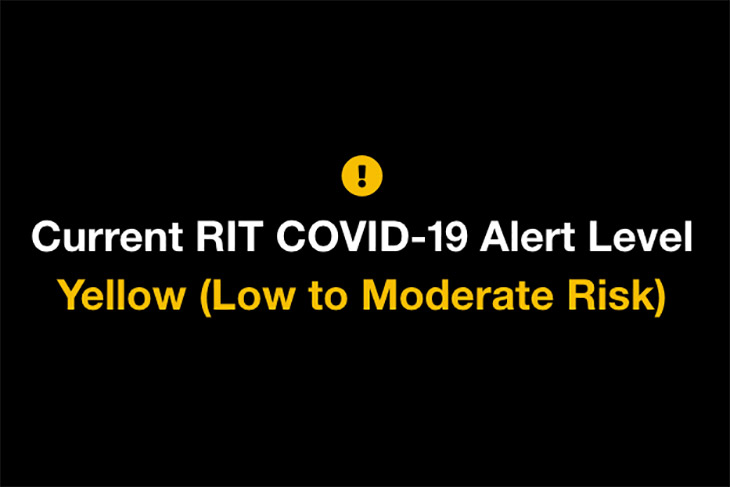 Dear RIT community: 
Our RIT COVID-19 Alert Level continues to be Yellow. This means the virus is on campus. While the prevalence of the virus remains relatively low, our indicators on campus, in the community, and across the nation are signaling that it is increasing.
So far this semester, we've had 17 cases total among students, faculty, and staff — an amazing accomplishment given our campus-wide population is nearly 20,000 people. Yet six of our 17 cases were discovered in the past 14 days. This includes the very first cases of known transmission from one RIT community member to another.
Thanks to your efforts, we have not experienced a "super spreader" event at RIT. Unfortunately, this has occurred at two colleges in the Finger Lakes region, forcing one college to temporarily close campus operations today and make arrangements for healthy students to return home. At both of these colleges, the spread originated at outdoor events and/or with large gatherings. We can't emphasize enough that we have to remain vigilant and not be lulled into a false sense of security, even among friends and family.
The RIT family has done an amazing job so far. We've completed nearly nine weeks of classes; we have five weeks to go to complete our fall semester. We can do this! Monroe County currently has the nation's second lowest rate of infection for counties with a population of 500,000 or more. This is all the more reason we strongly recommend that you do not travel outside the Finger Lakes Region (Monroe and adjacent counties) unless absolutely necessary. If you must travel, especially to one of the New York State restricted areas, we expect you to quarantine for two weeks prior to campus circulation. 
Please keep in mind we are also entering the season when we begin to see signs of other common respiratory illnesses. Take care of yourselves! Please be sure to follow a healthy diet, exercise regularly, get plenty of sleep, and sign up for a flu vaccine.  
Let's get back to Green! More information is available on the Stopping the Spread page on the RIT Ready website. Please continue with the three W's: Wearing a mask, Watching your distance, and Washing your hands. 
Be well, 
Dr. Wendy Gelbard
Associate Vice President
Wellness Student Affairs
A sign language interpreted translation of this message is available.