Deaf hip-hop artist Sean Forbes to perform at RIT
Tickets for the performance go on sale Monday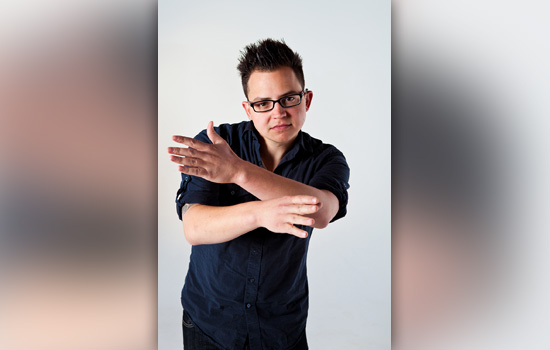 Deaf hip-hop artist and Rochester Institute of Technology graduate Sean Forbes returns to RIT's National Technical Institute for the Deaf to perform his show "Deaf and Loud" at 7:30 p.m. Friday, Oct. 9 in Panara Theatre. Tickets for the concert are $10 and can be purchased beginning Monday at the NTID Box Office.
In addition to performing hip-hop, Forbes—a 2008 graduate of RIT's College of Applied Science and Technology—is an accomplished drummer, songwriter and communicator. His debut album, Perfect Imperfection, contains 12 American Sign Language music videos that are coupled with his original songs. He has been featured on CNN, National Public Radio and the Ovation Network series, Motor City Rising, and articles about him have published in Spin, New York Post and The Washington Post, among others. He has performed hundreds of live shows for both deaf and hearing audiences and has achieved viral success on YouTube.
Forbes is also the founder of D-PAN, the Deaf Performing Artists Network, which has created videos produced in American Sign Language that interpret songs such as Christina Aguilera's Beautiful, John Mayer's Waiting on the World to Change, and others. He has opened for the nationally known rap artist Ludacris.
In a 2011 interview for NTID's Focus magazine, Forbes discussed how his time at RIT/NTID helped him make in-roads in the competitive music industry. "Everything in life is about connections," he explained. "Without networking with people, I wouldn't be doing what I love. I learned at RIT that those who are successful believed in themselves, showed up, made a difference and succeeded. I had to pave my own path in order to be successful. There wasn't anyone in the music business that I could really look up to, but by believing in myself, I knew what I had to do in order to be successful."
He also encouraged young, deaf students to believe in themselves. "If you believe that you have a skill that you can be successful with, go for it," he said. "I just knew I had it in me to make music, and I had to chase after that dream. The world is run by those who show up. And I'm showing up."
The concert is sponsored by NTID Performing Arts. For more information, go to the NTID Performing Arts website.