January 2, 2008
by Kathy Lindsley
Energy entrepreneurs believe their invention can make a big difference in the world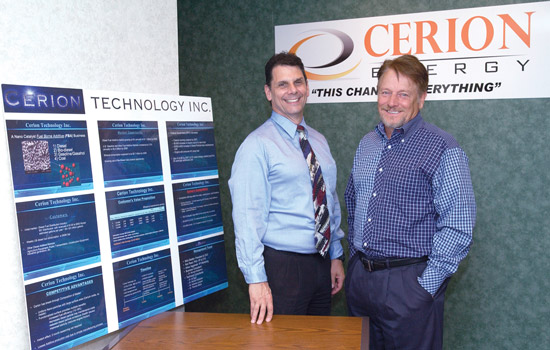 Energy sources such as ethanol made from corn and fuel cells that harness the power of hydrogen are among the potential solutions to the world's dwindling supply of fossil fuels.
While promising, such alternatives are years away from widespread use.
Cerion Energy Inc. is taking another approach. The start-up company recently hatched from RIT's Venture Creations business incubator is developing a diesel fuel additive using nano-particles that tremendously improves energy efficiency while reducing harmful emissions. A separate formulation added to lube oil reduces the friction of internal moving parts, providing additional fuel economy and reducing engine wear.
Cerion leaders believe that a U.S. transportation industry based upon diesel power or diesel-electric hybrid power will substantially lessen American dependence on foreign oil and significantly contribute to the reduction in emissions of greenhouse gases.
"What is so exciting about our technology is this has so much potential," says Kenneth Reed '71 (chemistry), a Cerion founder, vice president and chief technology officer. "The world needs a solution to the energy crisis, and it needs it now. The fuel economy increases from our technology could dwarf the energy contributions of all of the renewable fuels.
"What it comes down to is making a difference in the world."
Reed, who earned his Ph.D. from Stanford University, is a physical chemist with 30 years of experience at Eastman Kodak Co. After he left Kodak in 2005, Reed and George "Mick" Stadler, then-director of Venture Creations, began looking at technologies with business potential.
They decided to focus on possible products based on cerium dioxide nano-particles. Between January and March 2006, they assembled a team of RIT faculty members to work on the project: Richard Hailstone, Andreas Langner, Michael Kotlarchyk, Thomas Allston '78, '82 (chemistry), Gary DiFrancesco '79, '85 (imaging science) and Ali Olgut.
"This was a complex research project," says Reed. "Really tremendously difficult – and we got through it. We have developed some truly novel chemistry."
Three provisional patents have been filed on the technology, which preceded four additional applications. Several new inventive materials are also being investigated. By the end of this year, company officials expect to have a commercial product ready for the marketplace.
The results of their efforts are so promising that the company has attracted $1.2 million in pre-revenue financing. Braemar Energy Ventures of New York City is the lead investor. Excell Partners Inc. of Rochester is also a partner. The company received further financial incentives from the Empire State Development Corp., County of Monroe Industrial Development Agency (COMIDA) and the City of Rochester.
"Cerion's business model and products are exactly the kind of investment we target – companies with superior technologies that address our energy future and management teams with marketplace experience," says William Lese, managing director at Braemar Energy Ventures.
The next challenges for the company are manufacturing and marketing.
"We have a major market opportunity," says Stadler, now chairman and chief executive officer of Cerion. "The U.S. uses 650 million gallons of diesel fuel every week." Besides fuel savings, Cerion's technology can help the trucking industry meet new EPA policies requiring reduced diesel particulates and emissions.
"We know this will solve a huge problem," says Reed. "We just have to get it in front of customers and get them to try it, show them this works."
Cerion also hopes to develop additional products based on other nano-particles, such as additives that could boost the efficiency of bio-diesel, gasoline and coal. Other possibilities include solid-state lighting and medical applications.
"Our core competency is making small materials in large quantities, consistently and cost-effectively," says Stadler. "There are opportunities to spawn additional companies from this technology." Stadler has extensive experience with fostering new businesses. The former president and chief executive officer of the Vanderbilt University Technology Company and managing partner of Vanderbilt's Chancellor Fund, Stadler has been involved in establishing and financing more than 60 university-affiliated companies.
For Reed, becoming an entrepreneur has been a ride on a whirlwind – exciting and scary. "It is a 180 degree mind shift from corporate research," he says. "In the corporate culture, there's a huge infrastructure. What you need is just there, or you get it. You don't have to raise money.
"When you're an entrepreneur, you're it. Whatever it takes, you do it. I've learned that you've got to have a plan, got to have a backup plan, and a backup plan for that," he says. "Everything – inventing, testing, scaling to production, raising money – must move in parallel if you are going to meet your aggressive business plan timelines. You have to have this intense passion for the project. It's not about the money. "And you really do learn more from your mistakes than from your successes."
The association with RIT has made the project possible. Through Venture Creations and the Simone Center for Innovation and Entrepreneurship, the start-up company had access to facilities as well as people. Besides the team of faculty researchers, seven RIT students have worked for the company: Jamie Winch, a fifth-year chemistry/material science engineering major; Brett Granger, fifth-year chemistry major; Matt Fullana, third-year polymer chemistry major; Katie Poole, second-year biochemistry major; Lea Rubin, first-year environmental chemistry major; Laura Herder, third-year chemistry major; and Adam Bonder, fourth-year biomedical sciences major.
Winch was the first student on the team, beginning in the summer following completion of her second year at RIT. "I've had such a great experience," she says. "It's a lot of work, but I absolutely love it. I'm treated as a scientist and a friend, the same as any of the others on the team."
Winch is in a B.S./M.S. program now and plans to pursue a Ph.D., and working at Cerion has been tremendously rewarding.
"The aim is to help the environment," she says. "Everybody is very excited about this, and I think that's important when you're starting a business."
Reed says the contributions of the RIT students and faculty have been invaluable.
"I'm amazed at how the RIT people have risen to all the challenges," says Reed. "And they've done it with good spirit – and that makes it fun."
For more information visit the Cerion Energy website.
Topics