Engineering technology assistant professor honored as a 2022 KEEN Rising Star
Jennifer O'Neil honored for innovative teaching methods and improvements to student learning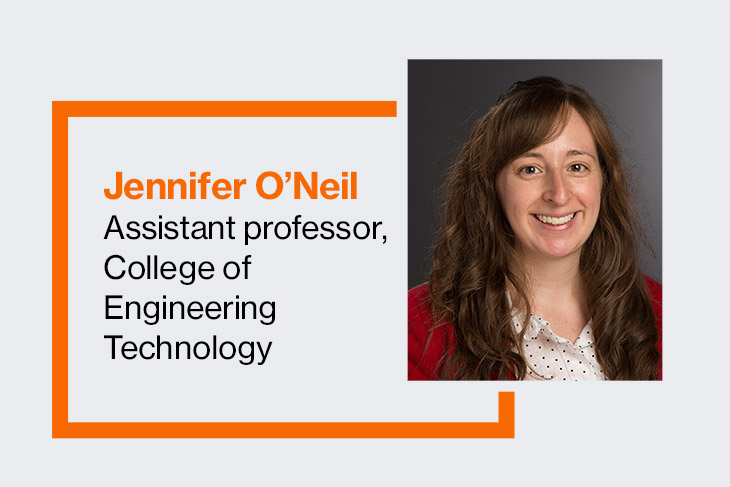 Jennifer O'Neil was recently named a KEEN Rising Star, an honor given to recognize a faculty member's ability to improve student learning and to equip undergraduate engineers with the tools to solve societal problems.
O'Neil, an assistant professor at Rochester Institute of Technology, teaches courses in RIT's College of Engineering Technology (CET) and is one of the leaders of the university's faculty teaching circles, a mentoring and faculty development initiative. She played a significant role in introducing KEEN's Entrepreneurial Mindset to the university and has championed its philosophy of integrating theory with real-world situations to make positive change in society.
"Jen's efforts, which began with a brief presentation to the College of Engineering Technology leadership team nearly five years ago, have blossomed into a multi-college collaboration that includes dozens of faculty members actively engaged with entrepreneurial minded learning," said Mike Eastman, CET's associate dean for Academic Programs and Continuous Improvement.
"Jen has inspired countless faculty and students with her innovative, student-centered teaching practices and has been the catalyst for engaging every new faculty member in the College of Engineering Technology and the Kate Gleason College of Engineering with EML. She has been instrumental in laying the foundation for a new vision of student success at RIT."
O'Neil's mechanical engineering technology coursework often includes the integration of economics, social, and government factors with engineering theory as a way to expand how students problem solve and develop technical solutions. Student comments were included as part of her nomination package, and one stated: "Listen up…RIT – this is how you teach! This is how you engage your students! Dr. O'Neil… is superb! Everyone should come in and watch her class and take notes…Her way of teaching is amazingly effective and should be instilled in this major's core."
Outside of the classroom, O'Neil is an advocate of the Kern Entrepreneurial Engineering Network—KEEN—and serves as a coach during Engineering Unleashed faculty development workshops; she also led efforts to attain and conduct teaching and leadership research on engineering education improvements as part of RIT's Innovative Learning Institute. 
In recognition of the honor, RIT will receive a $10,000 grant from the Kern Family Foundation toward a campus project with O'Neil '08 (mechanical engineering) named as principal investigator. She will also be recognized at the 2023 KEEN National Conference, taking place in January 2023 in Atlanta.
RIT became a member of KEEN in 2019. A national partnership of more than 50 universities, the group focuses on developing graduates who are technically prepared, understand societal changes and strategically seek opportunities to improve upon these changes by combining engineering skills with the mindset of entrepreneurs. Engineering education is transitioning across the country toward designing products and services that better serve society overall. KEEN and its entrepreneurial mindset is a progressive way of preparing the next generation of engineers, who will be expected to anticipate, and act on, societal changes. Since 2019, several RIT faculty have been recognized as Engineering Unleashed Fellows for improvements to, and leadership in, engineering education. Teaching strategies based on the entrepreneurial mindset have also been integrated into New Faculty Orientation at the university.
Topics