Esports becomes RIT's newest intramural sport
Heroes of the Storm and League of Legends among intramural competitive video gaming options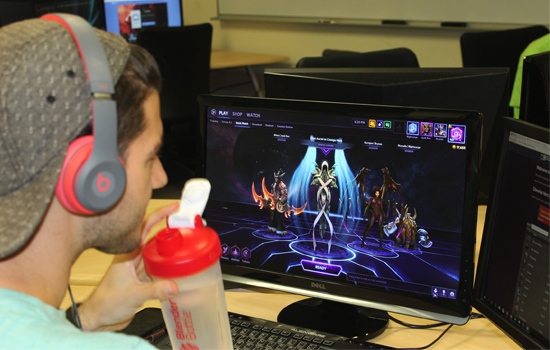 Greg Moss
Move over soccer and volleyball. The newest intramural sport being offered at Rochester Institute of Technology is competitive video gaming—more commonly known as esports.
Starting this fall, teams of five began facing off in the battle arenas of the video game Heroes of the Storm. The competition is all in hopes of capturing a team photo with the championship trophy and the right to wear a coveted RIT Intramural Champions T-shirt.
"Instead of just playing alone at home, we actually can meet up, talk and play in the same room, which is really fun—and since we are all playing the same game, it's a lot like being on a sports team," said Rachael Bosley, a fourth-year applied arts and sciences major. "People need to practice, play their best and communicate if they won't be available."
Around the globe, nearly 1.5 billion people are playing video games. More than 200 million of them are engaging in electronic sports, or esports.
Similar to soccer and basketball, amateur fans of video games want to compete in and watch games played at the highest level. With several popular multiplayer video games, including League of Legends and Dota 2, professional gamers compete in tournaments for millions in prize money, while audiences watch those matches in-person and through online stream services.
"We noticed that esports is something a big chunk of the campus is interested in," said Brennan Coon, assistant director for intramurals. "It's perfect for intramurals because the whole idea is to get people involved in their favorite recreational activity, whether they used to be a varsity athlete or are just looking to try something new."
To get the first regular season off the ground, Coon worked along with students, RIT's Center for Recreation and Intramurals, and faculty and staff from RIT's B. Thomas Golisano College of Computing and Information Sciences—spearheaded by the School of Interactive Games and Media (IGM).
"I helped to get the intramural league set up because I was the captain of the RIT team that reached the top 64 in the Heroes of the Dorm tournament last year," said Bosley, who is from Earlysville, Va. "The reason I wanted to start intramurals with HOTS is that the skill floor is very low in comparison to other games, meaning that anyone can pick up the game fairly quickly and join their friends in playing."
Nearly 50 students compete in weekly match-ups during the 10-week season, with the goal of making it to playoffs and the championship game.
"There is a lot of in-game communication and strategy," said Bosley. "Our team ranges from a very new player to a grandmaster—someone in the top 1 percent of players in the Americas—so we have been learning how to work with a bunch of different skill levels and play to everyone's strengths."
A culture of gaming has existed at RIT for years. The Electronic Gaming Society, RIT's video gaming student club, hosts weekly meetings and LAN parties throughout the semester.
RIT has also been a pioneer in the field of video game design and development, creating a master's degree in game design and development in 2006 and a bachelor's degree in 2007. The university has been ranked one of the top schools in the world to study video game design for the last five years, according to international rankings from The Princeton Review.
Graduates of RIT's game design and development programs have gone on to work at companies including Microsoft, Sony Playstation, Zynga, Blizzard, Bungie and Google. Gaming students also work with RIT's Center for Media, Arts, Games, Interaction and Creativity (MAGIC), an on-campus research laboratory and production studio that helps students bring ideas from prototype to commercial production in the marketplace.
"We understood that the RIT community wanted this and with intramurals we are able to bring it institute-wide," said Chad Weeden, assistant director of IGM. "In the future, we hope to mature e-sports at RIT, to host big tournaments on campus and even have club and varsity teams."
A new intramural esports season will open in January, with teams duking it out in the video game League of Legends.