Explore the power of the brain at Imagine RIT
Students will also show visitors how their brains can be distracted and explain illusions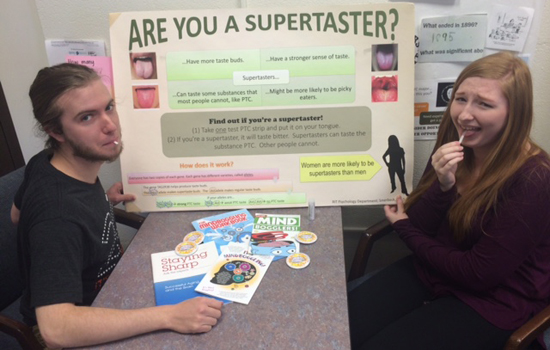 Greg Livadas
Visitors to this year's Imagine RIT: Innovation and Creativity Festival on May 7 will get the chance to find out if they are a "supertaster," a feature in roughly 25 percent of the population who have more taste buds, have a stronger sense of taste, can taste some things others can't and may be a more picky eater.
It's part of an exhibit, "Exploring Psychology: How the Mind Plays Tricks," put on by psychology students from Rochester Institute of Technology's College of Liberal Arts. Their tests illustrate how the brain can process information.
They will also have a test to trick your brain from remembering the names of colors, show illusions and have giveaways for children, including coloring books and brain-shaped erasers.
"We're trying to get kids interested in the brain and psychology," said Assistant Professor Audrey Smerbeck in RIT's psychology department.
For the supertaster test, visitors can put a small strip of paper on their tongues to see if they can taste PTC, short for phenylthiourea, which tastes very bitter to supertasters. The other 75 percent of the population tastes nothing. Women are more apt to be supertasters.
"We evolved to taste bitter things to protect us from eating poisonous objects," Smerbeck said. "This helps us learn more about our sensory system, and how our tongue is used in different ways."
In the other tests, visitors will be asked to read a list of words that spell various colors. The words themselves will be in various colors that don't match the words they spell. The tester will be told to read just the color of the list of words, not the word itself.
"Your brain is distracted on what it focuses on," Smerbeck said. Preschoolers do well in this test because most haven't learned to read yet.
And visitors will be asked to look at a picture. They may see Marilyn Monroe, or they may see Albert Einstein, depending on what they focus on and how far away they are from the image.
"You focus on big things the farther you are from it, and smaller details the closer you are," she said.
They will also have a sign-up sheet if visitors would like to participate in future research experiments.
Students involved in the exhibit include Victoria Lezette, of Greece, N.Y.; Amy Gill of Victor, N.Y.; Katey Sackett of Honeoye, N.Y.; John Casey of Brooklyn, N.Y.; and Ciara Lutz of Webster, N.Y.
Look for them in the Recreation Zone in the Gordon Field House.