Faculty honored for enhancing student experience
First Innovative Learning Institute Instructional Media Awards held April 6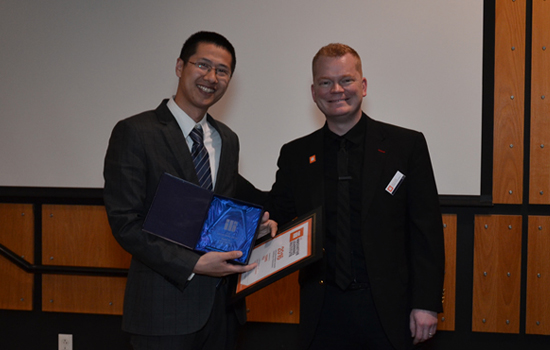 Ian Webber
Rochester Institute of Technology faculty and students were honored in a ceremony April 6 for their work using media to enhance the student experience.
The first Innovative Learning Institute (ILI) Instructional Media Awards highlighted those who use video and other media in creative and effective ways, for courses taught at RIT. Six winners were selected in different categories, while more than 30 instructors were honored for their use of media in classes.
Media, including videos, podcasts, voice threads, animations and 3D graphics, have become popular tools to engage students among instructors of traditional classes. Media are also used for newer teaching formats, such as blended courses, flipped classrooms and online classes.
The "mini-Oscars," hosted by RIT's Innovative Learning Institute, were created after members of the organization began to notice the wealth of media content being developed at RIT.
"One of the goals of the ILI is to recognize the really great things that our faculty are doing," said Neil Hair, executive director of the ILI. "We also hope that the awards will garner more interest in using media for teaching and allow faculty to find new ways to engage and connect with students."
Winners of the inaugural ILI Instructional Media Awards were selected based on their effectiveness and institutional need. Winners included:
Also highlighted were Colin Mathers, a lecturer in the Department of Philosophy, who has been creating short animations to help explain and illustrate fundamental concepts, and Kelly Norris-Martin, assistant professor in the School of Communication, who submitted a student podcast.
"I think people should experiment with course media, like videos, as they have the time and comfort level to do so, because it can be very rewarding to create something on your own and push your skill set," said Bush. "And even if it's not the perfect video, it's something different—and hopefully fun—for your students to learn from."
The ILI was created in 2012 to coordinate the development, adoption and promotion of effective teaching and learning in higher education at RIT and around the world. ILI's two units—RIT Online and Teaching and Learning Services—are integrated to bring the latest practices to learning online and in the classroom.
Teaching and Learning Services is for faculty interested in designing courses, applying appropriate academic technologies, developing media and using classroom technology resources. The ILI also has a production studio, equipped with 4K video cameras, a green screen, automatic captioning services and other tools, for faculty to record their instructional sessions.
"Instructional media has many benefits, as it can be engaging, effective and provide more flexibility for students and faculty," said Hair. "It's all about extending the sphere of learning."
For more information about RIT's Innovative Learning Institute, go to rit.edu/ili.
Topics