Find your career path with confidence at Saunders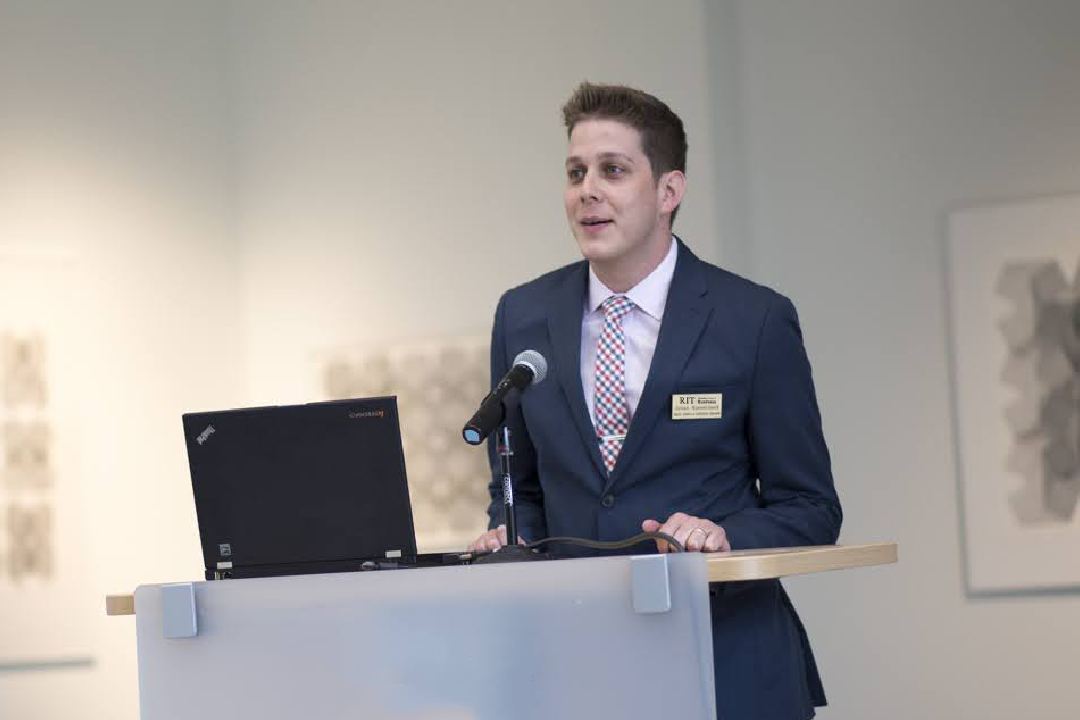 The business exploration program at Saunders College of Business provides students with a chance to experience various fundamental business courses before diving into their careers. 
Attend a virtual open house and learn more about Saunders College of Business at RIT!
Within the first year, students are encouraged to talk to RIT faculty, staff, and career advisors to confidently select the best choice of major. Students can stay in the business exploration program for a year and a half until they are asked to select a major in one of Saunders business degree programs. With a 94% career outcome rate, Saunders is proven to equip students with the skillset they need to succeed anywhere in the business world.
The Freshman Experience: Biz 1+2 is a cohort program that quickly exposes students to all business disciplines. Students are encouraged to pursue innovation and entrepreneurship through collaborating to develop a complete business plan with dedicated faculty and state-of-the-art facilities to simulate an industry experience. At the end of the fall semester, team business plans are presented to a panel of alumni and industry professionals for their critique and advice. Students continue to develop their projects in the spring semester and present them again, where two winners are determined.
Saunders business degrees cover a wide range of topics, including management information systems, supply chain management, marketing, hospitality and tourism management, and many more highly-ranked degrees. These programs are highly effective in covering a wide range of topics, yet the skills taught therein stay widely applicable in the business world. This prepares Saunders students for a wide array of careers and providing the potential for exponential career growth.
With a worldwide network of more than 25,000 Saunders alumni, students can create vast international connections and opportunities, including studying at four RIT global campuses. Through 100 minors and immersions across RIT's nine colleges, nine advisory boards, and more than 320 student clubs, Saunders has something for everyone, including real-world experience before graduation through its oldest and largest cooperative education programs.
As part of RIT, more than 13,500 RIT undergraduate and graduate students receive over $300 million in financial assistance from federal, state, and institutional resources in the form of scholarships, grants, loans, and part-time employment.
"Saunders does a great job of providing you with opportunities to expand your academic comfort zone and challenge yourself. These are opportunities that can be sought out in the curriculum or even areas such as club life and networking events. It's through events like these that I have developed more comfort, confidence, and a better problem-solving mindset."
Benjamin Frenett '20 (accounting)
Business Valuation and Tax Intern, Thaney and Associates, CPAs
Rochester, NY
Saunders College of Business at Rochester Institute of Technology
Saunders College provides students with a comprehensive understanding of business while utilizing RIT's vast resources in technology. The core curriculum provides business students with the knowledge they need to succeed in their field, and courses are designed to reflect the latest trends and business needs.
RIT is also the home to one of the world's first and largest cooperative education programs, allowing students to do paid work and gain hands-on experience before they graduate. Electives can be chosen from any of RIT's nine colleges to tailor degrees towards career goals. With the dynamic network of more than 25,000 Saunders College alumni and 130,000 RIT alumni, students make a global impact! Saunders College of Business is #1 in Western New York, ranking #67 nationally for undergraduate business programs by U.S. News & World Report, 2021. Apply today to become eligible for scholarships and join the Saunders community!