Free hackathon for girls grades 6-12 sponsored by Carrier and RIT's Women in Computing
ROCGirl Hacks hackathon to be held Nov. 5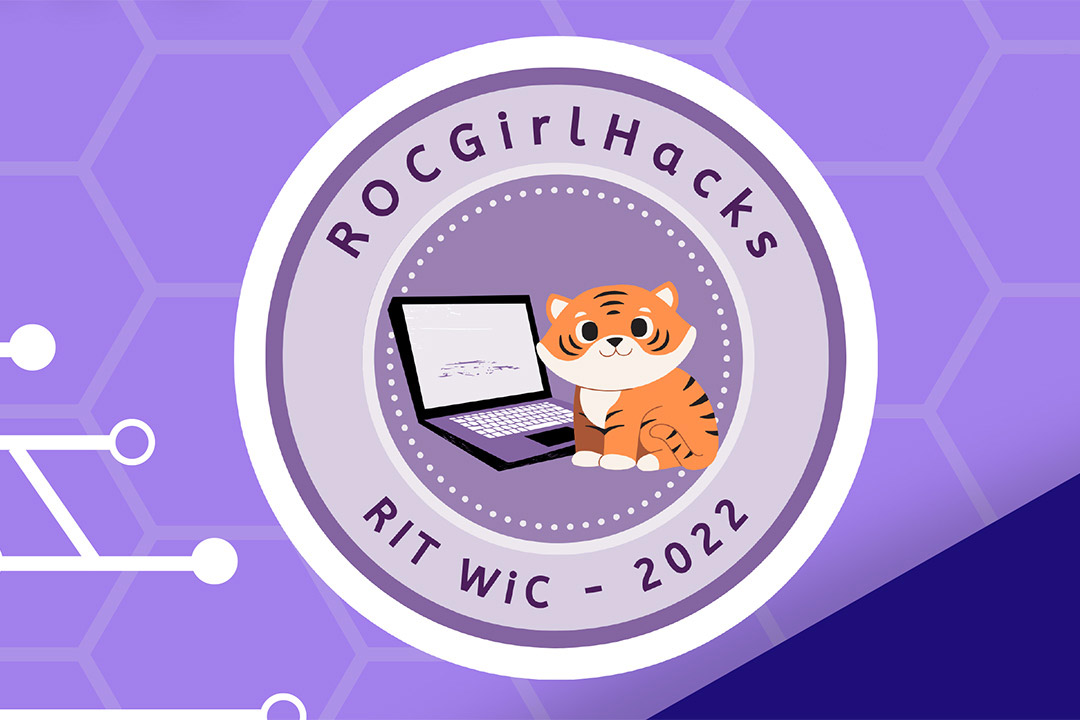 Young women of Rochester will learn how to use their new coding skills at ROCGirl Hacks, a free all-girl hackathon Nov. 5 at Rochester Institute of Technology. The creative learning event is sponsored by Carrier Global Corporation and RIT's Women in Computing (WiC).
The hackathon is intended for all girls in grades 6–12, including those who have never programmed before, those who are already building apps, and anyone in between. The computing event will give young women the opportunity to learn programing by creating websites, games, apps, and more around the theme of "inspiring confidence."
Spots are limited to 100 students for the Saturday hackathon, which will run from 9 a.m. to 5:30 p.m. in RIT's Golisano College of Computing and Information Sciences. Students and parents can register for free online. The event is first come, first served.
The event aims to disrupt the gender gap in the computing industry. While computer science research jobs are projected to grow 21 percent by 2031, women only make up 18 percent of the people earning computer science bachelor's degrees in the U.S. today.
"At Carrier, we believe that building a brighter future begins with inspiring people of all ages today," said Paul Wisotzke, test and validation manager at Carrier's Pittsford, N.Y.-based brand, LenelS2, and a 1988 business management RIT alumnus. "That's why we invest in the next generation of innovators. ROCGirl Hacks provides us a great opportunity to inspire more girls to pursue careers in science, technology, engineering and math (STEM) and show them the success others have had in the computing industry."
The event will provide participants an opportunity to interact with members of WiC and Carrier employees, including Emily Crilley, a 2022 RIT software engineering and WiC alumnus who's now a part of the Carrier Engineering Leadership Program.
Hackathon participants can create projects that focus on ensuring safety and security, eliminating hunger and food waste, building a brighter future, and creating vibrant communities. The hackathon will feature four tracks for young students, including:
Beginner—lessons for students who have little to no previous experience programming.
Intermediate/Advanced—lessons for students who have experience programming.
Game Lab—learn block coding to make artwork and games.
Web Development—learn HTML/CSS to make websites.
The ROCGirl Hacks day will include lessons, lunch, time to build projects, and a cybersecurity tech talk. A panel of judges will review projects that students make and hand out awards at the closing ceremony. RIT's mascot, Ritchie the Tiger, will also hand out certificates.
"We are very passionate about helping young women and gender minorities overcome obstacles that make it difficult to enter the computing field, such as a lack of exposure to technology," said Caitlyn Cyrek, an Outreach Committee head for WiC and second-year computer science major from Orchard Park, N.Y. "Empowering young students through community outreach events like this has been an incredibly rewarding experience, and we are so excited to see what our participants create."