Fulbright Research scholar Tyler Pugeda to study investigative treatments for Alzheimer's disease
School of Individualized Study student leaves for Germany in September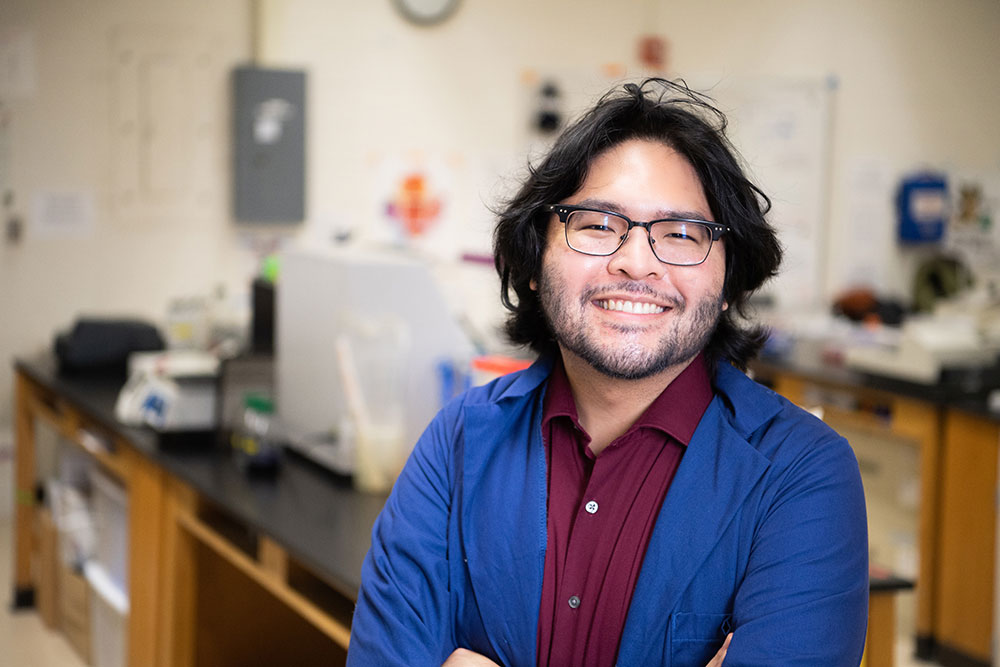 Tyler Pugeda, a master's student with concentrations in cell biology and healthcare entrepreneurship in RIT's School of Individualized Study, will travel to Germany in September to fulfill the requirements of his Fulbright Research award. Using post-mortem human brains afflicted with Alzheimer's disease, Pugeda will investigate treatments to slow the progression of neurodegenerative diseases, like Alzheimer's and Parkinson's.
Initially, Pugeda used an interest in philosophy to drive his study of neuroscience and explore how the mind arises from the brain. But, after a visit to MIT's cognitive science department, he was inspired by how researchers used flickering light to fight Alzheimer's in mice.
"I was so fascinated by the study that I wanted to deepen my understanding of the disease," he said.
A former community educator for the Alzheimer's Association, Pugeda has been able to gain a "humanistic understanding of the disease," including how it robs patients of memories of loved ones, and how caring for patients impacts relatives and healthcare providers. He also has family members who have lived with dementia.
Pugeda, who earned a bachelor's degree in mathematics and philosophy at California State University, Northridge, and completed a post-baccalaureate pre-medical program at Johns Hopkins University, also participates in the Rochester Bridges to the Doctorate program, which helps deaf and hard-of-hearing students pursue doctorate degrees. He hopes his Fulbright award is a stepping stone to gaining acceptance in a M.D./Ph.D. program, leading him to a career as a physician, scientist, educator, and entrepreneur.
"As a future physician-scientist, I am determined to translate scientific discoveries into groundbreaking therapeutics and to improve medical care for patients during their grueling journeys."
Pugeda will conduct his research in Germany for 8-10 months.
About the Fulbright program
RIT students have had a banner year in securing awards from the prestigious Fulbright U.S. Student Program. RIT has a record four Fulbright finalists plus three alternates for the 2021-2022 academic year. Students from the Kate Gleason College of Engineering, College of Science, College of Health Sciences and Technology, College of Liberal Arts, and School of Individualized Study will travel to Germany, Nigeria, and Turkey for immersive global learning experiences in the coming months. Read more about the finalists.
The Fulbright program provides students funding to study for a master's degree, complete an independent research project, or teach English for up to a year outside the U.S. During their grant period, Fulbright students meet, work, live with, and learn from the people of their host country.
Topics